News
U.S. Attorney speaks with students
Monday, Nov 21, 2011
Government Law Org hosts Andre Birotte, Jr.
-By Kelsey Schreiberg; photos by Maria Iacobo

There is no set path in a government service career, and U.S. Attorney Andre Birotte, Jr.'s journey is no exception.

Birotte, U.S. Attorney for the Central District of California, gave USC Law students an inside look at working for the federal government, recounting his experiences as the first African-American U.S. Attorney and a former public defender. He shared personal stories and career advice at a lunchtime event sponsored by the Government Law Organization (GLO).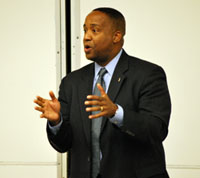 Andre Birotte, Jr speaks to students
An externship at the U.S. Attorney's office led Birotte to his first job as a deputy public defender. He then spent a brief period working at a large litigation firm before being appointed inspector general for the Los Angeles Police Department and Police Commission.

In 2009, a chance encounter with a former supervisor changed his path yet again.

"He stopped me in the parking lot and told me I had to apply for the U.S. Attorney position," Birotte said with a smile. "At the time, I had a newborn baby, but I knew I wouldn't be able to look at my son and tell him to follow his dreams if I didn't at least apply."

Birotte got the job, and today serves the largest judicial district in country, including the counties of Los Angeles, Orange, Riverside, San Bernardino, San Luis Obispo, Santa Barbara, and Ventura. Over 270 lawyers work in the Criminal, Civil, and Tax divisions of the office.

The job requires him to meet city challenges with limited resources.

"We need a partnership between the community and police—law enforcement can't do it alone," Birotte said. "We have to come together to deal with the issues that face this district."

Maintaining public safety, controlling gang crime, and minimizing financial and cyber fraud are some of his top concerns.

"Making sure we address the needs of the community is an exciting opportunity but very much a challenge," Birotte said. "The cross-examination skills I learned as a public defender--thinking about the vulnerabilities of the other side--continue to serve me well."

As the discussion wound down, Birotte offered career advice to students, stressing the importance of cultivating mentors.

"There are thousands just like you," he said. "At the end of the day, the difference is who you know. Those will be the people that help you as you progress in your career."

Ultimately, life as a U.S. Attorney is both demanding and rewarding, Birotte said.

"You need a work-life balance, but I could be happy doing this job 24 hours a day," he said. "At the end of the day, I feel I am a public servant at heart. Big cases that change communities, that's what gives me joy. I am a Haitian kid from Jersey; this is beyond my wildest dreams."

Recent News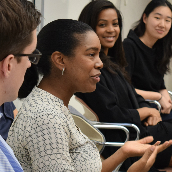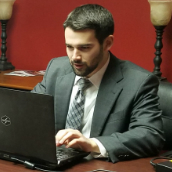 Justice Journeys
March 29, 2017
How did 24 Gould students spend their spring break? Giving back.