News
USC Gould and Lateral Link Launch Scholarship
Tuesday, Mar 10, 2015
Lateral Link donates commission to student scholarships
-By Gilien Silsby
Legal recruiting firm, Lateral Link, announced this week that it will donate a portion of its commission to student scholarships when it places USC Gould alumni in jobs.
"Lateral Link has been fortunate to enjoy a strong presence in the Los Angeles legal community, and we are proud to be partnering with a world-class law school in this city," said Michael Allen, founder of Lateral Link, adding that the company will donate 10 percent of its commission to USC Gould. "For every talented Gould graduate who is placed by the firm, support will be directed back to current Gould students."
USC Gould is the second law school in the country to receive Lateral Link's support; Allen also provides scholarships to his alma mater, Harvard Law School.
Allen approached USC Gould to discuss creating a fund here using the same structure.
Among Lateral Link's recruiters are Gould alumni Ata Farhadi LLM '12 and Josh Lockman '08, a USC Gould lecturer in international law and U.S. foreign policy. Said Lockman, "As a USC Gould alumnus, I am thrilled to be a part of a growing collaboration between Gould and Lateral Link. This partnership provides an excellent opportunity for Gould to strengthen its alumni network both regionally and nationally."
USC Gould currently provides some form of scholarship to more than 95 percent of its student body. "The importance of scholarship support at USC Gould cannot be understated. It allows the law school to make an outstanding legal education available to the most promising students, regardless of their financial circumstances. We are very grateful for Lateral Link's desire to give back and support legal education in this way," said Arwen Duffy, Assistant Vice President for Development at USC.
Since Lateral Link launched in 2006, the firm has become one of the world's largest legal recruiting firms, with 11 locations in United States as well as offices in Shanghai and Singapore. Allen has become a resource for firms looking to identify partner talent and for candidates seeking a platform tailored for their practice. He assists firms in identifying merger opportunities and in benchmarking their competitive landscape in the market. He frequently contributes to blogs such as Above The Law, and he has been quoted as a thought leader by The American Lawyer, Law360, and the Daily Journal.
Allen hopes the Lateral Link scholarship will reach $100,000 within the next two years. USC Gould looks forward to naming the first Lateral Link Scholar in the fall of 2015.
To learn more about Lateral Link, please visit http://www.laterallink.com.
Recent News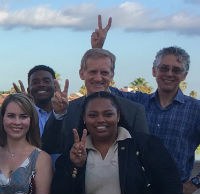 A Memorable 2017
December 20, 2017
With 2018 approaching, we look back at our exceptional year