Faculty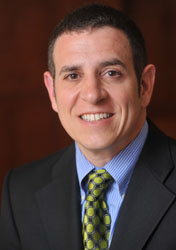 Donald M. Scotten
Vice Dean for Administration and Professor of the Practice of Law
Last Updated: Wednesday, May 24, 2017
Email:
dscotten@law.usc.edu
Telephone

:
(213) 740-6473
Direct Line

:
(213) 740-5675
699 Exposition Blvd.

Los Angeles

, CA

90089-0074

USA
Room:
300
---
Donald Scotten specializes in business organizational law and business entity governance. He teaches Business Organizations, Mergers & Acquisitions, and Introduction to the U.S. Legal System, and is the faculty advisor for the student-run Business Law Society. He has served as Vice Dean for Administration since 2016.

For the California State Bar Business Law Section, Scotten recently served on the Executive Committee, and is past Chair of the Partnerships and Limited Liability Companies Committee. For the American Bar Association Business Law Section, Scotten presently serves on the Editorial Board of the Corporate Governance Committee's In Sight newsletter, and has chaired the Governance Research & Education Subcommittee. Additonally, Scotten is an article reviewer for the Journal of Legal Studies Education, published by the Academy of Legal Studies in Business, and he sits on the Advisory Board for UCLA Extension's Paralegal Training Program.

Scotten is of counsel for Akerman LLP. Previously, Scotten was first vice president and senior counsel for Countrywide Home Loans, Inc., and was a senior associate at Howrey LLP.

Scotten received a BA, cum laude, in Economics and Communications from the University of Pennsylvania and a JD, Order of the Coif, from the College of William & Mary Law School. He currently is pursuing an executive LLM in Taxation from New York University.
Books & Chapters
Business Organizations: A Transactional Planning Perspective, Cognella Academic Publishing (2014).
California Paralegal Manual: Corporations, The Rutter Group, a division of West Publishing, (2013) (with Judge Elizabeth Allen White) .
"Chapter 6: Mergers and Conversions of Limited Partnerships," Guide to Forming and Operating a Limited Partnership in California, State Bar of California (2012).
Articles
"Employment Issues in Mergers and Acquisitions," California Business Law Practitioner, Continuing Education of the Bar (Fall 2014).
"A Review of Drafting Delaware LLC Agreements: Forms and Practice Manual," Business Law Today, American Bar Association (August 2010).
"A Primer on Mergers Involving Unincorporated Entities," Business Law News, State Bar of California, Issue 1 (2010).
"Best Practices for Keeping the 'Limited' in Limited Liability Companies," Business Law News, State Bar of California, Issue 3 (2008).
"A First Look At What May Be California's New Limited Liability Company Act," Business Law News, State Bar of California, Issue 1 (2009) (with Phil Jelsma).
"Series LLCs: An Organizational Form That Should Be Used Cautiously (For Now)," Business Law News, State Bar of California, Issue 2 (2009).
"Practicing in Organizational Form: A Simple Way to Minimize Liability," Big News for Smaller Firms, State Bar of California, Solo and Small Firm Section, Annual Meeting Issue (2009).
"A Historical Perspective of The Commission Versus The Oath: A Dilemma for Officers," The Journal of the Adjutant General's Corps, Regimental Association, Volume 6, Number 1 (1993).
Presentations
"How to Turn a Term Sheet into a Final Agreement," UCLA Lowell Milken Institute for Business Law & Policy, February 10, 2016.
"How to Translate a Term Sheet," California State Bar, Busines Law Section Webinar, January 20, 2015.
"Beyond a Form: Operating Agreements for the Brave New World of RULLCA," California State Bar Annual Meeting, September 11, 2014.
"Then Find a Way To Do It: Ethics Issues Faced by In-House Counsel," California Bankers Association 122nd Annual Convention and 46th Annual Bank Counsel Seminar, May 3, 2013.
"California's New LLC Law," Los Angeles County Bar Association 2013 Delaware & California Law Update Symposium, April 19, 2013.
"The Revised Uniform Limited Liability Company Act: How It Changes California Law," California State Bar Annual Meeting, September 15, 2011.
"Should California Adopt the New Revised Uniform Limited Liability Company Act?" California State Bar Annual Meeting, September 11, 2009.
FACULTY IN THE NEWS
Ars Technica
July 26, 2017
Re: Michael Chasalow
Michael Chasalow was quoted about a legal dispute over the ownership of fact-checking site Snopes.com. ""Of course the underlying issue is whether the sale resulted in five individual owners or ownership by Proper Media," he e-mailed. "It seems most likely that Proper Media assumed that the individual owners would act in Proper Media's interest, but it is not clear whether the five individuals had contractual obligations to do so. If the sale resulted in five owners who were not bound by contract to act in a certain way, then any one of the owners would, in theory, be free to act individually, with Mikkelson. On the other hand, the five individual owners could have contractually agreed to vote for a certain director or directors (for example the president of Proper Media), but such a provision would need to be clearly articulated along with consequences for not following such a provision."
RECENT SCHOLARSHIP
Gillian Hadfield
May, 2017
Gillian Hadfield was appointed to serve on the ABA's new Commission on the Future of Legal Education.
Gillian Hadfield
May, 2017
"Silly Rules," Workshop of the Center for Human-Compatible Artificial Intelligence, University of California, Berkeley, CA.
Gillian Hadfield
May, 2017
Gillian Hadfield moderated "Hyperloop One and Autonomous Transportation: A Test Case for Innovative Governance," Governance of Emerging Technologies Conference, Arizona State University, Phoenix, AZ.