Law School Events
Institute for Corporate Counsel
Dec 2, 2020 from 8:30 AM - 6:00 PM
The Institute for Corporate Counsel is the premier Los Angeles conference for in-house and outside counsel and those who advise them. The annual Institute brings together hundreds of professionals, including in-house counsel, outside attorneys, corporate officers and directors, accountants, consultants, compliance officers, financial planners, HR professionals, investors, librarians, legal technology specialists, litigation support professionals, public relations professionals, and legal assistants.

The day-long Institute focuses on the intersection of law, business and politics. The Institute provides a venue for our panelists and participants to better understand Los Angeles' evolving business environment, as well as best practices and changes in the law which can impact business operations. The Institute provides current information, legal guidelines, and practical advice which can be immediately put into practice in an in-house legal department or law firm. CE units for lawyers and accountants will be available.
Program Highlights:
Keynote Presentation: A Conversation with Michael Lawson and Constance Rice
Topics: Post-Election Wrap-Up, Business Restructuring, Labor and Employment Litigation, Corporate Governance, U.S. Supreme Court Update, and General Counsel Roundtable
CE Credit: MCLE and CPE
Network & Win: Visit the Sponsor Sites for a Chance to Win Free Tickets to Next Year's Conference
Click here for complete program details and registration information.
Sponsorship Opportunities
Sponsorship of the 2020 Virtual Institute for Corporate Counsel includes ticketing and other benefits, depending on the level of sponsorship chosen. If you have questions about sponsorship opportunities, please contact Julie Yi at jyi@law.usc.edu.
About the ICC
The Institute for Corporate Counsel® (the "ICC") is a 501(c)(3) organization that operates in collaboration with USC Gould School of Law and the Los Angeles County Bar Association's Business Law Section. The ICC's Board of Governors includes members chosen by USC Gould and the Business Law Section, as well as at-large selections. When planning the annual Institute, the ICC's Board of Governors relies on the valuable input of the ICC's Advisory Board regarding prospective speakers and topics and on the ICC's Emeriti Governors as a source of historic perspective. A list of the Advisory Board members is available by clicking here, and a list of Emeriti Governors is available by clicking here.
Institute for Corporate Counsel/Dean Jerry Wiley Scholarship
Dean Jerry Wiley served as chief administrative officer of the USC Law School for nearly thirty years. In late 1997, the Institute's Board of Governors established the Institute for Corporate Counsel/Dean Jerry Wiley Scholarship by providing an endowment to fund student scholarships. Two scholarships are awarded each academic year to qualified students from USC Gould who have demonstrated an interest in business law and with high scholastic achievement in business law courses.
In 2015, the ICC's Board furthered their commitment to scholarships by donating an additional $25,000 to the Fund so more worthy students such as these can benefit in future years.
Social Networking
Get the latest updates on The Institute for Corporate Counsel programming on LinkedIn, Facebook and Twitter (@ICCGovernors). Follow us online using #ICCLAW.
Follow USC Gould School of Law Continuing Legal Education socially on Facebook, Twitter, Instagram and LinkedIn for the latest news and updates on our speakers and programming.
RECENT NEWS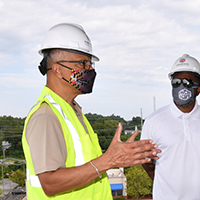 Continuum of Care
November 24, 2020
Boyd Rutherford, JD 1990, focuses on state health issues as Lieutenant Governor of Maryland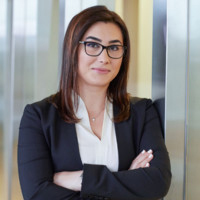 Paying it forward
November 24, 2020
Karine Akopchikyan, JD 2015, VP of Gould's Alumni Association, speaks to the importance of building and keeping relation...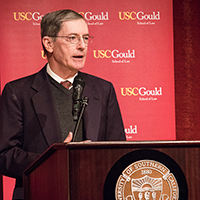 University honors Gould faculty
November 24, 2020
Ron Garet receives Faculty Lifetime Achievement Award, while Tom Griffith and Pauline Aranas named emeriti faculty