USC Law Recruits Top Tax Professor
Sunday, May 1, 2011
Nancy Staudt named Edward G. Lewis Chair in Law
-By Darren Schenck

The University of Southern California Gould School of Law has recruited Nancy Staudt, a nationally renowned tax and tax policy scholar at Northwestern University School of Law, to join the faculty this fall. Staudt will be the inaugural holder of the Edward G. Lewis Chair in Law.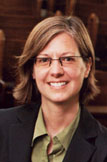 Nancy Staudt
"We are thrilled to bring Nancy Staudt to USC," said Robert K. Rasmussen, dean of USC Law. "As a leading scholar on tax and budgetary issues, she examines some of the most pressing issues facing our country today. Nancy has been at the center of important debates on tax policy. Her recent work brings empirical methodology to judicial decision making, with a special focus on fiscal issues. Adding Nancy to the faculty continues the USC tradition of analyzing law through an interdisciplinary approach."
Staudt joins an impressive roster of tax experts at USC Law, including USC Provost Elizabeth Garrett, a member of the 2005 Advisory Panel on Federal Tax Reform; Edward McCaffery, a fellow at American College of Tax Counsel; Edward D. Kleinbard, former chief of staff of the U.S. Congress Joint Committee on Taxation; and Thomas Griffith, who has written extensively on tax matters and is the winner of the USC Law William A. Rutter '55 Distinguished Teaching Award.
"The decision to join the USC community was easy," Staudt said. "I teach and write in the area of tax law and policy, and several of the nation's leading tax scholars are at USC Law. The fact that the law school is located right next door to a great policy school and will facilitate cross-disciplinary teaching and research — is also a real plus.
"I have known and admired Provost Beth Garrett and Dean Bob Rasmussen for many years. It is exciting to join a terrific law school at terrific university with such accomplished leadership!"
Staudt will be the Edward G. Lewis Professor of Law. This professorship was created by Edward G. Lewis, who graduated from the USC Dana and David Dornsife College of Letters, Arts and Science in 1967 and the USC Gould School of Law in 1970, where he was a finalist at the Hale Moot Court competition. Lewis currently serves on the law school's Board of Councilors.
Staudt has published extensively on tax and tax policymaking in both the legislative and judicial branches of government, including the recent The Judicial Power of the Purse: How Courts Fund National Defense in Times of Crisis (Chicago University Press 2011).
She is completing a book with two of her colleagues on the "Judicial Business Cycle," which examines how and why economic conditions affect judges' votes and case outcomes. She is also finishing a project on the application of judicial anti-abuse doctrines in the corporate tax shelter context.
Staudt holds a BA from Ohio State University, a JD cum laude from the University of Minnesota Law School and a Ph.D. in public policy from the University of Chicago.
Staudt currently is the Class of 1940 Research Professor of Law at Northwestern. Before joining Northwestern, Staudt served as professor of law at Washington University School of Law in St. Louis, Mo., and the University of Buffalo School of Law. Prior to her academic appointments, she was a tax associate at Morrison & Foerster in San Francisco, Calif., and she clerked for the Honorable John T. Noonan on the U.S. Court of Appeals for the Ninth Circuit.
Staudt has published widely on her areas of interest, which include political economy, government and the intersection of tax law and tax policy. She has received several research grants from organizations including the National Science Foundation.
RECENT NEWS