News
Top Global Contenders
Thursday, Dec 8, 2016
LLM graduates return to their home countries with a competitive edge in the legal job market

When Eduardo Di Mauro LLM '13 applied for a position at the Italian Stock Exchange in Milan in 2014, he hoped that one particular item on his resume, the LLM from the USC Gould School of Law, would catapult him into the pool of top contenders. And indeed, out of more than 700 applicants, the exchange (known in Italy as Borsa Italiana S.p.A.), a subsidiary of the London Stock Exchange Group, picked Di Mauro for the job as legal counsel.
Di Mauro, who earned his first law degree from the University of Naples Federico II, stayed for two years. In the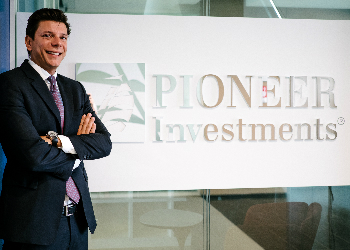 Eduardo Di Mauro, USC Gould graduate, is now counsel in the legal department of Pioneer Investments
spring, he moved to a position as counsel in the legal department of Pioneer Investments. The USC Gould graduate is convinced that his advancement in the international field would not have been possible without the U.S. degree. The LLM proved two things: he understood the U.S. legal system in a deeper way, and he was fluent in legal English. "If you're Italian and want to work internationally, it is essential to have a degree abroad," he says.
Di Mauro's story isn't unique. Other foreign-educated attorneys, judges, government officials, prosecutors, corporate legal counsel and bankers have found that an LLM from USC Gould delivered similar career boosts.
Misa Shimotsu, Gould's assistant dean for Graduate & International Programs, says that foreigners working with U.S. clientele or in international law areas usually benefit most from the program, especially if they opt for a bar track and pass the exam. "It gives them a competitive edge and distinguishes them from others when they return to their home country."
Launched in 2002, the on-campus LLM program at USC Gould has exploded in popularity, growing from 12 students in the inaugural class to 213 students in the class of 2016. The one-year program teaches students how the government works and how laws are made and enforced, and it helps them understand foundational values such as due process and equality. They learn about the differences between the U.S. and other legal systems and become fluent with advanced legal terminology.
For one graduate, Helen Du LLM '04, the language advantage manifested itself as soon as she returned to her home country, China, to pursue a Ph.D. Not only did the China University of Political Science and Law exempt her from the English requirement, but she also found doing academic research easier thanks to her mastery of legal English. What's more, Du, who is the chief judge of the Commercial Trial Department of the High Court of Chongqing, China, says that studying at USC Gould taught her to think differently.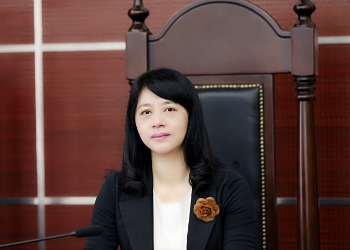 Helen Du LLM '04, chief judge of the commercial trial department of the High Court of Chongqing, China
"At the law school, we learned that there is more than one right answer," she says. "We chose different roles, so that we could analyze different perspectives. This way of thinking helps me a lot in my work. It helps me to absorb new opinions, consider things thoroughly and communicate with my colleagues smoothly. It has been very helpful in advancing my career."
Another graduate, Rubab Razvi '03, who is a general attorney at the Immigration and Customs Enforcement office in Los Angeles, credits the legal writing course with at least part of her success as an attorney. She says that, together with the immigration course, it gave her "a base from which to learn and function more effectively."
An immigrant from Pakistan, Razvi had already passed the bar exam in her home country when she came to the United States as the spouse of a U.S. citizen. While she did not need an American law degree to sit for the California bar exam, the LLM program provided her with the confidence and tools that she needed to pass.
USC Gould offers three different tracks for LLM students who plan to sit for the New York, California or Washington D.C. bar exam, and in each case, the University provides step-by-step guidance. "We walk them through the whole process," Shimotsu says, "from applying for the exam and registration, to what the exam will look like and how students should study and plan their time."
Whether they are on a bar track or not, because of the language barrier many LLM students find the coursework extremely challenging, especially during the first few months. Du accordingly sums up one of the big boosts from her year at USC Gould in one word: fortitude.
"Pursuing the LLM in the United States was not easy," she says. "I had to handle all kinds of changes. It made me stronger. After I returned to China, not everything went smoothly. Sometimes life was really hard. However, I never gave up. I knew that if I was strong enough to survive in another country, I can overcome the difficulties in my own homeland. I still believe that."
For Di Mauro, the experience at Gould was also important for another reason. "USC is not only one of the most prestigious universities in the U.S., it is also a family," he says.
RECENT NEWS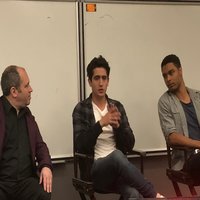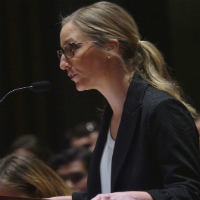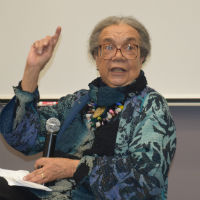 Follow the Need
April 3, 2018
Children's rights pioneer Marian Wright Edelman inspires at USC Gould