News
First Named Clinical Professorship Established at USC
Tuesday, Mar 7, 2017
USC Gould School of Law establishes first named clinical law professorship at USC with a generous $1.5 million gift.

-By Gilien Silsby
USC Gould School of Law is establishing its first named clinical law professorship at USC with a generous $1.5 million gift from longtime supporter Audrey M. Irmas, whose philanthropic commitment to women and children is well-known throughout California.
Professor Niels Frenzen, founding director of the USC Gould Immigration Clinic, will be installed as the first Sydney M. and Audrey M. Irmas Endowed Clinical Professor. The gift will expand the Immigration Clinic's work and student participation in advocacy and representation of immigration clients.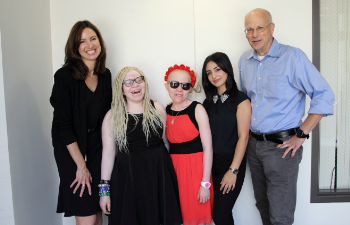 (from left) Prof. Jean Reisz, Bibiana and Tindi Mashamba, Elena Babakhanyan '18 and Prof. Niels Frenzen, who will hold clinical professorship
"Audrey Irmas has been a steadfast supporter of USC and the Gould School of Law for many decades," said Dean Andrew Guzman. "We are deeply grateful to have such a committed member of the Trojan Family supporting a critical need for our clinics at the law school."
Four generations of Irmas' family attended USC, including her husband, Sydney '55 and grandson Jared Irmas '13 both graduating from the law school. Daughter Deborah Irmas graduated in '72 with a degree in fine arts and later taught art history.
"I am thrilled to support the work of USC Gould's Immigration Clinic," said Audrey Irmas. "The clinic has helped many women and children successfully gain freedom and asylum
after enduring unimaginable harms, while
training some of USC Gould's best and brightest future lawyers."
The Immigration Clinic's recent representation of two Tanzanian sisters, who were born with albinism and targeted for "magical" body parts in their small African village, grabbed the national spotlight recently. Under the direction of Frenzen, USC law students logged hundreds of hours to help the teenagers win asylum. Today the girls are safe in Ojai, living with guardians and attending high school.
"This is one of hundreds of cases we are working on," Frenzen said. "It's cases like these that we are committed to. Our students are actively practicing immigration law while our clients benefit from representation that can literally save their lives."
Frenzen, who launched the Immigration Clinic in 2000, said he is honored to hold the inaugural Sydney M. and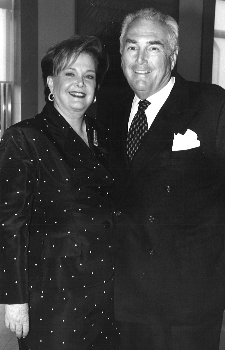 Audrey and Sydney Irmas
Audrey M. Irmas Endowed Clinical Professorship. "The Immigration Clinic is aligned with Audrey Irmas' mission of helping vulnerable populations. Her passion is truly inspirational," he said.
In the past 17 years, nearly 200 USC Gould students participated in the Immigration Clinic, representing more than 1,000 clients. The clinic boasts an impressive 95 percent success rate.
The clinic is currently working on more than 200 open cases, representing clients from 25 different countries. More than half of the clinic's clients are women and transgender women, and a third are children, with the youngest being a four-year-old boy from El Salvador.
The Irmases have been loyal supporters of USC and Gould. In 1997, the Audrey and Sydney Irmas Charitable Foundation endowed the Sydney M. Irmas Chair in Public Interest Law and Legal Ethics and funded the Irmas Fellowship in Public Interest Law and Legal Ethics. In 2012, Irmas funded the Audrey Irmas Clinical Teaching Fellow. They have also supported the Norris Comprehensive Cancer Center and Keck School of Medicine.
"The Irmas family's longstanding engagement with USC Gould has specifically supported our public interest and service efforts," said Guzman. "Their support has made a significant impact for those students interested in pursuing careers in public interest law. This latest gift is truly a game changer for our clinical education."
RECENT NEWS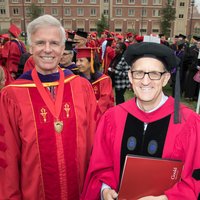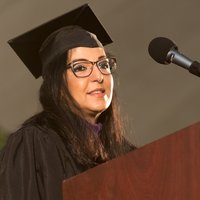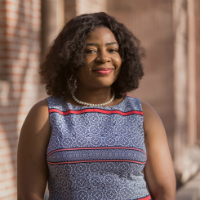 Another Person's Shoes
May 8, 2018
Nigerian lawyer Sharon Obuns wants to use her LLM degree to raise awareness for the benefits of mediation