Destined for Success

USC Gould School of Law
Monday, April 24, 2017
The Small Business Clinic celebrates its 10-year anniversary

By Gilien Silsby
Professor Michael Chasalow knows firsthand that launching a startup requires both legal acumen and entrepreneurial skills. Before joining the USC faculty in 2001, Chasalow spent more than a decade providing business and legal consulting to new companies and working with private equity investments in high-tech startups.
And so, when Chasalow founded USC's Small Business Clinic in 2007, his unique background shaped the goals for the program: provide law students with practice-ready transactional skills and offer free legal services to fledgling
business owners.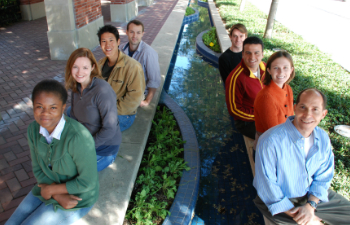 Then: Michael Chasalow with the USC Small Business Clinic inaugural class in 2007.
Ten years later, his brainchild has evolved into one of the area's most respected legal clinics. More than 85 USC law students have helped 750 clients draft and review contracts, set up corporations and LLCs, draft terms of use for websites and mobile apps and complete countless filings and corporate documents required when setting up a business. Clients run the gamut from food truck owners to children's book authors, beekeepers, microbrewers,
nonprofits that bring theater programs to elementary schools and crisis centers that help victims of violent crimes.
Many SBC alumni credit their professional success to Chasalow and the clinic.
"I wouldn't be where I am in my career had it not been for the clinic and Professor Chasalow's mentorship," said Tony Thai '14, assistant general counsel, YP LLC (formerly the Yellow Pages.) "I adjusted to practicing law right off
the bat as a corporate attorney because I was taught the foundational skills and knowledge through the clinic. I was able to start on exciting and meaningful work even as a junior attorney."
This is exactly what Chasalow was hoping the clinic would achieve. "Students who have worked in the SBC are more comfortable handling projects, working with partners and interacting with clients," he said.
In addition to instilling technical skills and attention to detail, the clinic teaches students how to work with clients and how to "manage a supervisor."
"I will often tell students how a partner might respond to a particular behavior or work ethic to let them know what will be successful and what might cause them problems in the professional world," said Chasalow.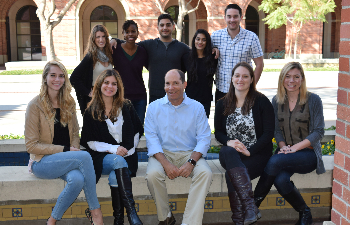 Now: Chasalow with the SBC's class of 2017. "When I think back on the 85 students who have passed through the clinic ," he says, "I realize that I have learned as much from them as they have from the clinic."
Clinic alumni currently hold a range of positions in and out of the legal field - from successful attorneys at major law firms and in-house counsel to business owners operating their own successful venture.
"The skills that I honed while working in the Small Business Clinic have contributed to my ability to overcome steep learning curves at work," said Olivia Su '14, a senior tax associate at Ernst & Young. "I wanted to obtain additional
insight into realistic business issues and learn how to resolve them. Professor Chasalow and the Small Business Clinic gave me this."
Chasalow, who received both the 2016 Student Bar Association award for outstanding faculty member and the 2016 William A. Rutter Distinguished Teaching Award, said he is honored to lay the groundwork for attorneys interested
in business.
"When I think back on the 85 students who have passed through the clinic, I realize that I have learned as much from them as they have from the clinic," Chasalow said. "I have been so fortunate to have been able to work with
such phenomenal students, and, although I would like to say the clinic contributed to the successes of our alumni, these students were destined for success long before they started in the clinic. The SBC just put them on that
path a little sooner."
Read More
RECENT NEWS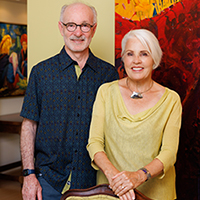 Shaped by education
January 23, 2023
Opportunity for future students motivates John (JD 1979) and Alaine Weiss to include USC Gould in their estate plans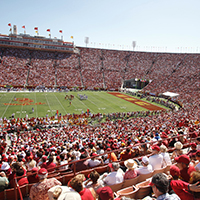 From torts to sports
January 20, 2023
Alums Richard Rosenblatt, Ted Russell team up on Autograph, a new venture bringing Web3 to entertainment and sports