Gould Grad Rights a Wrong
Wednesday, August 30, 2017
Sidney Kanazawa '78 Scores a High Court Win for Fellow Alumnus

By Anne Bergman and Christina Schweighofer
He spent decades advocating for the civil rights of Asian immigrants, including a successful challenge to the Alien Land Act, which the California Supreme Court overturned in 1952. Yet, despite earning his JD from USC in 1911, Japanese émigré Sei Fujii was legally excluded from practicing law based on his race and place of birth.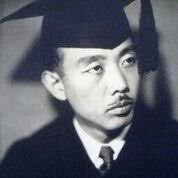 Sei Fujii earned his JD from USC in 1911.
On May 24, 2017, the California Supreme Court righted that wrong, unanimously granting Fujii his law license — 63 years after his death — citing Fujii's "work in the face of prejudice and oppression" to "make our society more just."
The Court's rare decision came due to the efforts of USC Gould alumnus Sidney Kanazawa (JD 1978), as well as a team comprised of fellow Trojans Carole Fujita (PharmD 1965), founding member of the Little Tokyo Historical Society and producer of the 2012 Sei Fujii film "Lil Tokyo Reporter"; "Lil Tokyo Reporter" director Jeffrey Gee Chin (Cinema MFA 2016); and Japanese Bar Association President Mark Furuya (JD 2005), along with a colleague of Kanazawa's, lawyer Kimberly Nakamuru.
Kanazawa, a partner with McGuireWoods LLP in Los Angeles, and his team (Arsen Kourinian, Adam Summerfield, Dana Palmer and Les Werlin) wrote the petition and filed the motion for the court to admit Fujii to the bar at the request of two of his firm's clients, the Little Tokyo Historical Society and the Japanese American Bar Association.
Kanazawa and McGuireWoods agreed to take the case (pro bono) in 2014 because they saw parallels between developments in Fujii's time and the political polarizations and divisive attitudes that have defined the country in recent years. Kanazawa says: "What was done in [Fujii's] time period is vital to what is happening today."
With his team, Kanazawa spent months conducting legal research and writing the motion, motivated not only by the courage of Fujii, but also by the courage of Fujii's long-time colleague J. Marion Wright (JD 1913), a native Angeleno who worked with Fujii for decades.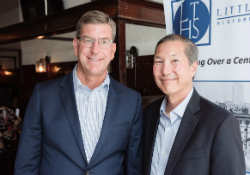 At the Sei Fujii celebration, USC Gould alumnus Sidney Kanazawa (JD 1978), pictured right, met Adam Engelskirchen (JD 1994), who is the great-grandson of Fujii's colleague J. Marion Wright (JD 1913). Photo: Chris Flynn
To defend Japanese American persons in court matters ranging from accidents to contracts, Fujii teamed up with Wright, who was a licensed attorney and a trusted advocate in Los Angeles' Japanese community. Fujii was prohibited to practice law because, as an alien Asian (Fujii was born in Japan in 1882), he was ineligible for citizenship under federal law. Only "free white persons" and "persons of African descent" could be naturalized.
A landmark case that the two men took to the U.S. Supreme Court ended with the construction of a hospital serving the Japanese community in the Boyle Heights neighborhood of L.A. (Jordan v. Tashiro, 1928).
Following their victory, Fujii continued to work tirelessly throughout the 1930s and '40s on many fronts to assert the rights of immigrants in L.A. and to heal the divides between the cultures. He ran a radio program and published a bilingual newspaper, the California Japanese Daily News. Both outlets promoted the accomplishments of young Japanese American citizens and warned the Japanese population of the gambling clubs in Little Tokyo and the gangsters that ran them.
After World War II (during which he was held in an internment camp in Santa Fe, N.M.), Fujii deliberately set out to challenge the Alien Land Law of 1913, which prohibited aliens ineligible for citizenship from owning land in California. He bought a small piece of land, and when the state tried to confiscate the property, he fought the case to the California Supreme Court. In 1952, the court ruled the law unconstitutional (Fujii v. State of California). It ruled that the law's real purpose had been to eliminate Japanese farming competition in the state and that the law violated the 14th Amendment.
Fujii became a U.S. citizen in 1954, at age 72. He died of a heart attack less than two months later.
Six decades on, Kanazawa sees Fujii's lifelong efforts to bring people together as exemplary for the law profession and as instructive for answering a fundamental question: What does it mean to be a lawyer?
"As lawyers in a free society we have a duty to remind people about our shared values," he says. "Shaping how we get along and work together — that's our job."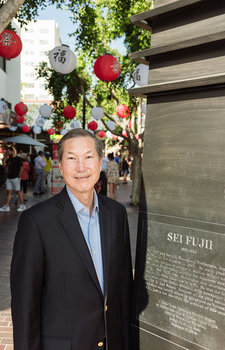 Kanazawa, pictured at Fujii's monument in Little Tokyo's Japanese Village. Photo: Chris Flynn
Kanazawa, who is Japanese American and comes from Honolulu, remembers finding that worldview in the people he met as a student at USC Gould: former deans Dorothy Nelson (LLM 1956)and Scott Bice (JD 1968), as well as Gordon Wright (JD 1948), who mentored Kanazawa at Lillick McHose in L.A. He says: "What they taught was we can have differences, but if we respect each other, we can figure it out."
Meanwhile, the impact of Fujii's posthumous bar admission is felt among the current crop of Japanese American Gould graduates.
For Mike Mikawa (JD 2017), who was briefly involved at the beginning of the effort to honor Fujii, it was a moment to celebrate. Mikawa's maternal and paternal grandparents were among the 120,000 Japanese Americans incarcerated during World War II. Learning their stories and visiting the internment camps were key to Mikawa's decision to pursue a career in law. (Find out more about Mikawa's quest here.)
"As a country, we should strive to continue learning from the injustices of our past so that we do not repeat them," he says.
In August, at a celebration of Fujii's admission to the bar, Kanazawa told the audience: "For me, the central message is not in how much courage it took for Fujii to stand up, but in how much courage it took for his friend and colleague J. Marion Wright to also stand up, when the entire nation wanted to lock us up because we looked like the enemy. It took courage for Wright to stand up for love in a sea of hate. I hope this honor reaffirms our commitment to love rather than hate."

RECENT NEWS