Showing Up for Veterans
Friday, November 10, 2017
Gould students and alumni team up to offer legal assistance to former military personnel

At USC Gould, students are regularly devoting their time to provide low-income U.S. veterans assistance with a breadth of civil matters, such as family law and landlord-tenant issues, as well as discharge upgrades. Each month, students from the Public Interest Law Foundation (PILF) partner with the Veterans Legal Institute to conduct the USC/VLI Veterans Legal Clinic.
Gould graduate Dwight Stirling (JD 2000) is CEO of VLI and co-teaches a spring Veterans Legal Practicum with Laura Riley (JD 2010), who is also a VLI board member. He sees the clinic as allowing "law students the opportunity to perform hands-on legal work for those who cannot afford private attorneys."
2L Matthew Saria, president of PILF, said that PILF decided to launch an on-campus veterans' clinic for myriad reasons. "I have family members who served in the military," Saria said. "So I know firsthand how veterans deserve as much support as we can give them. Plus, assisting veterans allows students to work on a wide range of issues, deepening their knowledge. And, we wanted to find an easy way for students to volunteer, one where they don't have to travel far or take too much away from their studies."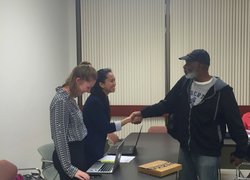 First-year students Krisha Mae Cabrera and Meaghan Allen assisted U.S. Army veteran Ray Simon at the USC/VLI Veterans Legal Clinic.
The VLI pre-screens veterans who apply for assistance and then directs suitable clients to the clinic, specifically directing Los Angeles based clients to the USC-based clinic in an effort to expand their reach to those outside of the Santa Ana area. The only military-specific legal aid organization in California, VLI receives over 50 applications per week for its services, assisting nearly every veteran who applies.
"I discovered the clinic by sheer luck," said Ray Simon, a U.S. Army veteran seeking low-cost legal aid for a civil matter. "I found the phone number for the Veterans Legal Institute and discovered they were coming to USC. Well, USC is 12 minutes from me!"
Two 1L students, Krisha Mae Cabrera and Meaghan Allen, interviewed Simon, who attended the Nov. 8 clinic, and reviewed his documentation. "They were knowledgeable, I was very impressed. I am definitely recommending the clinic to my veteran friends," Simon said.
In October, 20 law student volunteers served 12 veteran clients, while the Nov. 8 clinic drew 17 student volunteers who also assisted 12 veteran clients on legal issues including: civil and family law matters, military benefits, discharge status upgrades and expungements.
PILF trains the students before they conduct work in the clinic. Saria was especially gratified to see so many students volunteer their time during "No Fun November," as most are vigorously studying for their end-of-semester exams.
The turnout, he said, is a testament, to the culture at USC Gould. "The school really emphasizes public interest, from the public interest certificate to the scholars program. It's a great time to be a public interest student here."
For Stirling, who is a military veteran, the effort takes on an even larger meaning. "It is gratifying for me to see future attorneys serving the men and women who have themselves served the nation in uniform, as they have sacrificed so much to protect us and maintain our freedom."
Want to volunteer or learn more? Contact: PILF@lawmail.usc.edu.
RECENT NEWS