Does Patent Reform Need Reforming?
Wednesday, April 3, 2019
USC Gould hosts its first-ever conference for academics, attorneys and policymakers to discuss U.S. patent system reform.
By Greg Hardesty
Got a smartphone in your hand? More than 250,000 patents have been granted to protect the technologies used to create the device.
That eye-popping number was mentioned at a Feb. 22 conference hosted by the USC Gould School of Law that was the first of its kind, bringing together more than 100 thought leaders in the academic, legal and policymaking arenas to discuss the U.S. patent system and efforts over the last decade to reform it.
"Everything we are used to today – electricity and the telephone, the automobile, the airplane, recombinant DNA, DNA synthesis and cancer treatments, the microprocessor and the smartphone, cryptography, and so much more – all of it is done with American patents," said Andrei Iancu, undersecretary of commerce for intellectual property and director of the U.S. Patent and Trademark Office.
Iancu, who oversees more than 12,000 employees and an annual budget of more than $3 billion, was the keynote speaker at the "Reforming Patent Reform" conference, which was organized by Gould professors
Brian Peck
, director of the Center for Transnational Law and Business (
CTLB
), and
Jonathan Barnett
, director of the Media, Entertainment and Technology (
MET
) Law Program.
The day-long seminar focused on whether reform of the U.S. patent system, which has been in full swing for at least a decade, is advancing or hindering innovation.
"This conference provided a unique venue in which academics, legal practitioners and industry participants engaged in a constructive discussion over the future direction of U.S. patent law and policy," Barnett said.
Research-Based Reforms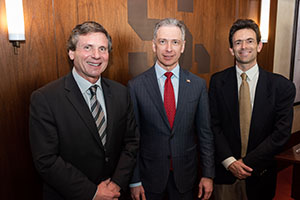 Iancu with Gould professors Brian Peck, left, and Jonathan Barnett (Photo by Chris Flynn)
The conference emphasized the importance of using data and evidence as a basis for patent reform. Several speakers, who were part of six different panels, provided the audience with insights into a rich body of empirical research on some of the core patent and antitrust issues facing technology markets.
Former policymakers from the Department of Justice and the Patent & Trademark Office engaged with legal scholars, economists and antitrust and patent practitioners from around the country to discuss these complex topics. The full list of speakers is available on the
CTLB website
.
Reform of U.S. patent law has resulted in major legislative, judicial and regulatory developments. One of the more recent big changes came in 2012, when the America Invents Act (AIA) went into effect, which created the Patent Trials & Appeals Board (PTAB), which allows patents to be challenged outside a courtroom.
Is Patent Policy on the Right Track?

From left: Kirti Gupta of Qualcomm; Michael Lawrence of Google; Anne Layne-Farrar of Charles River Associates; and Douglas Melamed of Stanford (Photo by Chris Flynn)
In one session, leading experts – including Kirti Gupta of Qualcomm; Michael Lawrence of Google; Anne Layne-Farrar of Charles River Associates; and Stanford's Douglas Melamed, who previously headed the Antitrust Division at the Department of Justice – debated antitrust policy on the "standard-essential" patents (commonly known as "SEPs") that lie behind smartphones, tablets and other computing and communications devices in the digital world.
The speakers discussed the recent shift in policy at the Department of Justice's Antitrust Division and various court decisions that have interpreted the meaning of the "fair, reasonable and non-discriminatory" (or "FRAND") licensing commitment that governs SEPs.
Addressing Problems, Finding Solutions
Another session featured four experts – Brian Love of Santa Clara University; David Kappos of Cravath, Swaine & Moore LLP, who is a past director of the USPTO; Luke L. Dauchot of Kirkland & Ellis LLP; and Duke's Arti Rai, former external affairs administrator of the USPTO – who delivered a "report card" on the PTAB, which was established to address a perceived problem of low-quality patents.
Iancu stressed the importance of innovation and the roles patents play in it.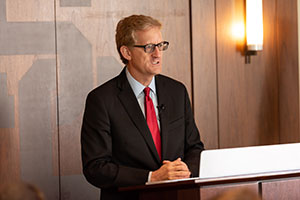 Dean Andrew Guzman (Photo by Chris Flynn)
"In order to ensure that our nation remains at the forefront of technology, I believe we must do at a minimum of three things," Iancu said. "One, we must inspire people to innovate. Two, we must broaden the opportunities to innovate geographically, demographically and economically. And three, [we must] provide a reliable and predictable legal framework to incentivize and protect the resulting innovation."
Value Added
Charles S. Barquist, an attorney at Maschoff Brennan, an intellectual property and complex litigation firm in Los Angeles, said the conference was valuable.
"As a practicing lawyer doing patent litigation day in and day out, the conference was an eye-opening look at the quantitative, data-driven research being done in academia on the patent litigation system," Barquist said. "The research presented at the conference was certainly helpful to dispel some of the misconceptions about patent litigation and should inform ongoing discussions about future changes to the system to foster innovation and reduce avoidable costs."
RECENT NEWS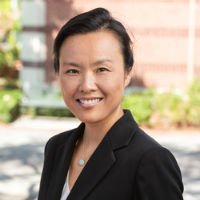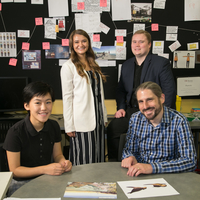 The Legal Rules of The Games
June 27, 2019
Gould's Intellectual Property and Technology Law Clinic helps student game developer navigate copyright issues.