Advice for Navigating Summer Networking Receptions
Thursday, May 16, 2019
Ten tips, plus a bonus!
By Rachel Kronick Rothbart, director of Career Services at USC Gould
1) RSVP to an event and make sure you go. If you are unable to make it, send a note of apology.
2) Know where you are going. GPS may not get you there exactly. Your delay may derail your efforts.
3) Suit Up- First impressions can be everything and it is better to dress up then down. If you not sure what to wear, ask the CSO, not your classmate.
4) Goaaaaal: If you are an introvert, attending a networking reception might be daunting. The goal of an event is quality not quantity. No one should be looking to meet every person in the room. Aim for meeting and talking to two-three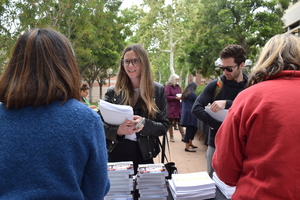 The Career Services Office offers advice for summer.
people in the room. You can always meet more if the energy is right.
5) Going up? Have your elevator pitch ready not rehearsed. Elevator pitches are 20 -30 second introductions about yourself. It is a way to open a conversation and start the flow of conversation. Think about your elevator pitch as your "Who, What, Where?"
6) Nice to meet you- most likely you are going to have to shake hands either when you are meeting a person or when you are leaving a conversation, so practice (and this one you can practice with your classmates). Firm but not "boa constricting," Confident not sweaty.
7) To drink or not to drink but never overdrink. Many of the receptions will serve alcohol. This does not mean you have to drink. If you do not drink alcohol, you do not have to drink. Order a soft drink or a club soda with lime instead. No one is going to judge you for not drinking, but they will judge you if you overindulge.
8) Avoid discussions about politics, race and religion (unless you are at an event where this quality is the reason for the event). If going to a firm event, look at the firm's website, even Google the firm. Listen to NPR or look at the L.A. Times, The Washington Post or the New York Times to get a sense of what's going on in the world. It is not the time to break out your latest knowledge gleaned from BuzzFeed.
9) Follow up (but don't follow up too many times): Let's say you meet a potential contact and they give you their card, what do you do next? Reach out to the contact in a professional manner via email (unless told otherwise). If at first, they do not respond (because they are busy too), try again a week later.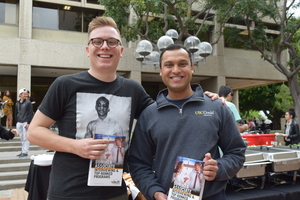 These second-year students are prepared for a productive summer!
10) Meet up- if you meet up with a contact from a networking event, try to connect at a public place like a coffee shop or the professional's office never a bar or residence. Meeting in the daytime is preferable to evenings (most professionals and yourself probably want to go home after a long day).
11) Do I have to network? No, you do not have to attend networking events. You can go home and watch You Tube videos of gamers instead. If you choose this path, however, there is less of likelihood that a great opportunity will present itself while you are playing Fortnite (you are not Ninja, nor are you Drake). There are ways to network that make sense to the type of person you are but staying home is not the solution. Talk to a CSO counselor about finding the right plan for you.
Networking is a marathon not a sprint. There are different ways to network just like there are different people. Doing what's right for you will make it feel more natural and part of your style. Remember networking is not just about finding a job; it will help you find clients, opportunities and learn.
RECENT NEWS