'NO' to Lautenberg Mass Denials
Wednesday, July 17, 2019
Thanks in part to four hard-working IHRC students, an unprecedented blanket rejection of 87 Iranian refugees is overturned on summary judgment.
By Diane Krieger
Last year, Behrouz G. was a man without a country. He couldn't come to the United States. He couldn't stay in Austria. And he couldn't go back to Iran.
Targeted for his Christian faith, the Iranian shopkeeper had been repeatedly intimidated by government agents who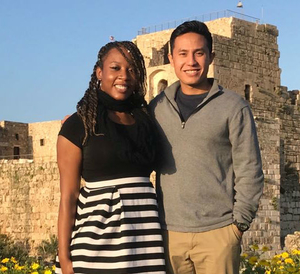 Law students Ashley De Vance and Matt Saria in Beirut with the International Human Rights Clinic.
would barge into his establishment, destroy religious symbols and serve him with trumped-up citations. As the harassment escalated, Behrouz entered the Lautenberg-Specter program aimed at religious-minority resettlement in the United States.
Earlier, Behrouz had obtained a special visa and traveled to Vienna, where his claim was to be processed. (The Lautenberg-Specter program is run in partnership with the Austrian government.) But months passed, and he didn't get the go-ahead. Then one day last spring, he received a "notice of ineligibility" from the U.S. Department of Homeland Security (DHS). Behrouz had every reason to be optimistic: In recent years, Lautenberg applicants enjoyed near-100-percent success in qualifying for refugee status, said Prof. Hannah Garry, who recently led a team of law students participating in Gould's International Human Rights Clinic to advocate for him in federal court.
No explanation was offered. His claim had been "denied as a matter of discretion."
LIVING IN LIMBO
Requests for clarification went unanswered, but Behrouz learned through his contacts within the New York-based International Refugee Assistance Project (IRAP) that all 87 Iranians in his cohort had received the same notice.
Such a mass denial was unprecedented, according to the LA Times, and placed the Lautenberg applicants in a precarious position: all faced imminent deportation to Iran, where they could expect even greater persecution as declared asylum seekers.
DHS's opaque language blocked legal recourse.
"If you don't know why you're being denied, you can't appeal the decision," says 3L USC law student Ashley De Vance (JD 2019).
SKYPING FROM BEIRUT TO VIENNA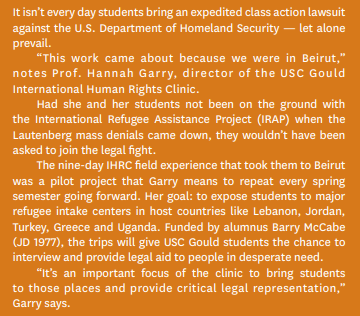 How students came to bring the lawsuit.
De Vance was one of four USC Gould IHRC students who sprang into action on behalf of the Lautenberg applicants. She and classmates Matt Saria (JD 2019), Bettina Tiangco (JD 2019) and Natalia DaSilva (JD 2019) were all in Beirut on a nine-day field experience (see info box at right) at the time. They were interviewing Syrian refugees seeking UN resettlement when their host agency, IRAP, got wind of the Lautenberg mass denials. Behrouz's case was assigned to the USC team; the next day they conducted an hours-long interview with him from Beirut via Skype. Back in Los Angeles, De Vance and Saria raced to help IRAP bring motions for class certification and summary judgment in U.S. District Court, funneling legal research to the pro-bono litigation team at Gibson, Dunn & Crutcher.
The outcome was a big win.
In May, Judge Beth Labson Freeman in the Northern District of California granted class certification for all 87 denied Iranian refugees. In July, she ordered DHS to immediately re-open each Lautenberg case and fully explain any future denials.
"I am so proud of the students' hard work and zealous advocacy," says Garry, who launched the IHRC in 2010. "This is a huge victory."
USC Gould alumnus Barry McCabe (JD 1977) is equally proud of the IHRC students and supports the clinic's efforts. "It's very important to look at the humanitarian side of the law," he says. "This project is helping refugees and providing law students with a real-world learning experience. I think this is an extremely worthwhile effort. I know our law students will be enriched by their experience with the refugees, and that is very rewarding for me."
HUMAN RIGHTS ADVOCATES
Saria and De Vance say their experiences through IHRC have ignited a passion for human rights law.
"That year gave me such exposure to all the ways you can work in that space," Saria says. "You don't need to be a full-time human rights lawyer to do it."
His primary area of practice, when he joins the Los Angeles office of Gibson, Dunn & Crutcher next summer, will be real estate law, with emphasis on land use.
De Vance will join the Los Angeles offices of Alston & Bird when she graduates. With certificates in international law and business law, she'll start in the firm's business litigation branch.
But thanks to Garry's rigorous training and close ties to the human rights community, Saria and De Vance have the tools to make lifelong contributions in refugee advocacy — which, Garry emphasizes, is critically important at this moment.
'HAVING A LAWYER IS EVERYTHING'
"We've got the largest refugee crisis in world history," Garry says. "There are literally millions of people with no advocate. And having a lawyer is everything. Studies show asylum seekers who have representation are so much more successful at getting protection from persecution than those who don't. We need as many lawyers as we can get."
For De Vance, the Lautenberg victory feels bittersweet.
"It was really exciting, but also really sad," De Vance says. "This is a drop in the bucket. Yes, the mass denials were overturned, but refugees are being denied every day. There's so much more work that needs to be done."
Behrouz's case is still pending. He remains in Vienna.
RECENT NEWS