Philadelphia DA Larry Krasner discusses criminal justice in action with Prof. Jody Armour
Friday, December 13, 2019
"The Role of Progressive Prosecutors in Promoting Criminal Justice Reform" draws packed audience.
By Leslie Ridgeway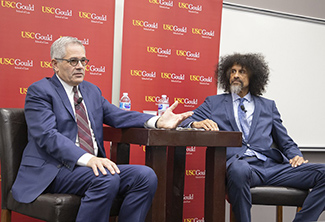 Philadelphia DA Larry Krasner, with Prof. Jody Armour, on defining what a progressive prosecutor is and does.

Philadelphia District Attorney Larry Krasner and Prof. Jody Armour discussed criminal justice reform, the death penalty, victims' rights and holding police accountable at "The Role of Progressive Prosecutors in Promoting Criminal Justice Reform" in late October at the USC Gould School.
It was Krasner's second visit to USC Gould since his election as DA in 2017 and was part of a nationwide recruiting trip to encourage 1Ls and 2Ls to sign up for an intensive summer program in his office, designed to train more progressive prosecutors.
"Get enough done and they come after you"
After nearly two years in office, Krasner said developing a campaign platform wasn't difficult after seeing the results of the system of mass incarceration. The real work started when the system was threatened, he said, "and then you get enough done and they come after you." He noted the difficulty of changing an enormous, entrenched system: "Once you build this monstrous machine, the machine wants to keep driving down the road … We've had a lot of success but we've had a fair amount of frustration."
Krasner was among the earliest of so-called "progressive prosecutors" with public defender backgrounds who ran on platforms of fairness and reform. Armour noted the term "progressive prosecutor" had become "more or less an empty buzzword" and asked Krasner to explain a definition he created: "a public defender with power."
"There is a long held inaccurate perception of prosecutors" as too eager to file charges, willing to tolerate corruption and fearful of taking the risks necessary to bring about reform, Krasner said. "The ethical obligation of a prosecutor is to seek justice. It's not to get elected to higher office. It's not to cheat. It's not to maximize your statistics … I think public defenders push very hard for justice. They don't have the same ethical obligation but they're up against such unfairness on the part of the prosecution that in so many jurisdictions they are the engine that pushes for justice."
Death penalty case review reveals shocking results
Krasner's pursuit of reform includes support of a recent challenge by defense attorneys of the application of Pennsylvania's death penalty, which was rejected in September by the state Supreme Court. Krasner said his office discovered, in a review of state death penalty cases for the past 40 years, that the death penalty was applied arbitrarily and chiefly against minority groups as well as the poor and mentally challenged. Death phases should have lasted for days but were wrapped up in hours, he said. Among the shocking findings was that 72 percent of the cases were overturned on appeal.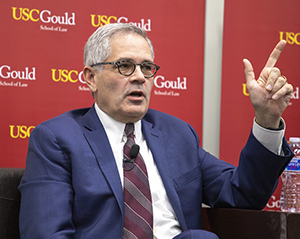 Krasner on his office finding that 72% of state death penalty cases had been overturned on appeal - "That is one lousy batting average."
"Let us understand that when you're a prosecutor, you're supposed to win on appeal about 95-98 percent of the time. What if you're winning 28 percent of the time, and not even 28 percent because the other 28 percent are still under consideration?" he said. "This means that for decades there have been prosecutors standing up saying, 'Kill 'em, kill 'em, kill 'em, kill 'em,' and three out of four times relatively conservative appellate judges said no, those proceedings were so unacceptable, those tactics were so impermissible that even our constitution will not tolerate them. That is one lousy batting average by any measure."
Progressive prosecutors have often been accused of overlooking victims' rights, a charge that Krasner said had been leveled against his office. He asserted that sensitivity to victims involves listening to their needs and being forthright with them about what charges are realistic, which sometimes does not sit right with victims and victims' rights groups.
"(Being honest) is something prior administrations would not do," he said. "They would charge the highest level and let the jury, let the judge knock it down and rather than be honest and say yeah, I kind of misled you by making you think this would be a life sentence … they would say that judge is nothing but a defense lawyer and a rogue … these juries are full of dummies, these dummies did that to you … they pandered and lied to victims' families so the victims' families would deflect blame onto anybody but the prosecution because they were all about headlines."
Krasner discussed his pursuit of rooting out police misconduct, specifically, identifying police officers with troubled records whose testimony can be called into question by the defense, jeopardizing justice. Krasner said this is addressed by an office of conviction integrity that keeps a list of troubled officers whose records are disclosed to the defense. The list changes constantly, and deciding who belongs on it is not, as Krasner said, an "easy call."
Global perspectives on criminal justice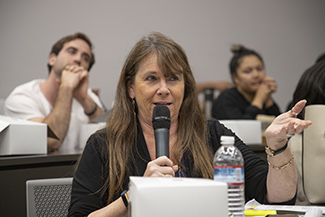 Miriam Krinsky, executive director of Fair and Just Prosecution, discusses a trip to understand criminal justice systems in European nations.
The talk included perspective from Miriam Krinsky, executive director of Fair and Just Prosecution, on campus to invite students to take part in a summer fellowship program with the organization. She discussed a trip she, Krasner and other progressive prosecutors took to Europe to understand European criminal justice systems and how they handle drug abuse, incarceration and related issues.
"We have to recognize that the US is this incredible and embarrassing outlier in the world," she said. "We Incarcerate more people at a younger age for longer periods of time than anywhere else in the world … Our aim was just to see different thinking in regards to those issues, but really to try to help spur reform throughout the country with this amazing group of new leaders who are open to different ways of thinking about things."
RECENT NEWS