Human rights expert Carlos Holguín presents Neiman Sieroty Lecture
Tuesday, April 7, 2020
Prof. Emily Ryo moderates discussion of Holguín's activism, legal work
When he was a young activist, Carlos Holguín realized that the best way to effect lasting change would be through a law degree. Now, as general counsel at the public interest legal foundation, Center for Human Rights & Constitutional Law, he's doing just that — changing immigration law and the lives of migrants.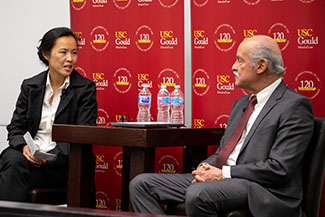 Prof. Emily Ryo moderates the discussion with human rights expert Carlos Holguín.
Holguín addressed students, faculty, and advocates on March 2nd at USC Gould School of Law, as part of the annual Neiman Sieroty Lecture, an endowed event series named after Gould alumni Allen Neiman (JD 1956) and Alan Sieroty (JD 1956). Prof. Emily Ryo moderated the talk, which focused on humane treatment of immigrant children seeking asylum.
While working at the Center for Human Rights and Constitutional Law, Holguín learned about an immigrant's daughter being held in detention after her parent was unable to pick her up due to fears of being deported. The situation led Holguín and his co-counsel to file a class-action lawsuit in 1985 that became Flores v. Meese, a landmark case that continues to protect immigrant, refugee and asylum-seeking children to this day.
The 1985 suit helped develop standard protocols for releasing migrant children into custody of relatives or guardians, while also establishing standards of care for migrant children in detention facilities.
The impact of that case is extraordinary, Holguín said, and should serve as inspiration for students who want to pursue careers in public interest law. "It can take a lot of work and a lot of creativity but it can be done."
Holguín spoke at length regarding the complex legal process for migrant children and gave an overview of the detention process and key players in current times. He described the variety of standard and substandard care in facilities that are not designed with children in mind, highlighting the lack of privacy, family separation, and overcrowding as key mental health stressors.
"A whole other level of human misery"
Holguín discussed the concerns for migrant children's mental well-being after living in such harsh conditions. "All of the studies on congregant care show that even under ideal conditions, the longer it goes on, the more risk there is of long-term psychological damage of children that have to experience it, particularly when you couple it with family separation," he said.
Holguín touched on the current legal landscape and the issues surrounding the "Remain in Mexico" policy that the current administration has adopted and how it impacts the lives of immigrant children. He described the range of actions the administration has taken, which he said make it difficult for immigrants to arrive in the United States, as well as the conditions of the migrant camps in southern Mexico.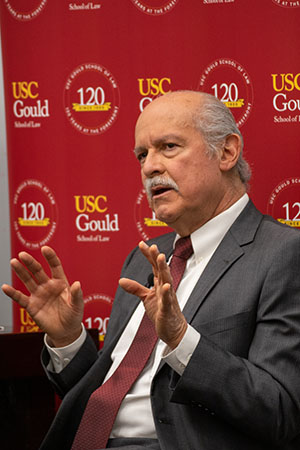 Holguín discusses his landmark class action lawsuit.
"To see the really abject conditions in which people can suffer in southern Mexico is just a whole other level of human misery," he said, describing a visit to camps in Tapachula, where one of the largest migrant detention facilities in the world is located. "I went out to the municipal dump, where there were about 150 to 200 people — men, women and children — picking through the garbage looking for something to eat."
Holguín ended the lecture with a final charge to the attending students and faculty, stressing the importance of due diligence and not accepting the first answer given, particularly when involving complex legal issues and the government.
"We should be trained and committed to asking the next question," he said. "Is that legal? Where does that policy come from…what are the possibilities of challenging that statute as being unconstitutional? Does this amount to due process and fairness?"
RECENT NEWS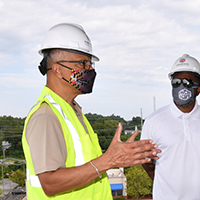 Continuum of Care
November 24, 2020
Boyd Rutherford, JD 1990, focuses on state health issues as Lieutenant Governor of Maryland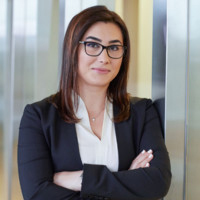 Paying it forward
November 24, 2020
Karine Akopchikyan, JD 2015, VP of Gould's Alumni Association, speaks to the importance of building and keeping relation...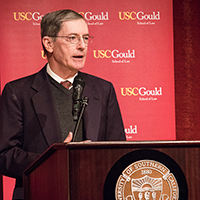 University honors Gould faculty
November 24, 2020
Ron Garet receives Faculty Lifetime Achievement Award, while Tom Griffith and Pauline Aranas named emeriti faculty