2021 awards honor students, faculty, staff

USC Gould School of Law
Monday, April 26, 2021
Each year, USC Gould academic programs and the Student Bar Association bestow distinguished awards to students and faculty for their exceptional abilities both in and out of the classroom. Congratulations to this year's honorees.
William A. Rutter Distinguished Teaching Award
Class of 2021 JD Awards
C. David Molina First Generation Professionals Program Student of the Year

Dean Dorothy Nelson Commemorative Prize

Mason C. Brown Award

Miller-Johnson Equal Justice Prize

Edward & Eleanor Shattuck Awards

Amanda Clark
Tyler Dobberstein
Danielle Luchetta
Qianru Kara Du
Forest Lieberman
Sara Zollner
Class of 2021 Graduate & International Programs Awards
Itzel De La Torre
Abdulrahman Hamdi
Learn more about the above awards and award recipients:
2020-2021 Student Bar Association EDI Fellowship & Faculty and Staff of the Year Awards
Congratulations to the Student Bar Association Awards winners!
EDI Fellowship Awards

Martina Fouquet
Chinelo Ikem
Tomi Johnson
Kelly Larios
Tammi Matsukiyo
Steven Perkins
Ravneet Purewal
Dimiana Saad
Staff Member of the Year

Amy Cheung, Chief of Staff
Adjunct Professor of the Year

Faculty Member of the Year

Jeffrey Pearlman, Clinical Assistant Professor of Law and Director, Intellectual Property & Technology Law Clinic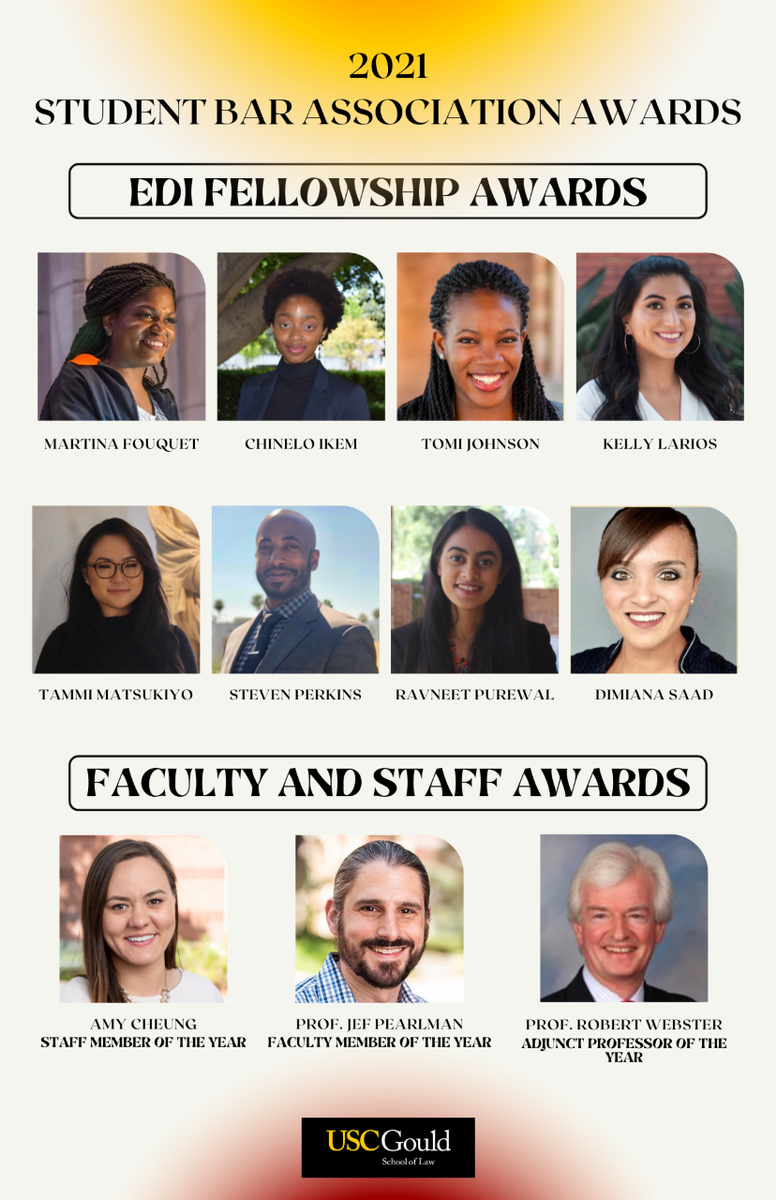 RECENT NEWS