Introduction - International Human Rights Clinic

USC Gould School of Law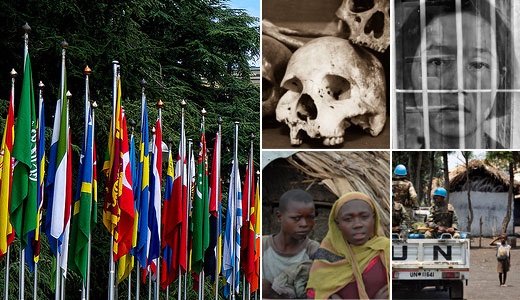 Introduction

The International Human Rights Clinic gives students the opportunity to work on projects and cases, both local and international, which confront the most pressing human rights concerns of our day. Under the supervision of Clinic Director Professor Hannah Garry, students seek justice on behalf of victims, hold perpetrators of serious human rights abuses accountable and work towards progressive development of the law. Through this experience, students acquire knowledge and skills for effective international lawyering and human rights advocacy while supporting the critical work of human rights advocates and organizations worldwide.

Clinic News

USC International Human Rights Clinic student attorneys Matt Saria, '19, Ashley De Vance, '19, Bettina Tiangco, '19 and Natalia Da Silva, '19 worked in partnership with the International Refugee Assistance Project to file motions for class certification and summary judgment in U.S. district court in the northern district of CA to reverse the unprecedented mass denial of refugee status by the Department of Homeland Security to approximately 87 Iranian religious minorities who had fled to Austria and applied for resettlement into the United States through the Vienna based Lautenberg-Specter program established by Congress in the 1990s and early 2000s.

USC Gould's International Human Rights Clinic counts many successes in past five years.




-- DECADES AFTER GENOCIDE: IS JUSTICE POSSIBLE?

A Conversation between Nick Koumjian, Prosecutor at the ECCC and Prof. Hannah Garry, Director, USC International Human Rights Clinic.

"I grew up hearing stories of the Holocaust and was instructed often of my special responsibility... not to ignore, and thereby allow, similar crimes committed in my time. This clinic gives me an opportunity to do work in which I strongly believe."


Current Cases and Projects

International Criminal Tribunal cases: (monitor, research and report on issues in cases trying perpetrators of war crimes, crimes against humanity, genocide and terrorism)
International Criminal Court, The Hague, The Netherlands
Extraordinary Chambers in Courts of Cambodia, Phnom Penh, Cambodia
Special Tribunal for Lebanon, Leidschendam, The Netherlands
Refugee Rights litigation/representation: represent refugees seeking resettlement to the United States before UNHCR and in U.S. litigation against summary deportation back to situations of persecution; establish family reunification screening clinics for U.S. based individuals with refugee family members abroad; lobby local, State and federal officials in favor of refugee rights and raising the refugee resettlement cap; visit immigration detention centers and report on increased U.S. detention of asylum seekers/refugees.
Affirmative Asylum cases: represent human rights defenders fleeing from situations of persecution and mass atrocities world-wide.
Human Trafficking cases: represent survivors of human trafficking and domestic violence from southeast Asia & Latin America; investigate and report on the FBI's Innocence Lost Task Force Cross-Country Raids.
Cameroon advocacy: prepare letters to Special Rapporteurs and a communique to the International Criminal Court re atrocity crimes.
Internships and Fellowships: 34 from 2012-2018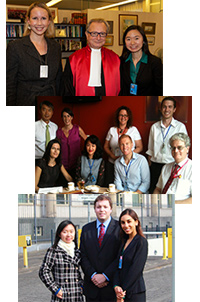 Department of Justice, Human Rights and Special Prosecution Section, Washington D.C.
Extraordinary Chambers in the Courts of Cambodia, Cambodia
International Criminal Court
International Criminal Tribunal for Rwanda, Arusha, Tanzania
International Criminal Tribunals for the former Yugoslavia and Rwanda, The Hague, The Netherlands
Mechanism for International Criminal Tribunals
Special Tribunal for Lebanon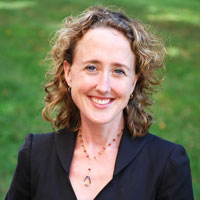 Professor Hannah Garry joined USC law faculty in the fall of 2010. She arrived from University of Colorado Law, where she was visiting faculty and taught international law courses as well as initiated an experiential learning course supervising students on Guantanamo and Alien Tort Statute cases. Garry has worked on international human rights and international criminal law issues since 1994 with a number of organizations including Oxford University's Refugee Studies Centre; Makerere University in Kampala, Uganda; the International Criminal Court; the UN International Criminal Tribunals for the former Yugoslavia and Rwanda; the Extraordinary Chambers in the Courts of Cambodia; the United Nations High Commissioner for Refugees; the European Court of Human Rights; and the International Human Rights Law Group (now Global Rights). She has experience in Africa, Asia and Europe.
Garry has also spoken and written widely on protection of refugee rights in Africa under national and international law; protection of refugee rights under the European Convention on Human Rights; asylum law and policy within the European Union; state responsibility and compensation for refugee flows under international law; victims' rights and restorative justice in international criminal law; corporate criminal and social responsibility under international law; and international criminal procedure.
RECENT NEWS