News - International Human Rights Clinic

USC Gould School of Law

USC Gould School of Law's International Human Rights Clinic and Access Now Urge United Nations to Address Human Rights Violations Committed Against Anglophone Cameroonians
LOS ANGELES, March 6, 2018 - The University of Southern California Gould School of Law's International Human Rights Clinic (USC IHRC) and Access Now, together with legal counsel, Foley Hoag LLP, are urging the United Nations High Commissioner on Human Rights, Zeid Ra'ad Al Hussein, to address recent human rights violations committed by the Republic of Cameroon against the country's Anglophone population.
In a letter, USC IHRC and Access Now seek increased efforts by the UN to prevent future human rights violations against Anglophone Cameroonians in Cameroon and those seeking asylum in Nigeria, as well as to ensure that those responsible for prior violations are held accountable for their unlawful conduct. The letter further calls on the Government of Cameroon to respect Anglophone Cameroonians' rights to assembly and peaceful protest, freedom of expression, and access to information through any media.
"As your Office is aware, over the past year and a half, the Government of Cameroon has brutally cracked down on any perceived political dissidents," the letter states. "English-speaking civilians from the Anglophone Cameroonian regions have been particularly targeted because of their opposition to the Government's discriminatory policies aimed at economic suppression and forced assimilation of this minority group. What in 2016 'began as a simple request for English to be used in the courtrooms and public schools,' has since escalated into a major crisis."
The letter emphasizes several serious violations against Anglophone Cameroonians, including torture, inhuman treatment, and threats to freedom of expression. In January 2018, Nigeria extradited many arrested Anglophone Cameroonian political leaders to Cameroon, violating both Nigerian and international law, the letter states, adding that the situation has become "further internationalized" with Chad deploying its military in Cameroon at the request of the Cameroonian government.
"These widespread and rapidly escalating human rights violations against Anglophone Cameroonians must be stopped once and for all," said Prof. Hannah Garry, founding Director of USC Gould School of Law's International Human Rights Clinic. "We hope that in our appealing to UN leaders about what's taking place in these countries, action will be taken to ensure these individuals can live their lives free from oppression and strife."
"The warning signs are clear, and world leaders should not sit idly while Cameroon continues its campaign of censorship and repression," said Peter Micek, General Counsel of Access Now. "Cameroon's leaders have repeatedly shut down the internet in a blatant attempt to silence and weaken the English-speaking minority, so far with impunity. Civil society expects global diplomats and lawmakers, from Cameroon's neighboring countries, the United Nations, and beyond, to take a stand. We must act urgently to prevent further attacks on Anglophone communities, which displace vulnerable communities and violate their human rights."
Along with the letter, USC IHRC and Access Now are working to schedule meetings with the offices of several U.S. congresspersons to address these human rights issues.
The USC IHRC handles pro bono advocacy projects to confront some of the most pressing human rights concerns. Access Now is a non-governmental organization that works to defend the digital rights of users at risk around the world through policy and advocacy interventions, direct technological support, grants, and the RightsCon event series.
Contacts:
Professor Hannah Garry, Director of USC International Human Rights Clinic
USC Gould School of Law
213-740-9154
hgarry@law.usc.edu
Peter Micek, General Counsel
Access Now
888-414-0100 x709
peter@accesnow.org
---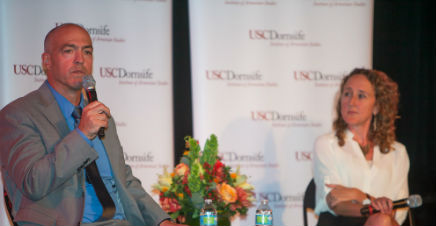 ECCC prosecutor pursues leaders of the Khmer Rouge for crimes committed 40 years ago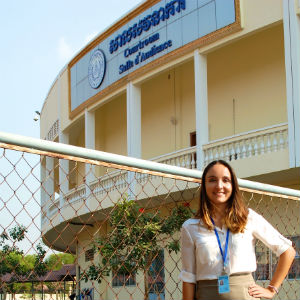 USC Gould students intern with international criminal tribunals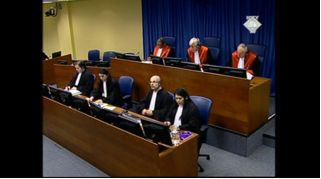 John Flynn '12 has accepted a prestigious clerkship opportunity with Chambers at the Special Tribunal for Lebanon (STL) in The Hague. Flynn is the second USC Gould graduate awarded the unique fellowship, which is available to only a handful of law graduates in the United States. An anonymous USC Gould alum funded the opportunity after the Tribunal invited graduates of USC Gould's International Human Rights Clinic to clerk with the court. Flynn begins his fellowship in October 2014 and will work on the Ayyash et al. trial against those allegedly responsible for the 2005 assassination of the former Lebanese Prime Minister Rafiq Hariri.


USC Gould students Rosemary DiPietrantonio, '14, Jennifer Ehrlich, '13, Lisa Foutch, '13, Joel Frost-Tift, '14 and Michelle Shaffie, '13, received notice that two of their clients successfully obtained visas as survivors of human trafficking. Working with the Coalition to Abolish Slavery and Trafficking, the students worked with clients from the Philippines and Mexico to help them apply for the visas, which allow them to live and work lawfully in the United States, along with their families.
-- JUDGE FAUSTO POCAR, INTERNATIONAL CRIMINAL TRIBUNALS FOR THE FORMER YUGOSLAVIA & RWANDA: "MASS ATROCITIES, THE INTERNATIONAL CRIMINAL COURT AND THE FUTURE OF INTERNATIONAL CRIMINAL JUSTICE"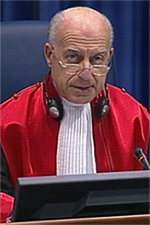 Since his appointment to the ICTY in 2000, Judge Pocar has served as a Judge in a Trial Chamber, where he sat on the first case concerned with rape as a crime against humanity, and in the Appeals Chamber of the Tribunal, where he is still sitting. As a Judge of the Appeals Chamber, he is also a Judge of the Appeals Chamber of the International Criminal Tribunal for Rwanda (ICTR). On appeal, he has participated in the adoption of the final judgments in several ICTY and ICTR cases, heard both at The Hague and in Arusha, Tanzania. Between November 2005 and November 2008 he served as President of the ICTY.
Judge Pocar is Professor of International Law at the Law Faculty of the University of Milan, where he has also served as the Dean of the Faculty of Political Sciences and as the Vice-Rector. He is the author of numerous publications on International Law, including Human Rights and Humanitarian Law, Private International Law and European Law.
Judge Pocar has a long standing experience in UN activities, in particular in the field of human rights and humanitarian law. He has served for 16 years (1984-2000) as a member of the Human Rights Committee under the International Covenant on Civil and Political Rights and has been its Chairman (1991-92) and Rapporteur (1989-90). Further, he was appointed Special Representative of the UN High Commissioner for Human Rights for visits to Chechnya and the Russian Federation during the 1995-6 conflict.
Co-sponsored by the USC Shoah Foundation Institute, the USC Levan Institute, the USC Gould Clerkship Committee and the USC Gould Iraqi Refugee Assistance Project.

WAR DON DON follows the trial of Issa Sesay at the Special Court for Sierra Leone, and explores the contradictions of a man who dealt in blood diamonds, commanded child soldiers and was blamed for mass atrocities against civilians, while also being credited with ending the war. Film screening introduced by Anne Archer, actress and founder of Artists for Human Rights. Panel discussion to follow with producer/director and Harvard Law Lecturer Rebecca Richmond Cohen, Elise Keppler, Senior Counsel, Human Rights Watch, Prof. Michael Renov, USC School of Cinematic Arts, and moderated by Prof. Hannah Garry, USC Gould School of Law and director International Human Rights Clinic. Tuesday, February 26, 2013 at 7:00 pm, The Ray Starke Family Theatre, USC School of Cinematic Arts. For parking and RSVP visit http://cinema.usc.edu/WarDonDon.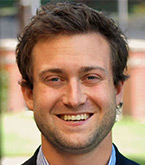 USC Gould School of Law graduate Brian Rifkin '11 has accepted a competitive one-year fellowship working with the Special Tribunal for Lebanon Chambers in The Hague. Rifkin, who starts his new job this summer, will work as a law clerk in Tribunal President David Baragwanath's office, assisting appeals judges with legal research, writing and analysis and monitoring developments in international law. He may also work on reports to the United Nations Security Council as well as be involved with diplomatic consultations.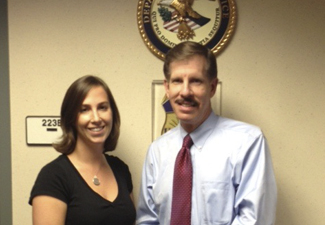 USC Gould's International Human Rights Clinic is adding a variety of domestic work to its legal docket, including representing human trafficking survivors, working with the U.S. Department of Justice and providing legal analysis for a Supreme Court case. It is also expanding its global reach through a new partnership with the Special Tribunal for Lebanon--the first to try terrorism as an international crime and the first with respect to the Middle East.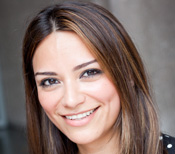 One of my first assignments in the International Human Rights Clinic (IHRC) this past summer was to work with a client who was trafficked into the United States. Her story was heart breaking. She was forced into slave labor in Los Angeles and later became a victim of domestic violence.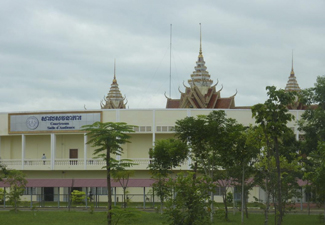 Clinic students work on cases involving some of history's worst international crimes: the Cambodian Killing Fields of the 1970s; the Rwandan genocide of 1994; and atrocities committed during the Balkan wars of the 1990s.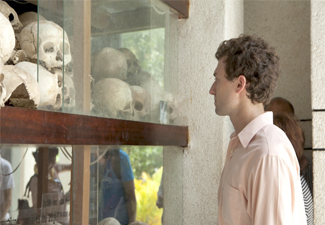 By David McAfee
For law students interested in pursuing human rights work after graduation, a new option has opened up at USC School of Law.




By Gilien Silsby
Three USC Gould graduates grapple with the world's most harrowing cases - genocide and war crimes committed in Cambodia, Rwanda and the Balkans.


RECENT NEWS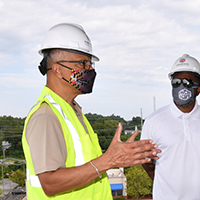 Continuum of Care
November 24, 2020
Boyd Rutherford, JD 1990, focuses on state health issues as Lieutenant Governor of Maryland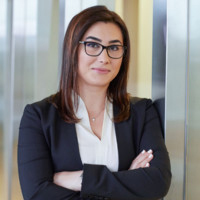 Paying it forward
November 24, 2020
Karine Akopchikyan, JD 2015, VP of Gould's Alumni Association, speaks to the importance of building and keeping relation...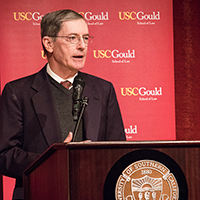 University honors Gould faculty
November 24, 2020
Ron Garet receives Faculty Lifetime Achievement Award, while Tom Griffith and Pauline Aranas named emeriti faculty