Partner with Us - International Human Rights Clinic

USC Gould School of Law
The Clinic's Docket

The Clinic's docket of cases and projects varies from year to year. The Clinic is not limited in terms of the human rights issues it is prepared to work on; however, the docket is informed by four overarching goals:

First, the Clinic seeks to engage in high impact work confronting some of the most serious human rights violations such as persecution, torture, slavery, war crimes, crimes against humanity and genocide.
Second, the Clinic is committed to taking on human rights cases and projects both at home and abroad.
Third, the Clinic seeks to get involved in work where students learn how to apply international law as a tool for social justice. The Clinic offers not only international human rights law expertise, but also advice on the applicability of related areas of international law such as international criminal law, humanitarian law and refugee law.
Finally, the Clinic endeavors to expose students to a multi-faceted approach to human rights advocacy. As such, it may engage in work involving advocacy in a variety of legal proceedings: civil, criminal and administrative.

Beyond litigation, students may take on work that involves non-litigation strategies such as drafting strategic press releases; investigative fact-finding reports; policy impact papers informed by qualitative research; training manuals or legislative proposals. Furthermore, students may get involved in work that involves direct client interaction—representing individual survivors of human rights abuses directly in their claims for justice.

Clinic Partners

The Clinic is open to partnering with a wide variety of individuals and organizations such as: international and regional organizations; international courts and tribunals; non-governmental organizations or non-profit groups; academic institutions; think tanks; and law firms. For the Clinic, the most important goal is to make a substantial contribution where there is clear need. As such, Clinic students may travel to collaborate on-site with partners abroad.

Examples

Examples of the type of work in which Clinic students may engage include:

collaborating with legal aid clinics in the global south to represent people forcibly displaced due to persecution or situations of mass violence;
working on cases before international courts and tribunals involving accountability for serious human rights abuses such as torture, crimes against humanity and genocide;
partnering with local activists on Alien Tort Statute litigation involving human rights claims;
representing individuals detained indefinitely without due process and tortured as a result of counterterrorism policies; and
advocating on behalf of victims of human trafficking and slavery.

Submit a Partnership Proposal

If you are an individual or organization interested in suggesting cases or projects for the Clinic's docket, please submit a short partnership proposal to Professor Hannah Garry at hgarry@law.usc.edu or call 1-213-740-9154.
RECENT NEWS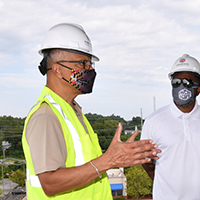 Continuum of Care
November 24, 2020
Boyd Rutherford, JD 1990, focuses on state health issues as Lieutenant Governor of Maryland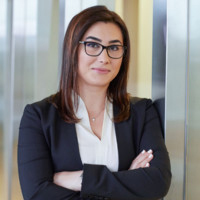 Paying it forward
November 24, 2020
Karine Akopchikyan, JD 2015, VP of Gould's Alumni Association, speaks to the importance of building and keeping relation...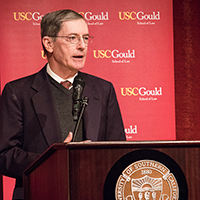 University honors Gould faculty
November 24, 2020
Ron Garet receives Faculty Lifetime Achievement Award, while Tom Griffith and Pauline Aranas named emeriti faculty