Passports and Travel Documents - International Human Rights Clinic

USC Gould School of Law
Give yourself plenty of time to obtain required travel documents as they may take several weeks up to a couple of months to obtain.
Passports

Passports are required for international travel and re-entry into the United States. Be aware that during the peak seasons of spring and summer, it may take up to 10 weeks to receive your final document in the mail.

You may renew your passport by mail by completing form DS-82 and following the steps listed if your most recent U.S. passport:
Is undamaged and can be submitted with your application;
Was issued when you were 16 or older;
Was issued within the last 15 years; AND
Was issued in your current name or you can legally document your name change
However, you will need to apply in person if:
You are applying for your first U.S. passport;
Your previous passport was issued when you were under 16;
Your previous passport was lost, stolen, or damaged; OR
You are unable to legally document your name change
Steps/Requirements for Obtaining a New Passport
Fill out form DS-11: Application For A U.S. Passport
Submit form DS-11 in person

This can be done at an acceptance facility or passport agency (expedited fees may apply to the latter)

Submit evidence of U.S. Citizenship (only one of the following required; it will be returned to you with your newly issued passport)

Previously issued, undamaged U.S. Passport
Certified birth certificate
Consular Report of Birth Abroad or Certification of Birth
Naturalization Certificate
Certificate of Citizenship

Present Photo Identification

Previously issued, undamaged U.S. Passport
Naturalization Certificate
Valid Driver's License
Current Government ID
Current Military ID

Submit a Photocopy of the Identification Presented in Step 4

Photocopied document (front & back) must be the only image on plain white, 8 1/2 x 11" standard paper

Pay the Applicable Fee
Provide one (1) passport photo

Carefully follow all requirements to avoid processing delays!

Replacing a Lost or Stolen Passport

If lost while overseas, report immediately to your nearest U.S. Embassy or Consulate
To replace your lost or stolen passport, submit the following forms in person:

Form DS-11: Application for a U.S. Passport; AND
Form DS-64: Statement Regarding a Lost or Stolen Passport

If you need a passport in a hurry, you may also apply for expedited service for an additional fee.

Visa

Depending on your destination, you may need a visa for traveling abroad. In addition, some countries require special visas for working or living abroad. Check the requirements of your host country and apply well in advance to ensure you have the appropriate visas prior to your departure.

Other Important Documents

Some countries require immunizations and additional fees for entry. You can check the specific requirements of your host country under visa requirements.

To drive while traveling abroad, your host country will probably require that you obtain an International Driver's Permit (IDP) in advance. Be wary of scams and unofficial translation services that charge high fees. IDPs generally cost less than $20 and the U.S State Department recognizes only AAA (American Automobile Association) and the National Auto Club as official IDP issuers.

To apply, you must:

Be at least 18;
Submit two (2) passport-size photographs; AND
Present your valid U.S. driver's license
RECENT NEWS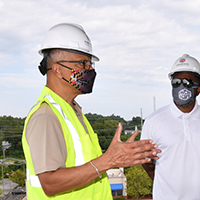 Continuum of Care
November 24, 2020
Boyd Rutherford, JD 1990, focuses on state health issues as Lieutenant Governor of Maryland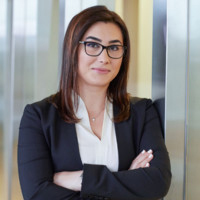 Paying it forward
November 24, 2020
Karine Akopchikyan, JD 2015, VP of Gould's Alumni Association, speaks to the importance of building and keeping relation...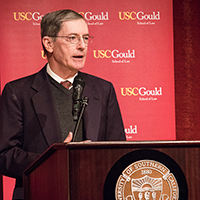 University honors Gould faculty
November 24, 2020
Ron Garet receives Faculty Lifetime Achievement Award, while Tom Griffith and Pauline Aranas named emeriti faculty