Emergency Contact - International Human Rights Clinic

USC Gould School of Law
Emergency Contact

An emergency contact is someone at home that you designate to assist you or act on your behalf in case of an emergency. When choosing your emergency contact, you should consider someone who you trust, who will be in town while you are away, who will react well in case of an emergency, and who is willing to take on the responsibility. You should make clear that your emergency contact's responsibilities will include providing information or support in a crisis; helping contact friends and family; answering collect calls any time of day; and taking action if your items are lost or stolen.

Leave one copy of the following documents with your emergency contact and take the other copy with you, kept separate from the originals:
Passport identification page
Airline tickets
Itinerary
Driver's license
Credit cards you plan to take (including the back of the card listing the number to call in case it is lost or stolen)
If you will have internet access in your host country, you may also want to scan and e-mail yourself a digital copy of the documents listed above.
Other information you may want to leave with your emergency contact:
If you plan on using traveler's checks, leave a copy of the serial numbers with your emergency contact and carry another copy with you, kept separate from the actual checks.
If you require special medication or eyewear, you should leave your prescription and doctor's contact information because not all prescriptions may be available abroad.
You may also want to leave instructions on how to access emergency funds so they can access accounts and transfer money to you in case of an emergency.
Other Emergency Support
Prior to your departure, it is advised that you register with the local U.S. Embassy by enrolling in the Smart Traveler Enrollment Program (STEP), especially if traveling to countries with potential instability.
The State Department's Office of American Citizen Services and Crisis Management (ACS) can assist you with:
Replacing a lost or missing passport
Helping send money overseas to assist U.S. citizens
Repatriating the remains of loved ones who have died
Assisting victims of crime
Helping U.S. citizens who are detained in foreign prisons
Administering a repatriation loan program to bring home destitute Americans
Arranging emergency medical assistance
Even if you have not registered beforehand, in case of an emergency you should contact the nearest U.S. Embassy or call the Overseas Citizens Services at 1-888-407-4747 from within the U.S. or 1-202-501-4444 from outside the U.S.
Evacuation
Reasons for evacuation include medical emergencies, natural disasters, and political unrest. Although it is unlikely that you will need to be evacuated from your host country, you should develop an emergency plan by determining in advance the location and route to the nearest hospital, U.S. government agency, and airport. You should confirm that your emergency hospital accepts USC's SOS emergency health insurance.
If you do in fact have to evacuate, you should:
Use your emergency plan and pre-selected routes
Establish a meeting point if traveling with a group
Book the earliest available commercial passage out of the country
Enter your information into the Task Force Alert database to ensure you are accounted for and notify loved ones that you are safe if you are unable to establish contact with them
Check here for more information about what the Department of State can and can't do in a crisis.
RECENT NEWS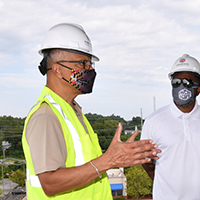 Continuum of Care
November 24, 2020
Boyd Rutherford, JD 1990, focuses on state health issues as Lieutenant Governor of Maryland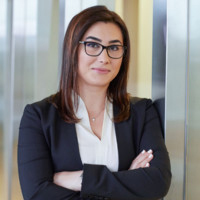 Paying it forward
November 24, 2020
Karine Akopchikyan, JD 2015, VP of Gould's Alumni Association, speaks to the importance of building and keeping relation...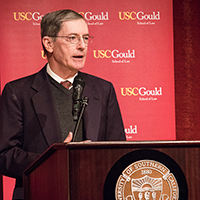 University honors Gould faculty
November 24, 2020
Ron Garet receives Faculty Lifetime Achievement Award, while Tom Griffith and Pauline Aranas named emeriti faculty