USC Gould Center for Dispute Resolution Fifth Annual Symposium

USC Gould School of Law and JAMS are pleased to invite you to the
USC Gould Center for Dispute Resolution Fifth Annual Symposium
Bridging the Common and Civil Law Chasm
This symposium is being postponed out of an abundance of caution due to the worldwide COVID-19 pandemic. Updated information will be posted here as it becomes available.
Registration
General Admission: $145 ($195 after March 1, 2020)
JAMS Professionals & Program sponsors: $125 ($175 after March 1, 2020)
Active Judges: $95
Government and Non-profit: $75
Discounted registration is available through March 1, 2020 at 11:59 p.m. All online registration will end on Wednesday, March 11, 2020 at 5:00 p.m.

Co-Chairs
Richard Chernick, Tina Cicchetti, Nathan O'Malley, Steven Sletten
Program Planning Committee
Jeffrey Benz, Richard Birke, Lorraine Brennan, Cedric Chao, Maria Chedid, Neva Cirkveni, Jeffery Daar, Jeff Dasteel, John Garman, David Huebner, Sun Ah Lee, Grant Kim, Daniel Kolkey, Katalin Meier, Howard Miller, Brian Peck, Charles Pereyra-Suarez, Richard Peterson, Peter Rosen, Jerry Roth, Ana Sambold, Steven Smith, Hon. Abraham D. Sofaer, and Katia Yannaca-Small
MCLE Credit
USC Gould School of Law and JAMS are pleased to invite you to our Fifth Annual Symposium. JAMS, a State Bar of California-approved MCLE Provider, certifies that this actively qualifies for Minimum Continuing Legal Education MCLE Credit in the amount of 6.0 total hours (no ethics).
---
Special Thanks to our Program Sponsors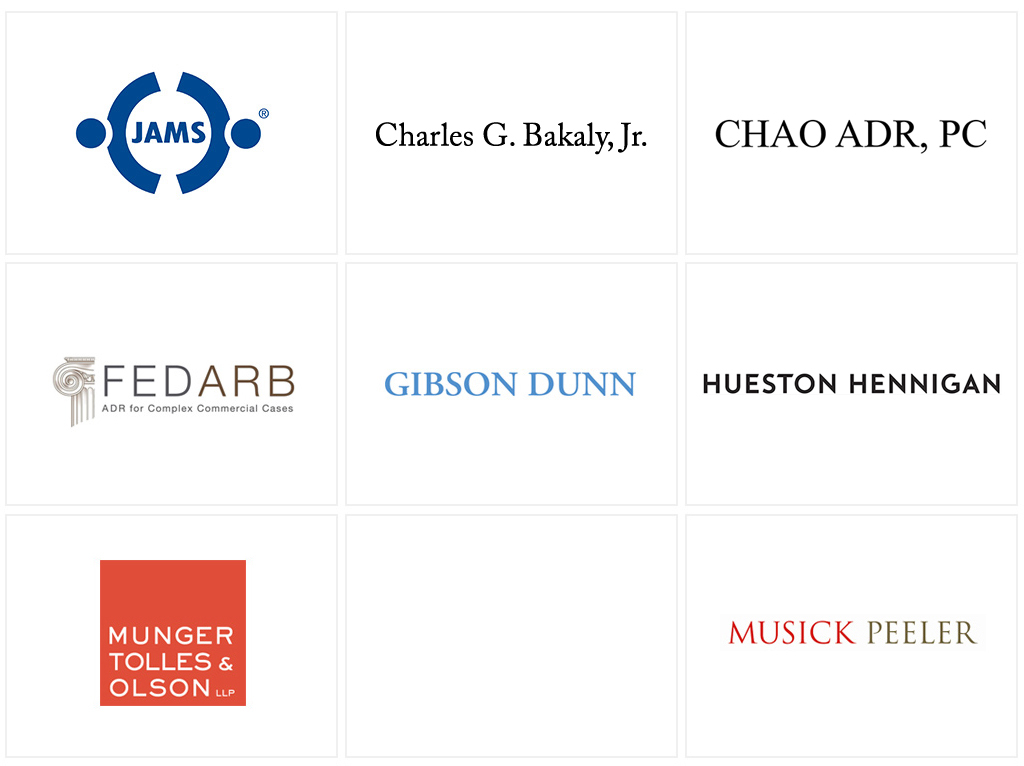 Co-Sponsors
ABA Section of International Law
ADR Institute of Canada
ArbitralWomen
BCICAC (British Columbia International Commercial Arbitration Centre)
California Dispute Resolution Council
California International Arbitration Council
California Lawyers Association, International Law and Litigation Sections
College of Commercial Arbitrators
Chartered Institute of Arbitrators, North America Branch
LACBA International Law Section
Northern California International Arbitration Club
Silicon Valley Arbitration and Mediation Center
USC Gould Center for Transnational Law and Business
WCCAS (Western Canada Commercial Arbitration Society)
Young Canadian Arbitration Practitioners
Become a sponsor
By becoming a sponsor, you will support the training activities and the larger educational mission of the USC Gould Center for Dispute Resolution. You will also receive discounted rates for partners and associates, and networking and branding opportunities in the ADR community. For more information, contact adr@law.usc.edu.
Program Schedule
8:30am - 9:00am: Registration
9:00am - 9:15am: Welcome
Welcome and Opening Remarks

Richard Chernick (Chair, USC Gould Center for Dispute Resolution Advisory Board)
9:15am - 10:30am: Keynote Address
Judge Dorothy W. Nelson Lecture: "Settlement Promotion by International Arbitrators - Convergence of Systems or the Eternal Divide?"

This is the Second Annual Dorothy W. Nelson Lecture. It honors Judge Nelson, a Senior Judge of the Ninth Circuit Court of Appeals, where she has served since 1979. She is the former dean of the Gould School of Law (1969-1979) and was a professor of law at the law school (1957-1979). Judge Nelson founded the Western Justice Center in 1987 and continues to be instrumental in its growth and considerable success. She is a true pioneer in the field of mediation and ADR.
Prof. Klaus Peter Berger, University of Cologne
10:30am - 10:40am: Break
10:40am - 12:00pm: Panel I
Response to Keynote - Point and Counterpoint
Nathan O'Malley, Musick Peeler & Garrett LLP (Moderator)
Grant Kim, LimNexus, San Francisco (Panelist)
Nhu-Hoang Tran Thang, Peter & Kim, Geneva (Panelist)
Rogier Schellaars, Van Doorne, Amsterdam (Panelist)
12:00pm - 1:30pm: Lunch Presentation
"Chasm? What Chasm?"
Jennifer Kirby, Kirby Arbitration (Panelist)
1:45pm - 3:00pm: Panel II
International Mediation & The Singapore Convention
Howard Miller, JAMS (Moderator)
Ana Sambold, Sambold ADR (Panelist)
Hiro Aragaki, JAMS (Panelist)
Peter Rosen, JAMS (Panelist)
3:00pm - 3:15pm: Break
3:15pm - 4:30pm: Panel III
"A Debate about Common and Civil Law Issues - Choosing a Seat of Arbitration in a Politically Divided World"
Maria Chedid, Arnold & Porter (Moderator)
Kathleen Paisley, Ambos Lawyers (Panelist)
Lorraine Brennan, JAMS (Panelist)
Katia Yannaca-Small, USC Gould School of Law (Panelist)
4:30pm - 5:30pm: Reception
Reception for faculty and attendees hosted by JAMS
USC Gould Law Café
Young Practitioner's Conference
This conference is being postponed commensurately with the International ADR Symposium, the new date for which is to be determined.
Accommodations
USC Hotel
3540 South Figueroa Street
Los Angeles, CA 90007
(833) 2-BOOK-USC / (833) 226-6587
https://uschotel.usc.edu/
The USC Hotel is across the street from the university. USC visitors may prefer to stay in accommodations downtown (a 10-minute drive from USC) or near the Los Angeles International Airport (a 30 minute drive from USC). Please visit the Los Angeles Convention and Visitor's Bureau (Discover Los Angeles) for local hotels.
Parking Location and Price
Attendees will have non-hosted parking at USC's Gate 3 / McCarthy Way Parking Structure on the USC University Park Campus. The address is 620 W. McCarthy Way, Los Angeles, CA 90007. The current charge is $14/day.
Directions to USC and Designated Parking
From downtown Los Angeles, take the 110 Freeway south. Exit at Exposition Boulevard. Turn right on Exposition, then right on South Figueroa Street. (If you are traveling northbound on the 110 Freeway, exit at Exposition then turn left on Exposition and right on Figueroa). You will see the campus on the left side of the Figueroa. Within half a block you will see a street on the left called USC McCarthy Way and a sign for Gate 3. Turn into that driveway (it will be labeled USC McCarthy Way) and stop at the kiosk.
For more information regarding parking, visit
https://transnet.usc.edu/index.php/daily-and-hourly-parking/
Public Transportation
The light rail Metro E Line (Expo) stops at the USC/Expo Park Station, a short walk from USC Gould, which is adjacent to Exposition Boulevard and just west of South Figueroa Street. USC/Expo Park Station is four stops from the 7th Street / Metro Center Station centrally located in downtown Los Angeles, which station also serves the Metro Red, Purple, and Blue lines.
USC operates a shuttle to and from Union Station (UPC to Union Station).
Special Requirements
USC Gould School of Law welcomes the participation of individuals with disabilities at our conferences and events. If you require special accommodations or have any questions, please contact us at adr@law.usc.edu or 213-821-5916.
Program Speakers, Moderators and Panelists

Professor Dr. Klaus Peter Berger, LL.M. (Keynote Speaker)
Klaus Peter Berger is a Professor for Domestic and International Civil and Business Law, Comparative and Private International Law and Director of the Institute for Banking Law and Center for Transnational Law (CENTRAL) at the University of Cologne in Germany. He has been visiting professor at the Asser Institute, The Hague, University of Virginia Law School, Centre for Energy, Petroleum and Mineral Resources Law and Policy (CEPMLP), University of Dundee and Columbia University Law School, New York.
He is a member of the Council of the ICC Institute for World Business Law, of ICC Germany and the ICC Commission on Arbitration and ADR. He is also the past President of the German Arbitration Institute (DIS), board member DIS, former Board Member of the Arbitration Institute, Stockholm Chamber of Commerce, Member of the London Court of International Arbitration (LCIA), and Co-Editor "Arbitration International".
Klaus Peter's arbitration practice includes ICC, Swiss Rules, DIS, LCIA, Vienna Rules, UNCITRAL and Ad Hoc arbitrations as sole arbitrator, party-appointed arbitrator and chairman, Member of the Arbitration Law Reform Commission at the German Institution of Arbitration 1992-1996, panel of arbitrators for "China International Economic Trade Arbitration Commission" (CIETAC, Beijing, China), International Centre for Dispute Resolution (ICDR), Dubai International Arbitration Centre (DIAC), Vienna International Arbitration Centre (VIAC), Driver Contract Recognition Board (CRB, Formula 1), and Fédération Internationale de l'Automobile (FIA).
Klaus Peter has published more than two-hundred articles and several books on domestic and international arbitration and ADR, contract law, private international law, M&A, trade law, banking and finance.
• • •

Hiro Aragaki (Panelist)
Hiro Aragaki is a distinguished neutral at JAMS with more than 20 years of experience, including almost a decade of full-time law practice at global law firms and services as a neutral since 2001. He is an internationally recognized expert in arbitration and mediation who has trained judges and lawyers and is frequently called upon to consult on alternative dispute resolution (ADR) reform projects around the world. He is also a professor at Loyola Law School and a professional research associate at SOAS Law School in London.
• • •

Lorraine Brennan (Panelist) Lorraine Brennan is an accomplished national and international dispute resolution professional at JAMS. She has served as a distinguished global member of law school faculties from the United States and China, and has a broad range of experience involving complex commercial litigation along with domestic and international arbitration and mediation. She maintains leadership roles in ArbitralWomen, the International and Dispute Resolution Sections of the American Bar Association and the Institute for Transnational Arbitration (Advisory Board Member). Ms. Brennan is also one of only eight members appointed by the U.S. State Department to serve on the NAFTA 2022 Advisory Committee on Private Commercial Disputes, and teaches International Commercial Arbitration at the Georgetown University Law Center.
• • •

Richard Chernick (Chair, USC Gould Center for Dispute Resolution Advisory Board)
Richard Chernick is Vice President and Managing Director of JAMS' Arbitration Practice. He has conducted hundreds of complex arbitrations and mediations before major administering institutions, both domestic and international. Chernick is a former Chair of the Dispute Resolution Section of the American Bar Association and the Founding President of the College of Commercial Arbitrators. He served as the ABA's Advisor to the Revised Uniform Arbitration Act. Chernick teaches arbitration at USC Gould School of Law, and currently serves as Chair of the USC Gould Center for Dispute Resolution Advisory Board.
• • •

Maria Chedid (Panelist)
Maria Chedid sits as an arbitrator and regularly serves as lead counsel in commercial and investment arbitrations. In a recent arbitration, Ms. Chedid co-led a successful representation obtaining a USD 800 million arbitration award in favor of her client. One of California's Top 100 Women Lawyers, Ms. Chedid has been recognized as a leading international arbitration practitioner by legal publications such as Chambers Global and Chambers USA. She is one of only two U.S. representatives appointed to the ICC International Court of Arbitration; Co-Chair of the ICDR California Advisory Committee; a member of the National Committee for the SIAC Users Council; the founding President and Co-Chair of CIAC; and an adjunct professor at the Straus Institute for Dispute Resolution. Ms. Chedid also has consistently been named to the annual SVAMC "Tech List" of the World's Leading Technology Arbitrators, and is the co-author of a textbook chapter entitled "International Arbitration of Intellectual Property Disputes."
• • •

Grant Kim (Panelist)
Grant L. Kim has served as an arbitrator or counsel in numerous international arbitrations administered by the ICDR, ICC, AAA, and Korean Commercial Arbitration Board, venued in Asia, the U.S., and Europe. He is a partner at LimNexus in San Francisco, a diverse minority-owned boutique. He worked for 25 years at Morrison & Foerster in San Francisco and Tokyo and 5 years at Kim & Chang in Seoul. Mr. Kim is a California lawyer, but has handled numerous cases governed by the civil law of Korea, Switzerland, Germany, and other countries. He has specific expertise with arbitration and litigation of patent and other IP disputes, and substantial experience with disputes involving M&A, distribution agreements, construction, investment treaties, and other matters. He serves on the boards of the Silicon Valley Arbitration and Mediation Center, the North American Branch of the Chartered Institute of Arbitrators, and the California International Arbitration Council.
• • •

Jennifer Kirby (Panelist)
Jennifer Kirby is an internationally recognized arbitration expert who acts as counsel and sits as arbitrator in a wide variety of commercial arbitration matters around the world. Jennifer began her career with a multinational firm in New York representing clients in international arbitrations and complex litigation. From there, Jennifer went to the ICC International Court of Arbitration, where she served as both Counsel and Deputy Secretary General before leaving to join a multinational law firm as a partner in their arbitration group. In 2010, Jennifer founded her own boutique arbitration practice - Kirby - in Paris. While at the ICC, Global Arbitration Review named Jennifer one of the 45 top arbitration lawyers under the age of 45. Since then, Jennifer has been recognized by Chambers Global as "a true expert in ICC-related disputes" and by The Who's Who of International Arbitration as a "very sharp" global player in the field.
• • •

Howard Miller (Moderator)
Howard B. Miller, FCIArb is a mediator and arbitrator at JAMS, and a founder and co-chair of the California International Arbitration Council. He is a past President of the State Bar of California, and was for many years a Professor of Law at the USC Gould School of Law.
• • •

Nathan O'Malley (Moderator)
Nathan O'Malley is a partner in the Los Angeles office of Musick Peeler & Garrett and Chair of the firm's International Arbitration and Litigation Practice. He has acted in numerous international arbitrations, and represented clients before arbitral tribunals seated in The Hague, Geneva, Zurich, London, Amsterdam, Singapore, Abu Dhabi, Frankfurt am Main and in the United States. O'Malley teaches International Arbitration at USC Gould School of Law.
• • •

Kathleen Paisley (Panelist)
Kathleen Paisley (FCIArb) is an international arbitrator with more than 30 years of experience in the United States, Europe, Latin America, Asia, Africa and the Middle East as arbitrator, counsel, and expert. She is triple qualified with degrees from Yale Law School, an MBA in finance and has passed the CPA exam. She has extensive experience under both the common and civil law as a member of the New York and D.C. bars and has worked under laws of California, European Union, England and Wales, Belgium and other civil jurisdictions, and public international law. While she has acted in a broad cross section of international disputes, she is specialized in artificial intelligence, biotech, cybersecurity, data protection, energy, pharmaceuticals, semiconductors, and technology. She is co-chair of the ICCA-IBA Joint Task Force on Data Protection in Arbitration and is a member of the ICCA task forces on cybersecurity and damages (quantification), and the Sedona Conference Drafting Committee on arbitration and the IMI/CCA/Straus Mixed Mode International Task Force (enforcement).
• • •

Peter Rosen (Panelist)
Peter Rosen is a neutral at JAMS, and has vast experience handling high-profile insurance matters covering a wide range of commercial issues and policies. Mr. Rosen has deep expertise in handling coverage issues arising out of mass disasters, and significantly contributed to the World Trade Center insurance coverage litigation. He is the author of leading texts on D&O liability and business interruption claims, and teaches insurance law at USC Gould School of Law and Pepperdine University School of Law.
• • •

Ana Sambold (Panelist)
Ana Sambold is a San Diego, California based attorney, mediator, and arbitrator with over a decade of experience as a conflict resolution specialist. She has served as a neutral in over 1,000 cases across a broad spectrum of civil litigation matters involving commercial, insurance, property, employment, succession, multinational and multilingual parties. Ms. Sambold is on the neutral panels of the International Mediation Institute (IMI), ArbitralWomen, American Arbitration Association (AAA), ADR Services, Inc., and several U.S. courts, federal and state agencies. Ms. Sambold has taught extensively in conflict resolution, mediation and negotiation with the National Conflict Resolution Center (NCRC). She speaks Spanish fluently and mediates and arbitrates regularly using both English and Spanish. She is a dually qualified attorney in the U.S. (California and U.S. Federal Court Southern District) and in Colombia. She received her credentials in dispute resolution from Harvard Law School, Pepperdine University School of Law, CIArb and Columbia Law School.
• • •

Rogier Schellaars (Panelist)
Rogier Schellaars is both civil law (Leyden University) and common law (Queen Mary, London) educated. He acts as counsel on a range of commercial disputes and BIT-investment claims, including M&A, joint venture and finance disputes. Rogier has dealt with most of the leading arbitration institutes' rules and major arbitration laws. In addition, Rogier acts as arbitrator and is a Dutch member of the ICC's International Court of Arbitration. Rogier regularly publishes and lectures on arbitration and civil procedure as well as, until 2010, on English law. His publications include the 2012-2018 IBA Arbitration Country Guides for the Netherlands and articles on, for example, the IBA Rules on Evidence, the ICC and LCIA Arbitration Rules and challenge and enforcement proceedings. Rogier co-founded the Dutch Arbitration Association and currently sits on the ICC and IBA Arbitration Committees and the NAI's Advisory Board.
• • •

Nhu-Hoang Tran Thang (Panelist)
Nhu-Hoang Tran Thang is a French trained lawyer registered with the Paris bar and a Swiss national with a Vietnamese background. She is an associate at Peter & Kim, in Geneva, where she practices both commercial and investment arbitration. Before joining Peter & Kim, Nhu-Hoang practiced international arbitration at LALIVE and at the office of Professor Pierre Tercier, one of today's worldwide leading arbitrators. Prior to that, she gained experience in the arbitration teams of magic circle firms in Paris and at arbitration boutiques in Geneva and London. She has acted as arbitrator, counsel or assistant to the arbitral tribunal in over thirty arbitrations conducted under a variety of rules (ICSID, ICC, UNCITRAL, SCAI, LCIA, CRCICA, DIS) and related to various industries (including oil & gas, banking & finance, telecommunications, transportation, mining and pharmaceuticals). A current member of the Young ICCA Advisory Board, she regularly speaks and publishes in the field of international arbitration.
• • •

Katia Yannaca-Small (Panelist)
Katia Yannaca-Small is an independent counsel and arbitrator advising and representing States and companies on commercial and investor-state arbitration and public international law issues. Previously she was Counsel with the International Arbitration and Public International Law Groups of Shearman and Sterling LLP in Washington DC and also served as Senior Counsel with the International Centre for the Settlement of Investment Disputes (ICSID) and as Senior Legal Advisor with the Organization of International Co-operation and Development (OECD) in Paris. She is Lecturer in Law at USC Gould School of Law, teaching international investment law and arbitration. Katia is a frequent speaker and has written extensively in the field and is the editor of and the author of several chapters of the Oxford University Press book on Arbitration Under International Investment Agreements: A Guide to the Key Issues, published in 2018.
• • •
RECENT NEWS