USC/JAMS Arbitration Institute Fourth Annual Symposium

USC Gould School of Law

USC/JAMS Arbitration Institute
USC Gould School of Law Center for Dispute Resolution
Fourth Annual Symposium: Best Practices in International Arbitration
Wednesday, March 13, 2019
9 a.m. - 4:30 p.m.
USC Gould School of Law
699 Exposition Blvd.
Los Angeles, CA 90089
Co-Chairs
Tina Cicchetti, Nathan O'Malley, Steven E. Sletten and Richard Chernick
Program Planning Committee
Jeffrey Benz, Richard Birke, Cedric Chao, Maria Chedid, Neva Cirkveni, Jeffrey Daar, Jeff Dasteel, John Garman, David Huebner, Michael Kelley, Grant Kim, Daniel Kolkey, Katalin Meier, Howard Miller, Brian Peck, Charles Pereyra-Suarez, Peter Rosen, Rena Scott, Steven L. Smith, Hon. Abraham D. Sofaer and Katia Yannaca-Small
Program
USC Gould School of Law and JAMS are pleased to invite you to our Fourth Annual Symposium. JAMS, a State Bar of California-approved MCLE Provider, certifies that this actively qualifies for Minimum Continuing Legal Education Credit in the amount of 6.0 total hours (no ethics).
Learn more about the 2019 speakers, programming, transportation and more here.
Registration
General Admission: $145 ($195 after March 1, 2019)
JAMS Professionals and USC Gould School of Law Center for Dispute Resolution sponsors: $125 ($175 after March 1, 2019)
Active Judges: $95
Government and Non-profit: $75
Online registration will end on Friday, March 8, 2019 at 2:00 p.m.

---
SPECIAL THANKS TO OUR PROGRAM SPONSORS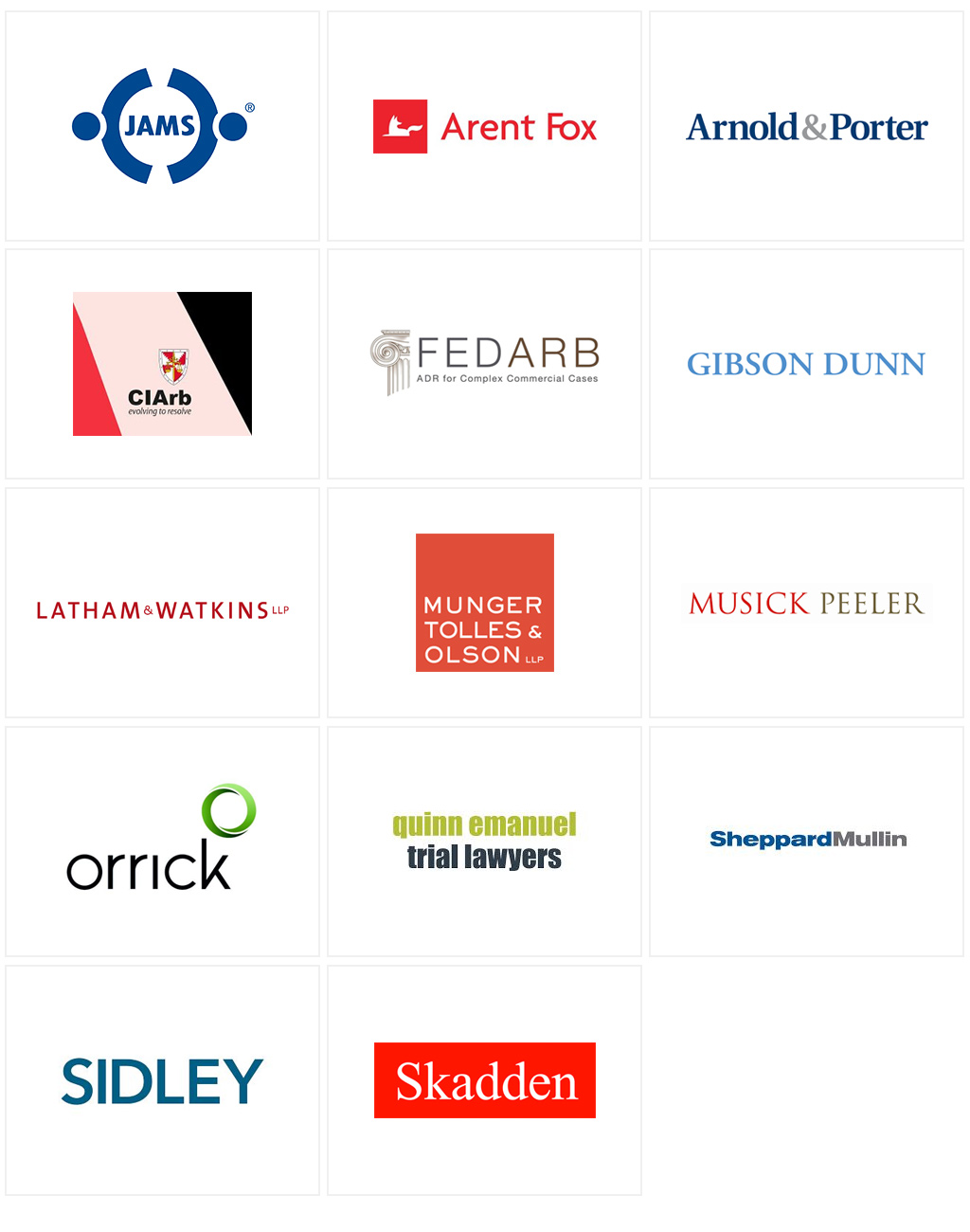 British Columbia International Commercial Arbitration Centre
California Dispute Resolution Council
California International Arbitration Center
California Lawyers Association International Law Section
College of Commercial Arbitrators
Korean Commercial Arbitration Board
LACBA International Law Section
Northern California International Arbitration Club
Silicon Valley Arbitration & Mediation Center
USC Gould Center for Transnational Law and Business
Western Canada Commercial Arbitration Society
Become a sponsor
By becoming a sponsor, you will support the training activities and the larger educational mission of the USC Gould School of Law Center for Dispute Resolution. You will also receive discounted rates for partners and associates, as well as networking and branding opportunities in the ADR community. For more information, contact adr@law.usc.edu.
Program Schedule
8:30 a.m. - 9:00 a.m.: Registration
9:00 a.m. - 9:15 a.m.: Welcome
Welcome and Opening Remarks

Richard Chernick (Chair, Director of USC Gould School of Law Center for Dispute Resolution)
9:15 a.m. - 10:30 a.m.: Announcement/Remarks and Keynote
Announcement of Inaugural Judge Dorothy W. Nelson Lecture
Introduction of Judge Dorothy W. Nelson
Remarks by Judge Dorothy W. Nelson
Proportionality and Efficiency in International Arbitration - Keynote
Professor William (Rusty) Park (Presenter)
10:30 a.m. - 10:40 a.m.: Break
10:40 a.m. - 12:00 p.m.: Panel
Efficient Procedures in International Arbitration - Responding to the Keynote
Richard Chernick (Moderator)
Maria Chedid (Panelist)
Tina Cicchetti (Panelist)
Robert J.C. Deane (Panelist)
Scott Nonaka (Panelist)
12:00 p.m. - 1:30 p.m.: Lunch Presentation
Sports Law International
Jeffrey Benz and David Huebner (Presenters)
1:45 p.m. - 3:00 p.m.: Panel
Developments and Best Practices in Construction Industry Arbitration
Laura C. Abrahamson (Panelist)
Philip L. Bruner (Panelist)
Nathan O'Malley (Moderator)
Ted Scott (Panelist)
3:00 p.m. - 3:15 p.m.: Break
3:15 p.m. - 4:30 p.m.: Panel
International Arbitration Update
Steven E. Sletten (Moderator)
Howard Miller (Panelist)
Steven L. Smith (Panelist)
Katia Yannaca-Small (Panelist)
4:30 p.m. - 5:30 p.m.: Reception
Reception for faculty and attendees hosted by JAMS
USC Gould Law Cafe

USC/JAMS Arbitration Institute Fourth Annual Symposium Material
The download material link will be active for 30 days, after the completion of the symposium - until April 13th, 2019. For any questions, please contact Events@law.usc.edu
Download Material
Accommodations
USC Hotel
3540 South Figueroa Street
Los Angeles, CA 90007
833-2-BOOK-USC
The USC Hotel is across the street from the university. USC visitors may prefer to stay in accommodations downtown (a 10-minute drive from USC) or near the Los Angeles International Airport (a 30 minute drive from USC). Please visit the Los Angeles Convention and Visitor's Bureau (Discover Los Angeles) for local hotels.
Directions, Parking and Public Transportation
Attendees will have non-hosted parking at USC's Gate 3 / McCarthy Way Parking Structure on the USC University Park Campus. The address is 620 W. McCarthy Way, Los Angeles, CA 90007. The current charge is $12/day.
Directions to USC and the parking garage:
From downtown Los Angeles, take the 110 Freeway South. Exit at Exposition Blvd. Turn right on Exposition, and then right on Figueroa. (If you are traveling northbound on the 110 Freeway, exit at Exposition and then turn left on Exposition and right on Figueroa). You will see the campus on the left side of the street. Within half a block you will see a street on the left called USC McCarthy Way and a sign for Gate 3. Turn into that driveway (it will be labeled USC McCarthy Way) and stop at the kiosk.
The Exposition light rail line travels past USC Gould, stopping at the USC/Expo Park Station. USC operates a shuttle to and from Union Station (UPC to Union Station).
Program Speakers, Moderators and Panelists

The Honorable Dorothy W. Nelson
Judge Dorothy W. Nelson is a Senior Judge of the Ninth Circuit Court of Appeals, where she has served since 1979. She is the former dean of the Gould School of Law (1969-1979) and was a professor of law at the law school (1957-1979). Judge Nelson founded the Western Justice Center in 1987 and has been to this day instrumental in its growth and considerable success. She is a true pioneer in the field of mediation and ADR and is the author of Judicial Administration and the Administration of Justice (West). The Keynote Address at this annual presentation of the USC Gould School of Law Center for Dispute Resolution is designated as the Dorothy W. Nelson Lecture; this is its inaugural year.
• • •

Richard Chernick (Chair, USC Gould School of Law Center for Dispute Resolution ADR Advisory Board)
Richard Chernick is Vice President and Managing Director of JAMS' Arbitration Practice. He has conducted hundreds of complex arbitrations and mediations before major administering institutions, both domestic and international. Chernick is a former Chair of the Dispute Resolution Section of the American Bar Association and the Founding President of the College of Commercial Arbitrators. He served as the ABA's Advisor to the Revised Uniform Arbitration Act. Chernick teaches arbitration at USC Gould School of Law, and currently serves as Chair of the USC Gould School of Law Center for Dispute Resolution Advisory Board.
• • •

Laura C. Abrahamson (Panelist)
sits as an arbitrator and serves Senior Vice President, Deputy General Counsel and Global Head of Litigation at AECOM, an American multinational engineering firm that provides design, consulting, construction and management services worldwide. She is a member of the Court of Arbitration for Sport, the Executive Board of the California International Arbitration Council, the ICDR California Advisory Committee, the International Expert Panel for the Permanent Forum of China Construction Law (PFCCL Sixth Working Group "Overseas Construction Projects By Chinese Enterprises: Legal Risks and Inspiration") and is an ICDR-AAA arbitrator. Prior to joining AECOM, she spent almost 20 years in-house at Occidental Petroleum, where she led numerous ICSID, UNCITRAL, ICC and LCIA arbitrations, including an ICSID arbitration against the Republic of Ecuador that was recognized by Global Arbitration Review as "The Most Important Published Decision of 2012" and selected as "2013 Global Dispute of the Year, Investment Arbitration" by the American Lawyer.
• • •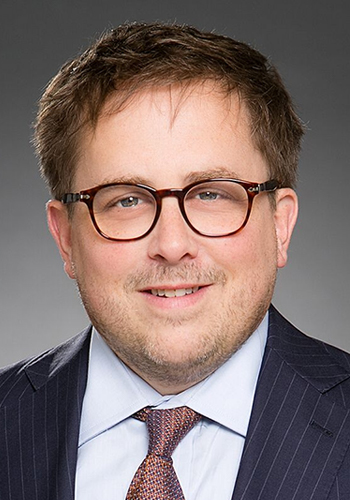 Jeffrey Benz (Presenter)
Jeffrey Benz, Esq., FCIArb, CEDS, is a nationally recognized expert in the resolution of complex and multi-party matters. He has served as a neutral in several hundred large and complex arbitrations and mediations employing various rules and before the major administering institutions, both nationally and internationally. He has been outside counsel (both transactional and litigation), inside counsel, and client, and brings this well-rounded perspective on dispute resolution to serving as a neutral.
Benz is available for arbitrations, mediations, fact finding, early neutral evaluation, and serving as special master or discovery referee nationwide and worldwide. He is a Certified E-Discovery Specialist (CEDS) through the Association of Certified E-Discovery Specialists. He is known for creative solutions, high energy and unflagging persistence to drive solutions.
• • •

Philip L. Bruner (Panelist)
Philip L. Bruner is a full-time arbitrator, mediator and resolver of engineering and construction disputes, and is Director of JAMS Global Engineering and Construction Panel of Neutrals. He has chaired or served on many U.S. and international arbitral tribunals hearing complex construction and commercial disputes, and has mediated many complex multi-party disputes. Prior to joining JAMS on January 1, 2008, he was a trial lawyer in private law practice for 40 years, the last 17 of which as a senior partner and founding head of the Construction Law Group of the international law firm of Faegre & Benson (now Faegre Baker Daniel) with offices then in Minneapolis and other U.S. cities and in London, Frankfurt and Shanghai. Additional information about Mr. Bruner is available in his CVs at www.jamsadr.com and www.philbruner.com.
• • •

Maria Chedid (Panelist)
Maria Chedid sits as an arbitrator and regularly serves as lead counsel in commercial and investment arbitrations. In a recent arbitration, Ms. Chedid co-led a successful representation obtaining a USD 800 million arbitration award in favor of her client. One of California's Top 100 Women Lawyers, Ms. Chedid has been recognized as a leading international arbitration practitioner by legal publications such as Chambers Global and Chambers USA. She is one of only two U.S. representatives appointed to the ICC International Court of Arbitration; Co-Chair of the ICDR California Advisory Committee; a member of the National Committee for the SIAC Users Council; the founding President and Co-Chair of CIAC; and an adjunct professor at the Straus Institute for Dispute Resolution. Ms. Chedid also has consistently been named to the annual SVAMC "Tech List" of the World's Leading Technology Arbitrators, and is the co-author of a textbook chapter entitled "International Arbitration of Intellectual Property Disputes."
• • •

Tina Cicchetti (Panelist)
Tina Cicchetti is an independent arbitrator at Vancouver Arbitration Chambers (Vancouver) and Arbitration Place (Toronto) who focuses on domestic and international commercial arbitration and investment arbitration. She has been sole arbitrator and chair in a wide range of matters and has experience with cases under the ICC, AAA, ICDR, ICDR Canada, JCAA, Swiss, LCIA, UNCITRAL, and BCICAC Rules. She is Chair of the International Arbitration Committee of the Canadian Chamber of Commerce (ICC Canada), a board member of the Western Canada Commercial Arbitration Society, Advisory Board member of the Young Canadian Arbitration Practitioners, a member of the ICDR Canadian Advisory Committee and a member of the Editorial Advisory Board of the Canadian Journal of Commercial Arbitration.
• • •

Robert J.C. Deane (Panelist)
Robert Deane is National Leader of the Firm's International Trade and Arbitration Group, and a member of the Partnership Board, the Firm's governing body. Robert practises international and domestic commercial arbitration, commercial litigation, intellectual property litigation and advertising/competition law, and is ranked nationally and internationally as a leading lawyer in these areas. Robert has experience in numerous significant international commercial arbitration proceedings in North America, Asia and Europe under most major sets of institutional rules, and in various industries including infrastructure, energy, pharmaceuticals, and aerospace. He has also been counsel on litigation matters in several Provinces, and in the Supreme Court of Canada. Robert clerked for the Rt. Honourable Beverley McLachlin, PC, Chief Justice of Canada.
• • •

David Huebner (Presenter)
Amb. (r.) David Huebner, C.Arb has handled 150+ arbitrations as neutral or advocate in three dozen jurisdictions around the world, across a wide array of industry sectors, legal issues, and geographic regions. He has particular expertise in technology, telecom, life sciences, entertainment, and engineering disputes, and Silicon Valley Arbitration and Mediation Center has named him to its "Tech List" of "the world's most accomplished technology neutrals." The Chartered Institute of Arbitrators has designated him "Chartered Arbitrator," its highest credential. He has lived and worked in Tokyo, Shanghai, and elsewhere as well as California, and served as Ambassador to New Zealand and Samoa under President Obama. He is a solicitor in England & Wales, member of the CA, NY, and DC Bars, and graduate of Princeton University (summa cum laude) and Yale Law School.
• • •

Howard Miller (Panelist)
Howard B. Miller, FCIArb is a mediator and arbitrator at JAMS, and a founder and co-chair of the California International Arbitration Council. He is a past President of the State Bar of California, and was for many years a Professor of Law at the USC Gould School of Law.
• • •

Scott Nonaka (Panelist)
Scott Nonaka is a partner in the San Francisco office of Sidley Austin LLP where he handles complex commercial disputes and internal investigation in Asia, the U.S. and Europe. Chambers Global and Asia have ranked Scott in "Band 1" and Legal 500 and GAR have recommended him for Dispute Resolution. Clients praise his "excellent trial advocacy and examination skills" and his "sophistication" and "experience in the field of arbitration, not just as counsel but also as arbitrator." Scott is a member of the Panel of Arbitrators of the SIAC, and he has served as arbitrator in JCAA and ICC arbitrations. From 1999 to 2002, Scott served as Assistant U.S. Attorney for the Northern District of California. Scott graduated from Harvard Law School and the University of California at Berkeley.
• • •

Nathan O'Malley (Moderator)
Nathan O'Malley is a partner in the Los Angeles office of Musick Peeler & Garrett and Chair of the firm's International Arbitration and Litigation Practice. He has acted in numerous international arbitrations, and represented clients before arbitral tribunals seated in The Hague, Geneva, Zurich, London, Amsterdam, Singapore, Abu Dhabi, Frankfurt am Main and in the United States. O'Malley teaches International Arbitration at USC Gould School of Law.
• • •

William (Rusty) Park (Presenter)
Professor of Law at Boston University, Park teaches tax, finance and conflict of laws. After studies at Yale and Columbia, Park practiced in Paris and Geneva. General Editor of Arbitration International and former President of the London Court of International Arbitration, Park held visiting appointments at The Fletcher School and in Cambridge, Dijon, Hong Kong, Auckland, and Geneva. He served on the Claims Resolution Tribunal for Dormant Swiss Accounts. The President of the United States appointed Park to the ICSID Panel of Arbitrators. Arbitrator service includes cases related to banking, tax, insurance, gas, IP and construction. His books include Arbitration of International Business Disputes, International Forum Selection, ICC Arbitration (with Craig and Paulsson), International Commercial Arbitration (with Reisman, Craig and Paulsson) and Income Tax Treaty Arbitration (with Tillinghast). Park is an Honorary Fellow of Selwyn College, Cambridge.
• • •

Ted Scott (Panelist)
Ted Scott is a Managing Director of Secretariat International and oversees their West Coast practice in the United States. He is a licensed civil engineer, specializing in dispute resolution services on construction projects. Scott has been appointed as an expert on numerous disputes in Asia, Australia, Europe, North America and the Middle East. He has testified in US federal and state courts and in arbitrations (under ICC, AAA and JAMS rules) as an independent expert on matters of scheduling, project delay, loss of productivity and quantum." With over 20 years in the construction industry, Scott's experience spans a variety of large-scale infrastructure and commercial projects. Scott is also an author and frequent speaker on a variety of construction related topics. He currently serves on the American Society of Civil Engineers' committee for the development of a national standard for conducting CPM schedule delay analyses in construction.
• • •

Steven E. Sletten (Moderator)
Steven E. Sletten is a partner at the international law firm Gibson Dunn & Crutcher, where he has been a member of the firm's litigation and international arbitration practice groups for the past 35 years. His ADR experience includes domestic and international arbitrations under ICC, AAA, LCIA, ICSID, and CPR rules as well as ad hoc arrangements. He is former President of the Association of Business Trial Lawyers in Los Angeles and currently serves on the Advisory Board of the USC Gould School of Law Center for Dispute Resolution.
• • •

Steven L. Smith (Panelist)
Steve Smith, a partner with Jones Day in San Francisco, focuses on the arbitration of complex international disputes in a broad range of industries. In 35 years of practice, Steve has handled matters for and against sovereign entities from the Middle East, Europe, Asia, Latin America, and Africa and has served as counsel and arbitrator in numerous institutional and ad hoc arbitrations around the globe. Recognized as one of the world's leading international arbitration lawyers in many notable directories, he is the recipient of the 2008 California Lawyer of the Year Award for his outstanding achievement in alternative dispute resolution, as well as the Riesenfeld Award from U.C. Berkeley School of Law for his extraordinary contribution to the field of international law. For many years, he was a Lecturer in Law at Stanford Law School, where he taught international commercial arbitration.
• • •

Katia Yannaca-Small (Panelist)
Katia Yannaca-Small is an independent counsel and arbitrator advising and representing States and companies on commercial and investor-state arbitration and public international law issues. Previously she was Counsel with the International Arbitration and Public International Law Groups of Shearman and Sterling LLP in Washington DC and also served as Senior Counsel with the International Centre for the Settlement of Investment Disputes (ICSID) and as Senior Legal Advisor with the Organization of International Co-operation and Development (OECD) in Paris. She is Lecturer in Law at USC Gould School of Law, teaching international investment law and arbitration. Katia is a frequent speaker and has written extensively in the field and is the editor of and the author of several chapters of the Oxford University Press book on Arbitration Under International Investment Agreements: A Guide to the Key Issues, published in 2018.
• • •
RECENT NEWS