USC/JAMS Arbitration Institute Third Annual Symposium

USC Gould School of Law

USC/JAMS Arbitration Institute
Judge Judith O. Hollinger ADR Program
Third Annual Symposium: Current Issues in International Arbitration
Thursday, March 15, 2018
9 a.m. - 4 p.m.
USC Gould School of Law
699 Exposition Blvd.
Los Angeles, CA 90089
Co-Chairs
Nathan O'Malley, Steven E. Sletten and Richard Chernick
Program Planning Committee
Jeff Dasteel, Howard Miller, Steven Smith, Cedric Chao, David Huebner, Charles Pereyra Suarez, Tina Cicchetti, Grant Kim, Maria Chedid, John Garman, Hon. Abraham Sofaer, Katia Yannaca-Small, Tatsiana Bialiayeva, Salvador Fonseca-Gonzalez, Rena Scott and Brian Peck
Program
USC Gould and JAMS are pleased to invite you to our Third Annual Symposium: Current Issues in International Arbitration.
JAMS, a State Bar of California-approved MCLE Provider, certifies that this actively qualifies for Minimum Continuing Legal Education Credit in the amount of 6.5 total hours (no ethics).
Registration
General Admission: $145 ($195 after March 1, 2018)
Lunch & refreshments are a part of the symposium
JAMS Professionals (and other Hollinger Program sponsors): $125 ($175 after March 1, 2018)
Active Judges: $95
Government and Non-profit: $75
Students and Faculty (USC Gould LLM in ADR and MDR students only & USC Gould ADR faculty only) $0
Online registration will end on Friday, March 9, 2018 at 5 p.m.

---
SPECIAL THANKS TO OUR HOLLINGER PROGRAM SPONSORS: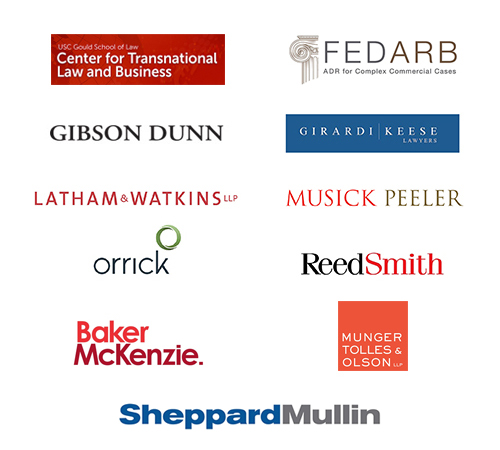 American Bar Association, Section of International Law (ABA)
Association of Business Trial Lawyers (ABTL)
Association of Corporate Counsel - Southern California Chapter (ACC)
Chartered Institute of Arbitrators (CIArb)
College of Commercial Arbitrators (CCA)
International Centre for Dispute Resolution-American Arbitration Association (ICDR-AAA)
International Chamber of Commerce (ICC)
International Council for Commercial Arbitration (ICCA)
JAMS
Los Angeles County Bar Association, International Law Section (LACBA)
Northern California International Arbitration Club (NCIAC)
Silicon Valley Arbitration & Mediation Center
State Bar of California, International Law Section
Become a sponsor
By becoming a sponsor, you will support the training activities and the larger educational mission of the Judge Judith O. Hollinger Program. You will also receive discounted rates for partners and associates, as well as networking and branding opportunities in the ADR community. For more information, contact adr@law.usc.edu.
Program Schedule
8:30 - 9 a.m.: Registration
9 - 9:15 a.m.: Welcome and Opening Remarks
Richard Chernick
Chair, Judith O. Hollinger ADR Advisory Board
9:15 - 10:30 a.m.: Panel 1 (Keynote)
Carrie Menkel-Meadow
"The Problems of Hybridity and Blending of Processes in International Dispute Resolution: Public and Private in Arbitration and Mediation"
Cedric Chao, Maria Chedid, David Huebner (Response Panel)
10:30 - 10:40 a.m.: Break
10:40 a.m. - 12 p.m.: Panel 2
"Discovery (domestic) and information exchange (international): How crucial are the differences?"
Marc Goldstein (Moderator), Jack P. Levin, Hon. Abraham Sofaer, E. Martin Estrada, Dr. Eun Young Park
12 - 1:30 p.m.: Lunch Presentation
"Senate Bill 766 - A New Day for International Arbitration in California"
SB 766 will permit foreign lawyers to appear in International Arbitrations in California, contrary to the Birbrower rule. The panel will discuss the background of SB 766, and its implications for the growth of California as an international arbitration center.
Howard Miller, Dan Kolkey, Maria Chedid
1:45 - 3:00 p.m.: Panel 3
"Appealing Arbitration Awards"
One of the often-cited advantages to resolving disputes through international arbitration is that final awards are not subject to appellate review on the merits. This long-held view may be changing. Some arbitral institutions have taken the approach that appellate review may be appropriate in some circumstances and have promulgated rules permitting secondary or appeals arbitral-tribunals to review final awards. This panel of experts will review the current state of appellate review in international arbitration and discuss the merits and drawbacks to this approach.
Nathan O'Malley (Moderator), Grant L. Kim, Tina Cicchetti, Michael Martinez
3 - 3:15 p.m.: Break
3:15 - 4:30 p.m.: Panel 4
"Efficiency Enhancing Techniques in International Arbitration"
Is arbitration the answer to efficient dispute resolution? This panel of experts will discuss a number of techniques that counsel and tribunals are now using to streamline the arbitration process including early disposition of facially unmeritorious claims (e.g., ICSID Article 41(5)); handling expert evidence in ways to promote the efficient resolution of conflicting expert opinions; and bifurcation of claims or defenses to cut to the chase on key threshold (potentially dispositive) issues.
Steven Sletten (Moderator), Neil Popović, Katia Yannaca-Small, Steve Smith
4:30 - 5:30 p.m.: Reception
Reception for faculty and attendees hosted by JAMS and honoring Judge Judith O. Hollinger.
USC Gould Law Cafe
Young ICCA Conference
In conjunction with the Symposium, the Young International Council on Commercial Arbitration will present a half day conference on March 14, 2018 titled "Developing an International Arbitration Practice In California." The Conference is aimed at young practitioners including junior to mid-level associates, law students, and also welcomes anyone interested in developing an international arbitration practice.
The event will be held from 1:30 to 6 p.m. at Musick Peeler & Garrett, 624 S. Grand Avenue, Los Angeles, CA 90017, and will be followed by a networking cocktail event nearby. To register, email yiccala2018@youngicca.org.
Accommodations
Radisson Los Angeles Midtown at USC
3540 South Figueroa Street
Los Angeles, CA 90007
213-748-4141
The USC Radisson Hotel is across the street from the university.
USC visitors may prefer to stay in accommodations downtown (a 10-minute drive from USC) or near the Los Angeles International Airport (a 30 minute drive from USC). Please visit the Los Angeles Convention and Visitor's Bureau (Discover Los Angeles) for local hotels.
Directions and Parking
Attendees will have non-hosted parking at Gate 3/Parking Structure X on the USC University Park Campus. The current charge is $12/day.
Directions to USC and the parking garage:
From downtown Los Angeles, take the 110 Freeway South. Exit at Exposition Blvd. Turn right on Exposition, and then right on Figueroa. (If you are traveling northbound on the 110 Freeway, exit at Exposition and then turn left on Exposition and right on Figueroa). You will see the campus on the left side of the street. Within half a block you will see a street on the left called USC McCarthy Way and a sign for Parking Structure X and Entrance 3. Turn into that driveway (it will be labeled USC McCarthy Way) and stop at the kiosk.
Public Transportation
The Exposition light rail line travels past USC Gould, stopping at the USC/Expo Park Station.
USC operates a shuttle to and from Union Station (UPC to Union Station).
Program Moderators & Panelists

Richard Chernick, Co-chair
Richard Chernick is Vice President and Managing Director of JAMS' Arbitration Practice. He has conducted hundreds of complex arbitrations and mediations before major administering institutions, both domestic and international. Mr. Chernick is a former Chair of the Dispute Resolution Section of the American Bar Association and the Founding President of the College of Commercial Arbitrators. He served as the ABA's Advisor to the Revised Uniform Arbitration Act. Mr. Chernick teaches arbitration at USC Gould School of Law, and currently serves as Chair of the USC Board of Councilors.
• • •

Nathan O'Malley, Co-chair
Nathan O'Malley is a partner in the Los Angeles office of Musick Peeler & Garrett and Chair of the firm's International Arbitration and Litigation Practice. He has acted in numerous international arbitrations, and represented clients before arbitral tribunals seated in The Hague, Geneva, Zurich, London, Amsterdam, Singapore, Abu Dhabi, Frankfurt am Main and in the United States. Mr. O'Malley teaches International Business Dispute Resolution and Advanced International Dispute Resolution at USC Gould School of Law.
• • •

Steven Sletten, Co-chair
Steven Sletten is a partner at the international law firm Gibson Dunn & Crutcher, where he has been a member of the firm's litigation and international arbitration practice groups for the past 34 years. His ADR experience includes domestic and international arbitrations under ICC, AAA, LCIA, and CPR rules as well as ad hoc arrangements. He is former President of the Association of Business Trial Lawyers in Los Angeles and currently serves on the Advisory Board of the USC Gould School of Law Judith Hollinger Program in Alternative Dispute Resolution.
• • •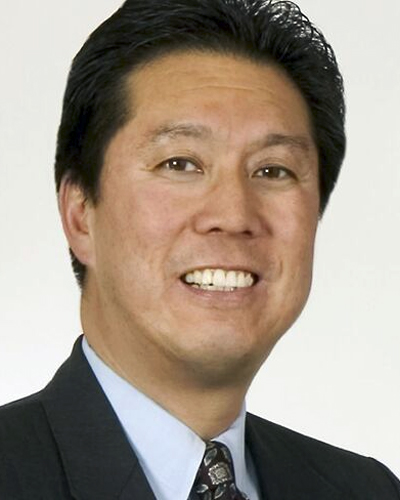 Cedric Chao
Cedric Chao is a trial partner and co-head of the global international arbitration practice of DLA Piper. Mr. Chao has first-chaired high stakes disputes in both US courtrooms and international arbitration forums, including five disputes where the amount in controversy exceeded $1 billion, and multiple others in the hundreds of millions of dollars.
He has argued eighteen times before appellate courts, including once before the U.S. Supreme Court and once before a Ninth Circuit en banc panel. Mr. Chao has led teams in international arbitration proceedings around the world, and has sat as an ICC and SIAC arbitrator.
Mr. Chao is a U.S. member of the ICC Arbitration Commission, and serves on the Governing Council of the American Arbitration Association. He is one of 31 Advisors to the American Law Institute project to draft the Restatement of the U.S. Law of International Commercial Arbitration. Mr. Chao is named a leading lawyer by Chambers USA and Chambers Global.
Mr. Chao is listed in Best Lawyers in America (for arbitration, mediation, and business litigation), and was designated by that publication as "2018 San Francisco Arbitration Lawyer of the Year". Mr. Chao and Judge Daniel Weinstein (Ret.) are the co-authors of the chapter on mediation and mediation advocacy in Thompson Reuters' treatise Business and Commercial Litigation in Federal Courts (4th ed).
Mr. Chao graduated from Stanford University and Harvard Law School, and clerked for U.S. District Judge William Orrick, Jr., Northern District of California.
• • •

Maria Chedid
Maria Chedid, a partner with Baker & McKenzie LLP in San Francisco,regularly serves as lead counsel in international commercial and investor state arbitrations. Maria was named one of California's Top 100 Women Lawyers in 2014. Her expertise,effective advocacy, and leadership have been recognized by Chambers Global Guide and Chambers USA. She holds various executive and advisory board positions in international law and arbitration, including serving as president of the Northern California International Arbitration Club. She has served on the Executive Committee of the International Law Section of the California State Bar Association, and as a Member of the Regional/National Committee for the United States for the Singapore International Arbitration Centre. She is fluent in Arabic, and is a frequent speaker on international dispute resolution.
• • •

Tina Cicchetti
Tina Cicchetti is a leading arbitration practitioner based in Vancouver, Canada. As of 1 September 2017, Tina practices as an independent Resident Neutral at Vancouver Arbitration Chambers (VAC). She has served as sole arbitrator and tribunal chair in ad hoc and institutional arbitrations. Tina also has extensive experience as counsel in commercial and investment treaty arbitrations. Tina is active in the arbitration community. She is the Vice Chair of the International Arbitration Committee of the Canadian Chamber of Commerce (ICC Canada), a board member of the Western Canada Commercial Arbitration Society (WCCAS), a former President and a current Advisory Board member of the Young Canadian Arbitration Practitioners (YCAP), a member of the ICDR Canadian Advisory Committee and a former member of the Regional Coordinating Committee of the North American Chapter of ICC's Young Arbitrators' Forum (YAF).
• • •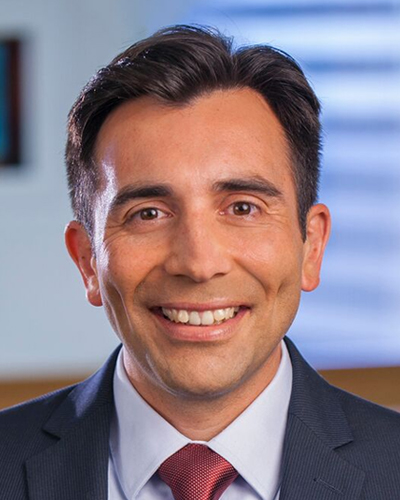 E. Martin Estrada
E. Martin Estrada is a partner with Munger, Tolles & Olson. His practice is focused on trials, arbitrations, complex litigation, and internal investigations. He represents major corporations and executives before both federal and state courts in a variety of areas, including business disputes, technology, antitrust, environmental regulation, securities, banking, and competition law.
Mr. Estrada, a former federal prosecutor and supervisor in the U.S. Attorney's Office, is an experienced litigator who has tried over two dozen federal and state trials and arbitrations, argued a dozen appeals before the U.S. Court of Appeals, and handled numerous legal and evidentiary hearings in federal and state courts.
He graduated with distinction from Stanford Law School in 2002, where he served as executive editor of Stanford Law Review, and earned his undergraduate degree in history from the University of California, Irvine, where he graduated magna cum laude in 1998.
• • •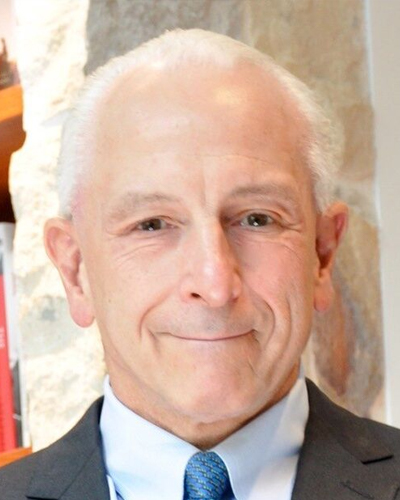 Marc J. Goldstein
Marc J. Goldstein is a New York-based arbitrator and mediator in international and domestic commercial disputes, devoting his full time to service as a neutral after a 37-year advocacy career that included leadership of the arbitration practices of two international law firms. He has been named annually for more than a decade as a leading practitioner in international commercial arbitration by Global Arbitration Review, Best Lawyers in America, and New York Super Lawyers. As author since 2009 of Arbitration Commentaries, Mr. Goldstein is also an essayist and commentator on developments in the law and practice of international arbitration in North America for a global readership. Engaged mainly as an arbitrator since 2006, he frequently sits in cases involving complex financial products and transactions, the pharmaceutical sector, and a wide variety of business relationships. As an advocate, he represented investors in arbitrations against States and State-owned entities, and acted for U.S. and foreign clients in dozens of arbitrations and litigations in sectors as diverse as pharmaceuticals, real estate, construction, franchising, securities, banking, and sports/entertainment, and on legal subject matters ranging from public international law to U.S. antitrust and securities law. He is a member of the American Law Institute and the International Arbitration Clubs in New York and London, the National Association of Distinguished Neutrals, and U.S. Arbitration Committee of the International Chamber of Commerce. He is a Fellow of the College of Commercial Arbitrators and the Chartered Institute of Arbitrators. His name is included in the arbitrator rosters of the AAA (ICDR and Large/Complex Case); CPR Distinguished Panels of Neutrals (international, national, accounting, banking-finance), the International Arbitration Centres of Hong Kong and Kuala Lumpur, as well as the ICC arbitrator database. Mr. Goldstein was graduated magna cum laude from the University of Pennsylvania, was an editor of Law Review at the University of Virginia Law School, and was admitted to the New York Bar in 1980. He has written many articles on arbitration for major peer reviewed publications such Arbitration International and the American Review of International Arbitration, and is a visiting lecturer in the professional development program at Osgoode Hall Law School in Toronto.
• • •

Ambassador (r.) David Huebner
Ambassador (r.) David Huebner is an independent arbitrator. He previously held senior positions in the Asia Pacific region, including as U.S. Ambassador to New Zealand, chairman & CEO of an international law firm, founding chief representative of a law firm in Shanghai, and special assistant to a member of the Japan's National Diet. A graduate of Princeton University (summa cum laude) and Yale Law School, he is a licensed solicitor in England & Wales and member of the Bars of CA, NY, and D.C.
A Fellow of the Chartered Institute of Arbitrators, he has handled more than 100 arbitrations in two dozen jurisdictions around the world as neutral or advocate, and has particular expertise in technology, life sciences, energy, infrastructure, construction, and investment disputes. He has lectured on international law, intellectual property, and dispute resolution at universities in China, Germany, New Zealand, and the U.S.
• • •

Grant L. Kim
Grant L. Kim has over 30 years of experience with international arbitration, patent litigation, and other commercial disputes. He has served as an arbitrator for the International Centre for Dispute Resolution (ICDR), the International Chamber of Commerce (ICC), and the Korean Commercial Arbitration Board (KCAB). He has also served as counsel in numerous ICC, ICDR, and KCAB arbitrations in the U.S., Asia, and Europe. He has experience with diverse technology and has obtained favorable results in patent, copyright, and trade secret litigation in the U.S. courts and before the U.S. International Trade Commission. Before joining LimNexus, he worked at Morrison & Foerster LLP in San Francisco and Tokyo, Kim & Chang in Seoul, and as a Staff Attorney for the U.S. Court of Appeals for the Ninth Circuit. He is Fellow of the Chartered Institute of Arbitrators and a member of the Tech List of the Silicon Valley Arbitration and Mediation Center.
• • •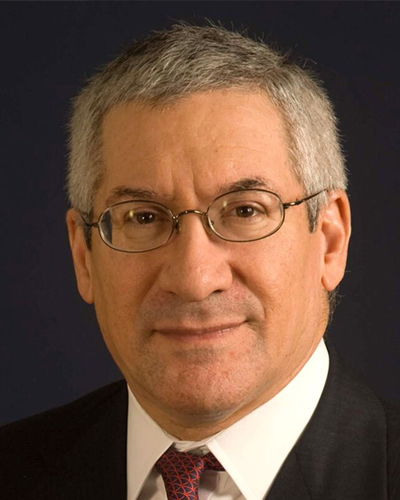 Daniel M. Kolkey
Mr. Kolkey, a partner of Gibson, Dunn & Crutcher, chairs the firm's California Appellate Practice.
For the past 8 years, Chambers USA has ranked Mr. Kolkey at tier 1 for California Appellate Litigation. He has been awarded the Clay Award as an attorney of the year in 2004, 2006, 2016, and 2017.
Mr. Kolkey has also served as counsel and Legal Affairs Secretary to Governor Pete Wilson, as an associate justice of the California Court of Appeal, Third Appellate District, and as Governor Arnold Schwarzenegger's negotiator with California's Indian tribes.
Mr. Kolkey chairs the California Judicial Council's Appellate Rules Subcommittee, was appointed to chair the Supreme Court's international commercial arbitration working group, and is co-editor of a handbook on international arbitration.
He graduated from Harvard Law School magna cum laude.
• • •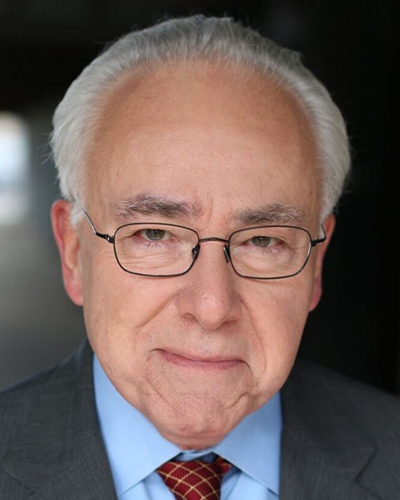 Jack Levin
After a federal district court clerkship in 1971 Jack Levin started his forty-year litigation career with Davis Polk & Wardwell. He then co-founded Howard, Darby & Levin and its successor firm, which merged with Covington & Burling LLP in 1999. In 2001, while a Covington partner, he served as acting head of litigation (North America) for UBS Warburg. In 2011 he took Retired Partner status from Covington to work full-time as an independent domestic and international mediator and arbitrator.
Jack serves on the Large Complex Case and Master Mediator Panels of the American Arbitration Association and the International Centre for Dispute Resolution and the Banking, Accounting and Financial Services and Cross-Border Panels of CPR: The International Institute for Conflict Prevention and Resolution. He is a Fellow of the Chartered Institute of Arbitrators and has served on ICC tribunals. He is named in Who's Who Legal: Commercial Mediation (2016 - 2017) and "New York Super Lawyers" 2007 - 2016, (2009 - 2016 for Alternative Dispute Resolution). He has spoken at ADR conferences in the U.S., Europe and Brazil. He is a graduate of The University of Pennsylvania School of Law.
• • •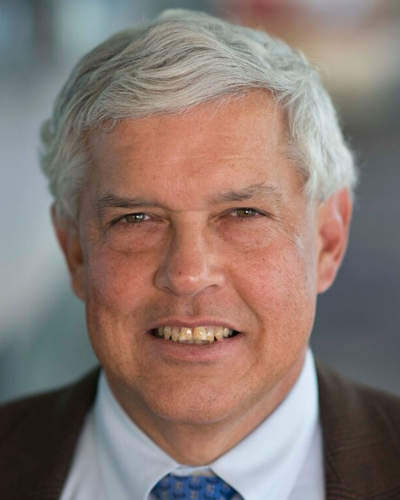 Michael L. Martinez
Michael L. Martinez is Senior Vice President and Associate General Counsel for Dispute Resolution at Marriott International, Inc. and is based at Marriott Headquarters in Bethesda, Maryland. In that role, Michael is responsible for most of Marriott's litigation and arbitration matters worldwide. Prior to joining Marriott, Michael was a partner in a Washington, D.C. law firm primarily handling commercial and governmental litigation and arbitration. He was also an Assistant United States Attorney for ten years. Michael obtained his law degree from the University of California, Berkeley and his undergraduate degree in Economics from the University of California, Davis.
• • •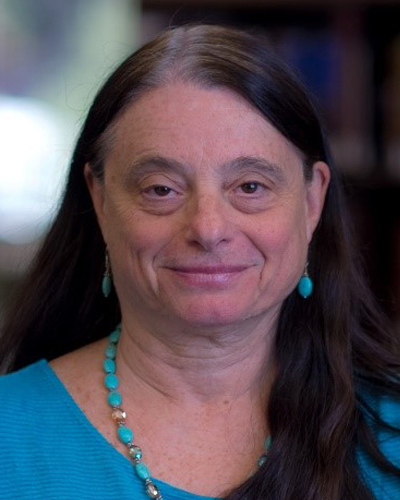 Carrie Menkel-Meadow
Carrie Menkel-Meadow is the Chancellor's Professor of Law and Political Science at the University of California, Irvine and A.B. Chettle Jr. Professor of Law, Dispute Resolution and Civil Procedure Emerita at Georgetown University Law Center. She is one of the founders of the modern legal dispute resolution field and has been teaching negotiation, mediation and related subjects for over 35 years. She has published over 15 books and 200 articles in the field. Professor Menkel-Meadow has taught law and dispute resolution to diplomats, lawyers, law students, mediators, government officials and ordinary citizens in 26 countries. She is an active mediator and arbitrator, as well as policy and strategic planning facilitator.
Professor Menkel-Meadow graduated cum laude Juris Doctorate from the University of Pennsylvania Law School, magna cum laude, BA (in sociology) and Phi Beta Kappa from Barnard College, Columbia University.
• • •

Howard B. Miller
Howard B. Miller, FCIArb, is as of February 2018 a mediator and arbitrator at JAMS. He has just completed sixteen years as head of the international dispute resolution, intellectual property, and complex commercial litigation practices at Girardi | Keese. He is a past President of the State Bar of California, and was for many years a Professor of Law at the USC Gould School of Law. He began his career as law clerk to Justice Roger J. Traynor of the Supreme Court of California.
• • •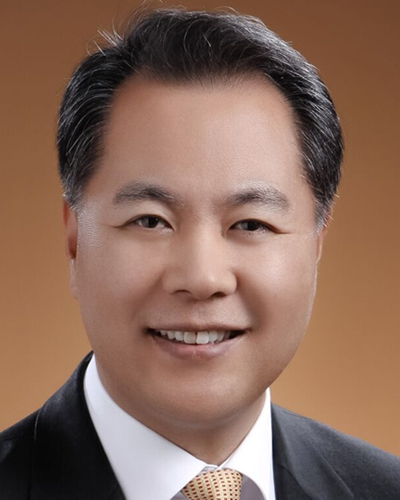 Eun Young Park
Eun Young Park is the co-head of the International Arbitration & Cross-Border Litigation Group at Kim & Chang. He concentrates his practice on international arbitration proceedings as well as court proceedings in multiple jurisdictions, including international arbitrations under the rules of the renowned arbitral institutions and also sits as an arbitrator in international arbitration cases with wide range of areas.
He is currently serving as Vice President of LCIA Court, a Member of the SIAC Court of Arbitration, and an Executive Member of Seoul International Dispute Resolution Center. He was Vice Chair of the IBA Arbitration Committee, the inaugural Co-Chair of the IBA Asia Pacific Arbitration Group and has been a member for Subcommittee for Revision of IBA Rule of Conflicts of Interest.
Dr. Park has served as a judge in the Seoul District Court and teaches at law schools in Korea. He received J.S.D. and an LL.M from the NYU School of Law after graduating from the Seoul National University Faculty of Law. He is admitted to the New York bar and Korean bar and registered with Singapore International Commercial Court.
• • •

Neil A.F. Popović
Neil Popović is a partner at Sheppard Mullin Richter & Hampton LLP in San Francisco, and is Team Leader of the firm's International Litigation and Arbitration team.
Mr. Popović's experience includes a wide range of commercial disputes, including consumer class actions, white collar criminal matters (including internal investigations) and international dispute resolution (including international arbitration and litigation) and counseling. Mr. Popović also has experience with investor-state arbitration and public international law. His international environmental law practice includes representing clients in international negotiations. He teaches courses in International Litigation and Arbitration and International Environmental Law at the University of California, Berkeley School of Law. Mr. Popović also serves as a Project Complaint Mechanism Expert for the European Bank for Reconstruction and Development.
Mr. Popović received his J.D. from the University of California, Berkeley, where he was Note & Comment Editor on the California Law Review. He received an M.A. in International Relations from the Fletcher School of Law and Diplomacy at Tufts University, where he was a Ford Foundation Fellow in Public International Law. Mr. Popović served as a law clerk to the Honorable Alicemarie H. Stotler of the U.S. District Court for the Central District of California, and he was a judicial extern for Justice Joseph R. Grodin of the Supreme Court of California.
Prior to joining Sheppard Mullin, Mr. Popović was a shareholder at Heller Ehrman in San Francisco; before that, he was an attorney with the Sierra Club Legal Defense Fund (now called Earthjustice) International Program in San Francisco; and prior to that, he practiced with a San Francisco civil and criminal litigation boutique.
• • •

Steven Smith
Steve Smith, a partner with Jones Day in San Francisco, focuses on the arbitration of complex international disputes in a broad range of industries. In 33 years of practice, he has handled matters for and against sovereign entities from the Middle East, Europe, Asia, Latin America, and Africa and has served as counsel and arbitrator in numerous institutional and ad hoc arbitrations around the globe. Recognized as one of the world's leading international arbitration lawyers in many notable directories, he is the recipient of the 2008 California Lawyer of the Year Award for his outstanding achievement in alternative dispute resolution, as well as the Riesenfeld Award from U.C. Berkeley School of Law for his extraordinary contribution to the field of international law. He was a Lecturer in Law at Stanford Law School, where he taught international commercial arbitration.
• • •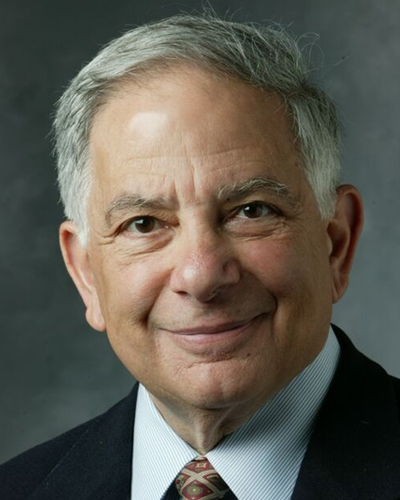 Hon. Abraham D. Sofaer
Abe Sofaer graduated NYU Law School in 1965, as editor in chief of the law review and went on to clerk for the Hon. J. Skelly Wright of the DC Circuit and the Hon. William J. Brennan, Jr. of the US Supreme Court. He worked as an Assistant US Attorney under Robert M. Morgenthau, Jr. in the Southern District of NY, after which he taught for 10 years at the Columbia Law School. He was appointed a district judge in Manhattan by President Carter on the recommendation of Senator Daniel P. Moynihan, where he served for six years. He then served for five years as Legal Adviser to George P. Shultz and James Baker in the US Department of State. He spent four years in private practice in Washington, DC, at Hughes Hubbard & Reed, after which he joined the Hoover Institution, Stanford University, where he is the George P. Shultz Senior Fellow. He has extensive experience in international and domestic arbitration, mainly as an arbitrator. He has done ICC, LCIA, and ad hoc international arbitrations, and is on the AAA National Panel. He founded and is Board Chair of Federal Arbitration, Inc., which now has some 55 former federal judges on its roster, along with former state judges and experienced litigators. He has taught arbitration at Stanford Law School, and still lectures on the subject.
• • •

Katia Yannaca-Small
Katia Yannaca-Small is an independent counsel and arbitrator advising and representing States and companies on commercial and investor-state arbitration and public international law issues. Previously she was Counsel with the International Arbitration and Public International Law Groups of Shearman and Sterling LLP in Washington DC and also served as Senior Counsel with the International Centre for the Settlement of Investment Disputes (ICSID) and as Senior Legal Advisor with the Organization of International Co-operation and Development (OECD) in Paris. She is Lecturer in Law at the University of Southern California's Gould School of Law, teaching international investment law and arbitration. Katia is a frequent speaker and has written extensively in the field and is the editor of and the author of several chapters of the Oxford University Press book on Arbitration Under International Investment Agreements: A Guide to the Key Issues, the second edition of which will be published in the summer of 2018.
RECENT NEWS