Working Paper Series

USC Gould School of Law
2012 CLEO Working Paper Series
C12-1 John G. Matsusaka and Oguzhan Ozbas, Shareholder Empowerment: The Right to Approve and the Right to Propose.
C12-2 Daniel Klerman, Personal Jurisdiction and Product Liability.
C12-3 Iva Bozovic and Gillian K. Hadfield, Scaffolding: Using Formal Contracts to Build Informal Relations in Support of Innovation.
C12-4 Carolyn Sissoko, Is Financial Regulation Structurally Biased to Favor Deregulation? (forthcoming in So. Cal. L. Rev. (2012)).
C12-5 Edward D. Kleinbard and Joseph Rosenberg, The Better Base Case (Tax Notes, June 4, 2012, p. 1237).
C12-6 Edward J. McCaffery, What Sports Can Teach Tax Policymakers: Lessons from the Luxury Tax.
C12-7 George Lefcoe, Redevelopment in California: Its Abrupt Termination and a Texas-Inspired Proposal for a Fresh Start.
C12-8 Joshua D. Blank and Nancy Staudt, Corporate Shams (forthcoming in 87 NYU Law Rev. (2012)).
C12-9 Jonathan Barnett, Hollywood Deals: Soft Contracts for Hard Markets.
C12-10 Edward D. Kleinbard, Tax Fairness and Fairness in Tax Data Reporting.
C12-11 Edward J. McCaffery, The Dirty Little Secret of (Estate) Tax Reform (65 Stan. L. Rev. Online 21, August 14, 2012).
C12-12 Edward D. Kleinbard, Paul Ryan's Roadmap to Inequality (136 Tax Notes 1195 (2012)).
C12-13 Dennis Lu and Guofu Tan, Economics and Private Antitrust Litigation in China.
C12-14 Edward D. Kleinbard, Stateless Income's Challenge to Tax Policy, Part 2 (Tax Notes, September 17, 2012, p. 1431).
C12-15 Gregory C. Keating, Is the Role of Tort to Repair Wrongful Losses? (Chapter 13 in Donal Nolan and Andrew Robertson, eds., Rights and Private Law (Portland, Oregon: Hart Publishing, 2012), pp. 367-405).
C12-16 Gillian K. Hadfield, The Cost of Law: Promoting Access to Justice through the Corporate Practice of Law.
RECENT NEWS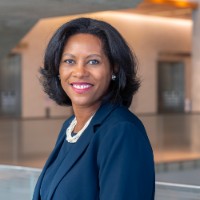 Answering the Role Call
November 12, 2021
LaVonda Reed inspires as first African American dean of Georgia State University College of Law