Kathy Sanders Platnick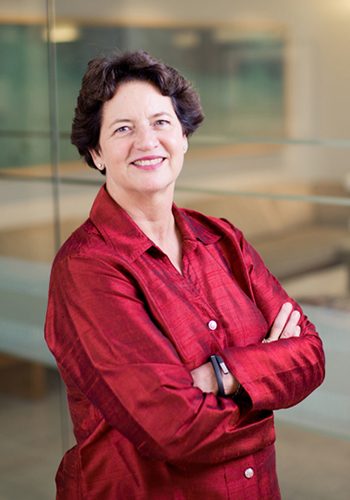 Kathy Sanders Platnick teaches Legal Profession for USC Gould School of Law's online programs. Sanders Platnick recently retired as a partner of O'Melveny LLP and is now Of Counsel to the firm. During her 30 years of practice, Sanders Platnick was an international business lawyer with a broad-based transactional practice that encompassed all aspects of money management as well as corporate governance and risk management, structured funds, and mergers and acquisitions—particularly in connection with the acquisition and sale of money managers.

During her career, Sanders Platnick structured and negotiated approximately 100 investment funds aggregating approximately US$18 billion in commitments. These products covered a broad range of asset classes, including buy-out, distressed, credit opportunity, venture, hedge, energy, real estate, life settlements, permanent capital, fund of funds, and country specific (particularly China). Her clients ranged from start-up ventures to well-established fund sponsors. Sanders Platnick also acted as counsel to the independent members of the boards of several US-registered mutual funds with assets in excess of US$300 billion where she also advised on various governance issues. Sanders Platnick is particularly adept at advising on fiduciary and ethics issues.

Sanders Platnick is widely recognized by legal ranking guides as a leading fund formation lawyer. For example, Legal 500 US named her as a leading fund formation lawyer and a leader of a private equity fund formation practice that has achieved "impressive national spread" and "exposure to a diverse variety of fund products." In addition, Investment Funds by Expert Guides named Sanders Platnick as a "Leading Lawyer." She is also a member of Who's Who Legal (2007-present).

In addition to representing clients, Sanders Platnick also had an active role in managing O'Melveny. She was one of six elected members on O'Melveny's Partner Compensation Committee. Prior to that, she served on the Firm's Policy Committee, an elected 12-member body responsible for overseeing O'Melveny's general affairs and management. She is one of only a small handful of partners at O'Melveny to have been a member of both of these important firm governance structures. In addition, as co-chair of O'Melveny's Diversity Task Force, Sanders Platnick led a team of 12 in analyzing diversity issues within the firm and developing a long-term strategic plan to increase diversity. Sanders Platnick also served a record 15 years as a partner liaison on an O'Melveny committee focused on partner/associate relationships.
Sanders Platnick currently serves on the USC Gould School of Law Board of Councilors, the UCLA Department of Economics Board of Visitors, and the Board of Pediatric Therapy Network, a nonprofit which provides innovative services to children with special challenges. Previously, Sanders Platnick served a several year stint as Chair of the Board of Sierra Service Project, a nonprofit which allows teenagers to build and strengthen communities in service to those in Native American and underserved urban communities.

Sanders Platnick received her BA in Business and Economics from the University of California, Los Angeles and her JD from the University of Southern California.

FACULTY IN THE NEWS
The New Republic
February 20, 2019
Re: Sam Erman
The New Republic published a review of Sam Erman's book entitled "Almost Citizens: Puerto Rico, the U.S. Constitution, and Empire. According to the reviewer, "The book is deeply researched and densely footnoted, but Erman's writing is also lively and lucid, and he has an eye for catchy stories and compelling characters." The review goes on to suggest that aside from its compelling narrative, the book "has recovered a crucial history of the struggle over democracy, rights, race, and gender in America, a set of conflicts we have not left behind."
RECENT SCHOLARSHIP
Jonathan Barnett
December, 2018
Jonathan Barnett co-authored a letter to the Federal Trade Commission in response to a request for public comments following Hearings #4 on Innovation and Intellectual Property Policy.
Dorothy S. Lund
December, 2018
"Nonvoting Shares and Efficient Corporate Governance," Ackerman Conference on Differential Voting Shares, Bar-Ilan University, Tel Aviv, Israel.
Orin Kerr
December, 2018
"Implementing Carpenter" posted to SSRN.