The benefits of pro bono work
Friday, October 29, 2010
PILF hosts pro bono panel discussion
By Sheila Grady

USC Law students heard about the benefits of pursuing pro bono opportunities while working in law firms from the people who make it happen. Five pro bono managers from diverse organizations such as large firms and legal services non-profits participated in a panel discussion, "Doing Good While Doing Well," on Oct. 26.

Sponsored by the Public Interest Law Foundation (PILF) and the Career Service Office (CSO), the panel was held in conjunction with National Pro Bono Week, the American Bar Association's national celebration of the impact pro bono legal work has on low-income and vulnerable clients.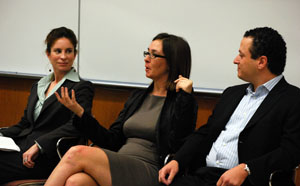 Devon Myers '05, Cristin Zeisler and Amos Hartston
Moderated by PILF's Pro Bono Clinics & Events Co-Chair Wen Shen '12, the panel members engaged in lively discussion about their diverse career paths. All agreed that a passion for helping communities in need was the driving cause behind their professional choices.

Cristin Zeisler, the director of pro bono services at Manatt, Phelps & Phillips, very plainly explained the reasoning behind her work.

"There's only one reason to do pro bono and that's whatever your reason is," she said. "My job is to help my attorneys — I've got 400 of them across the country — remember what that reason is, and it's different for all of them."

"My reason for doing pro bono is a selfish one," said Devon Myers '05, an associate at White & Case. "It really makes me happy. It's important work. I'm able to go to the court and spend an afternoon with victims of domestic violence and by the end of the day, their lives will be better because they've had the opportunity to have their voices heard."

On a more practical level, the legal experience acquired while working pro bono cases offers new lawyers opportunities to try cases they might otherwise wait years to obtain.

"You get great experience," said Myers. "As a first-year attorney, yes, you will get opportunities but you will also get a lot of paperwork. So, I just went and told my boss that I wanted this immigration pro bono case. In addition to getting a client protection in this country, I was able to learn a lot about being an attorney a lot more quickly than I would have if I hadn't done this pro bono work."

Amos Hartston, pro bono counsel at Latham & Watkins, agreed.

"I don't think the reason I got started was for skills development, but that is a benefit and it motivates a lot of people," he explained. "My first arguments, my first deposition — they were all on pro bono matter. It's great that you can build those skills. As law students or as new lawyers, you can make such a difference just by being proactive and helping people in an area that interests you."
As a pro bono manager at the Alliance for Children's Rights, Diego Cartagena, made clear the vital role firms play in providing pro bono services to non-profit legal aid organizations.

"I get individuals from law firms represented here in Los Angeles and across California really to speak on behalf of our clients," he said. "Whether it's on individual cases or policy work, we get our clients' voices heard on many different platforms, which hopefully will help them get justice in their own individual way or to balance the scales on a bigger platform."

While the panelists all vouched for working pro bono cases as an excellent way to gain professional experience, it was the singular passion for public interest work that drove these attorneys to seek out their specific careers.

Charles Song, a pro bono manager for Howrey, explained his professional choices with an anecdote about a job interview he had conducted with a law student.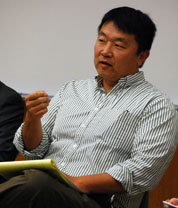 Charles Song
"I asked her, 'why do you want to do public interest?' And she had the best answer I've ever heard. She thought about it and said, 'It's just me. It's just who I am.' And I thought that was brilliant. It was the best answer I've ever heard. And for me, that would be my answer. It's always been in me and who I am. It's my passion."

Shen, who planned the event with assistance from CSO Assistant Director Rachel Kronick Rothbart, hoped students would garner an understanding of the vital relationship between private practice and public interest law.

"We put together this panel to highlight ways students can incorporate public interest work into their practice at law firms," she explained.

Anna Lee '12, the president of PILF, agreed and felt confident that the panel discussion would enlighten students about the role of pro bono work within legal practice.

"We wanted to shed light on the realities of public interest law: A lot of the work is done through the coordination and collaboration between non-profit and private entities," she said. "Pro bono is an integral part of the practice of law no matter what you do, and thus it is relevant to all of our students."
RECENT NEWS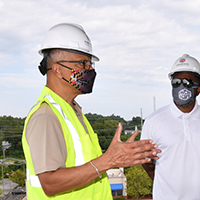 Continuum of Care
November 24, 2020
Boyd Rutherford, JD 1990, focuses on state health issues as Lieutenant Governor of Maryland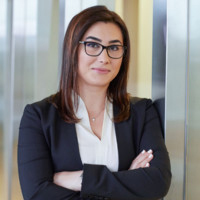 Paying it forward
November 24, 2020
Karine Akopchikyan, JD 2015, VP of Gould's Alumni Association, speaks to the importance of building and keeping relation...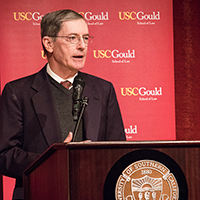 University honors Gould faculty
November 24, 2020
Ron Garet receives Faculty Lifetime Achievement Award, while Tom Griffith and Pauline Aranas named emeriti faculty