Experiential Learning Externships

USC Gould School of Law
At USC Gould, we believe students learn best when classroom work is linked to experiential learning opportunities. In some classes you will have direct engagement with clients; in others you will participate in simulations or go on field trips that provide relevant experiences. You'll also learn from guest speakers and lecturers in law who are active practitioners in their fields.
Clinics and Practicums
Our six clinics provide JD students with a priceless educational experience. You will work on actual cases, represent real clients, and provide solutions and practical recommendations to resolve their issues. Our practicums allow you to gain hands-on experience with clients while exploring a substantive legal issue in depth. These clinics and practicums create a vital link between classroom and practice by enhancing listening and critical thinking skills necessary for success.
Externships
Our wide range of externships provide you with the opportunity to work for a legal employer, under the supervision of a licensed attorney, engage with real clients, gain hands-on practical experience and earn academic credit. They include such diverse field placements as judicial externships, including the Ninth Circuit Court of Appeals and other federal, state, municipality and military courts; nonprofit and public interest organizations; state attorneys' general offices, federal and state public defenders' and U.S. attorneys' offices; in-house counsels' office, government agencies and other federal offices in Washington, D.C.
I was interested in criminal law, international law, and the intersection of law and race, so I took a seminar course with Professor Jody Armour on Stereotypes, Prejudice and the Rule of Law. I participated in presentations ranging from mock trial arguments on issues of race to a mock town hall meeting, where I played a resident of the Ninth Ward after Hurricane Katrina hit. Experiences like these are what makes USC Gould a unique law school — not just casebook after casebook, but truly engaging and innovative approaches to learning about law and the issues the law affects.

Douglas Hewlett, JD 2013
RECENT NEWS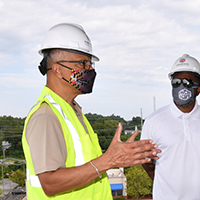 Continuum of Care
November 24, 2020
Boyd Rutherford, JD 1990, focuses on state health issues as Lieutenant Governor of Maryland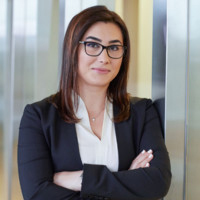 Paying it forward
November 24, 2020
Karine Akopchikyan, JD 2015, VP of Gould's Alumni Association, speaks to the importance of building and keeping relation...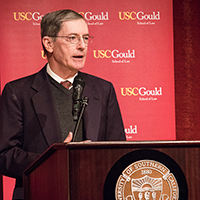 University honors Gould faculty
November 24, 2020
Ron Garet receives Faculty Lifetime Achievement Award, while Tom Griffith and Pauline Aranas named emeriti faculty