JD Student Ambassadors
USC Gould School of Law is proud to have some of the nation's brightest and most promising future lawyers studying law here. We are privileged to have five students, Adam Malkiewicz, Erika Ingram, Ariel Prince, Allison Skager and Ashley Zavala to work in the Admissions Office as Student Ambassadors. All lead very busy lives inside and outside the classroom as you can see from their profiles, but love sharing their law school experiences with prospects and admitted students.
If you are interested in learning more about their decision to attend USC Gould or if you would like to email one of the ambassadors, please click on their names to access their bios and contact information.
Adam Malkiewicz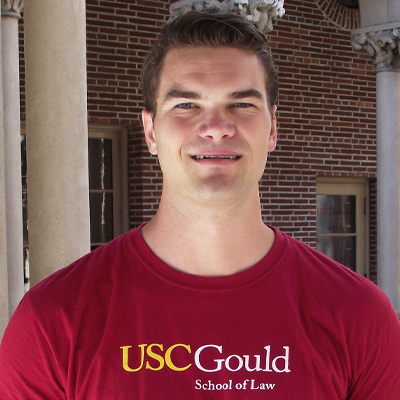 Hi! My name is Adam Malkiewicz, and I am a third year law student at USC Gould. Although initially from San Diego, I ventured across the country to study finance at Fordham University in the Bronx, New York. There, I was a member of Fordham's Division One FCS football team. After enduring four winters in New York, I knew that I wanted to come back home to California. Here at USC, I am a member of the USC Gould Supreme Court Basketball Team.
I chose USC over its peer institutions for a variety of reasons, but ultimately, the opportunity to join one of the most prominent alumni networks in the world made the decision easy. Before beginning law school, I knew that I wanted to pursue a career in corporate law in San Diego. The San Diego and Los Angeles legal markets (as well as many more) are highly saturated with USC Gould alumni. The Trojan Network has proven to be extremely instrumental when soliciting career advice from practicing attorneys. With such a great alumni network and the help of the Career Services Office, I spent the first summer of law school working as an intern in the legal department of Petco Animal Supplies Co. in San Diego. During my second summer, I returned to San Diego as a Summer Associate in the corporate department of a large, international law firm.
Although I have learned a tremendous amount from USC's outstanding faculty, my favorite learning experiences stem from the depth of personalities and perspectives shared by my fellow classmates. Gould's class sizes are large enough to include a plethora of world-views, but small enough to ensure that each view is equally heard. I am deeply grateful that my classmates have challenged me to see the world from a perspective other than my own. USC Gould students have taught me that knowing the law is simply not enough. To really understand it, requires you to see the law through a lens other than your own.
Aside from world-class academics, USC and Los Angeles offer a wide range of experiences unlike anywhere else. Whether it's tailgating for USC or NFL football games, trying one of the city's thousands of restaurants, hiking in Malibu, or hitting the beach in Santa Monica, there is always something new and exciting to do on the weekends. Even if you do not plan to stay in Southern California after law school, I would encourage everyone to take advantage of the Los Angeles lifestyle.
Without question, attending law school at USC has been one of the most rewarding experiences of my life. I am incredibly thankful that I made the decision. Choosing where you will attend law school is a challenging and important decision, so I strongly recommend you come see our amazing campus and learn a little more about what it means to be a Trojan. I am more than happy to answer any questions you may have about the law school or the university in general! Please feel free to contact me at ambassador1@law.usc.edu. I hope to hear from you!
Erika Ingram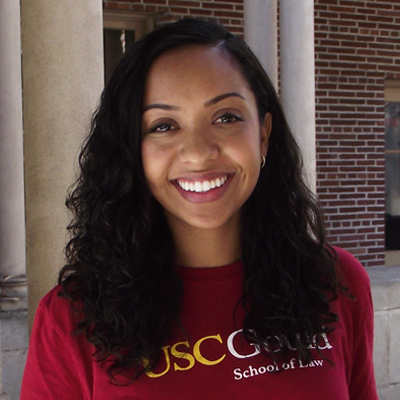 My name is Erika Ingram and I am a second-year student at USC Gould. I was born and raised in Southern California, and have never left. I studied International Relations at USC and was very active in different student organizations like the USC Helenes and Phi Alpha Delta.
I knew I wanted to pursue law school, but took a year off to prepare and work at a courthouse. When it was time to apply for schools, I was primarily interested in Southern California, and USC Gould topped my list. I love the school, the city, and everything USC Gould has to offer, including the Trojan Family Network.
Through the USC Public Interest Scholars program, I spent my 1L summer at the Children's Law Center of California. This school year, I will be a law clerk for the Los Angeles District Attorney's Office. All in all, I am especially grateful for the support and staff at USC Gould. There is always someone that I can talk to about classes, student life, and future opportunities. I am especially grateful for the Career Services Office and our career counselors who are so invested in the happiness and goals of the student body. The CSO is a place I visit frequently to speak to the counselors about my future path as an attorney and the steps I can take to achieve my dreams.
Aside from being an Admissions Ambassador, I am the president of the Latino Law Student Association. This group, like many others on campus, serves as a support system for the students at USC Gould and helps create an encouraging environment. I also am involved in the Black Law Students Association, I volunteer at many Public Interest Law Foundation clinics, and am an active volunteer with Public Counsel CARES. One thing I have enjoyed the most about USC Gould has been the ability to learn from my fellow classmates who all are ambitious and passionate advocates and have so much to offer the world.
I can honestly say that I have never once regretted my decision to come back to USC for law school. I have tried to venture off to different cities, but the magic of Los Angeles keeps me here. When not studying, you can find me at the beach, hiking, or trying a new restaurant for brunch or dinner. I am excited for this academic year and hopefully help others learn to love USC just as much as I do. I love the support, opportunities, and Trojan family that I feel more a part of every single day. If you have any questions about the application process or would just like to learn more about what it's like to be a USC law student, please feel free to email me at ambassador2@law.usc.edu. Fight on!
Ariel Prince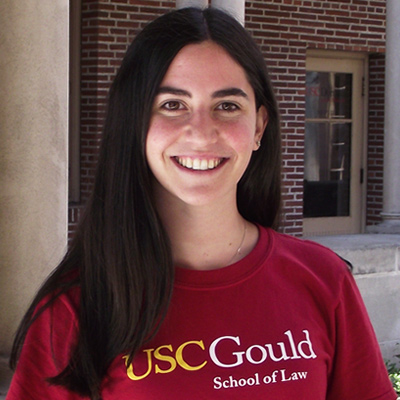 My name is Ariel Prince and I am a second-year student at USC Gould School of Law. Although I was born and raised in Los Angeles, I moved to the Bay Area to study Political Science at UC Berkeley. While attending UC Berkeley, I was actively involved in several student organizations including the Jewish Student Union, Alpha Chi Omega, and Phi Alpha Delta. I worked for a judge in L.A. and a law firm in DC over my summers, and also learned how to walk backwards up Berkeley's huge hills while serving as a Campus Ambassador.
After college, I pursued my passion for writing and became the first participant in Hewlett-Packard's corporate communications rotational program. I crafted speeches for the CEO, wrote company-wide newsletters, and helped operate HP's largest Twitter account. Though I enjoyed corporate communications, my interest in the law remained and I decided to begin my law school career.
I chose USC Gould over its peers for a variety of reasons. I was excited by the opportunity to join USC's exceptional alumni network as well as to take classes in the heart of L.A.'s vibrant legal community. Having the ability to study outside every single day of the year thanks to L.A.'s perfect weather also made me proud to become a Trojan. Looking back, I did not appreciate how the small class size would contribute to building such a collegial environment, but that has been one of my favorite aspects of attending USC Gould.
I am incredibly grateful to have been a summer associate at Skadden, Arps, Slate, Meagher & Flom LLP this past summer. Working alongside such talented summer associates and attorneys reaffirmed my decision to attend law school in general and to attend USC Gould in particular. I recognize how challenging those decisions are to make, and I am happy to answer any questions you may have about my experience or USC Gould in general. Please feel free to email me at ambassador3@law.usc.edu - I look forward to hearing from you!
Allison Skager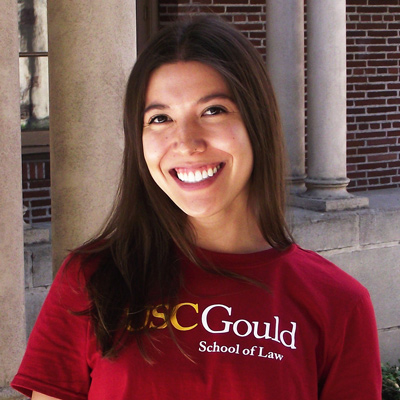 Hi! My name is Allison Skager. I am a second-year law student at USC Gould and a proud Angeleno. I grew up on the very-west edge of L.A., in the San Fernando Valley. I came from a loyal Bruin family and attended UCLA for undergrad. During my four years in Westwood (and briefly in Lyon studying abroad), I enrolled in science and econ classes until I settled into the much-preferred medieval Celtic literature, poetry, and French classes afforded by my English major.
I was not someone who grew up always wanting to become a lawyer. In fact, I didn't start considering law school until my last quarter of undergrad. As I was signing a contract to teach for a year in Seoul, I started to consider what my next steps would be. I ended up taking the LSAT before leaving for Korea and decided to apply for law school while I was there.
Teaching completely solidified my resolve to go to law school, and my next big decision was which school to choose. The choice was fairly focused for me: I wanted to be in L.A. There were a few factors that ultimately tipped the scales and led me to commit to USC. The biggest decider was getting the honest opinion of a friend who was a then-current Gould student. Other factors included the school's size, bar passage rate, career services, and the allure of something new. But knowing someone who could vouch for his positive experiences at Gould was the clincher. By the time applications were open for the class of 2020, I was so sure that USC Gould was the right place for me that I applied (binding) early decision.
The first year of law school is a crazy ride no matter where you are, but USC made it one of the best years of my life. Our small sections and ample support systems-both social and academic-make the transition into law school genuinely manageable and enjoyable.
For any admitted student who is struggling to choose between Gould and any other law school, I highly recommend attending events such as our Crosstown Reception and Law Day. And before making your choice, talk to current students! We would love to share our experiences with you and help you make an informed decision. Gould has such an impressive, diverse, and dynamic community, and we would love to share it with you.
If you have any questions about us, the application process, or law school in general, please feel free to contact me at ambassador4@law.usc.edu. And schedule a tour!
Ashley Zavala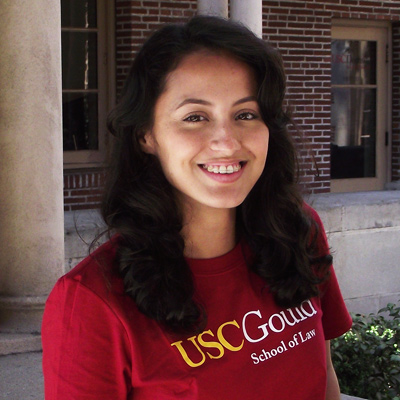 Hi! My name is Ashley Zavala, and I am a second-year law student at USC Gould. I was born and raised in the San Fernando Valley, and transferred from Los Angeles Valley College to UCLA for undergrad as a History major. During my time at UCLA, I was a member of the UCLA Law Fellows Program and completed the College of Letters of Science Honors Program.
As the youngest of three sisters and a first-generation college and graduate student, I knew I wanted a law school with a nurturing, intimate, and most importantly, opinionated environment. I was torn between two Los Angeles law schools when I decided to tour USC Gould. Looking back, I knew my decision was made the moment I walked the halls. Further reinforcing my decision to attend Gould, I was able to befriend wonderful and passionate students who truly believe in changing the world as lawyers by questioning the status quo.
At Gould, I'm surrounded by students passionate about learning the law while soaking up the sun in L.A. The friendships I cultivated served as a vital support network while navigating my first year of law school. It was as if I had my own personal Trojan Family ranging from Foster City, CA, to Queens, New York, in addition to the already extensive connections provided by the USC Gould Alumni Network. Furthermore, I have taken classes with notable professors and professionals who are experts in their respective fields, allowing me to explore different areas of the law that interest me.
Aside from being an Admissions Ambassador, I'm currently working as a Law Student Intern at the USC Immigration Clinic, assisting clients in pursuing various forms of humanitarian protection and working in a collaborative environment with supervising attorneys and other clinical students. This fall, I'll contribute to the Business Law Digest, a student-run publication analyzing the nexus of business and law. If you have any questions about student life at USC Gould, please don't hesitate to reach out to me at ambassador5@law.usc.edu.