JD Student Ambassadors - Juris Doctor (JD)

USC Gould School of Law
USC Gould School of Law is proud to have some of the nation's brightest and most promising future lawyers studying law here. We are privileged to have five students, Chief Coleman, Shayna Jackson, Drew Malkiewicz, Mirelle Raza, and Ally Wong working in the Admissions Office as Student Ambassadors. All lead very busy lives inside and outside the classroom as you can see from their profiles, but love sharing their law school experiences with prospects and admitted students.
If you are interested in learning more about their decision to attend USC Gould or if you would like to email one of the ambassadors, please click on their names to access their bios and contact information. Please note, on May 12 we thank and bid farewell to Drew, Mirelle, Ally, and Shayna as they graduate from USC Gould. Please feel free to reach out to Chief Coleman throughout the summer if you have any questions.
Drew Malkiewicz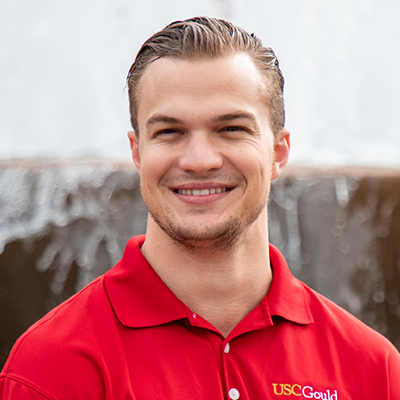 Hey! My name is Drew Malkiewicz and I am currently a 3L at USC, Gould School of Law. I am originally from San Diego, but previously spent four years at Southern Methodist University in Dallas, Texas. Once I decided the heat wasn't for me, I knew that I had to get back to my home state of California.
I chose USC over its peer institutions for a variety of reasons, but ultimately, the opportunity to join one of the most prominent alumni networks in the world made the decision easy. Before beginning law school, I knew that I wanted to pursue a career in corporate law in San Diego. The San Diego and Los Angeles legal markets (as well as many more) are highly saturated with USC Gould alumni. The Trojan Network has proven to be extremely instrumental when soliciting career advice from practicing attorneys. With such a great alumni network and the help of the Career Services Office, I spent my first summer working as an intern in the legal department of Progenity, Inc., a BioTech company in San Diego. This past summer I was a summer associate at Cooley, LLP in the corporate practice group.
My favorite part of law school thus far has been the friendships I have formed with my peers. I was fortunate enough to live in Terrace Housing during my first year, and it was an absolute blast. The community that was created amongst my fellow students was incredibly friendly and I made some amazing friends (I am even rooming with the same roommate again this year!). My peers pushed me both personally and intellectually, and the diversity of experience at USC has opened me up to so many different perspectives and lenses. My fondest memory of law school has been the student-run trips to Mammoth Mountain for skiing. The three days we spend on the mountain is a perfect way to kick off our second semester each year, and it is something I will never forget.
Additionally, the faculty at USC have surpassed all my expectations. They are always open for a conversation outside of class, regardless of the topic! The personalities and perspectives of the teachers are very diverse, leaving the opportunity for everyone to truly connect with a professor. They really care about the success and well-being of their students.
I could not be happier with my decision to attend USC Gould School of Law. I have tried to live in different cities, but the magic of Los Angeles and Southern California has always brought me back. There is never a dull day in Los Angeles, whether it is tailgating a USC or NFL football game, hiking in Malibu, trying out one of the many world-famous restaurants all over the city, or simply hitting the town with friends at night. I have loved every moment at USC thus far and I cannot wait to start my third and final year! Choosing a law school is a daunting task, and I am happy to answer any questions you may have about USC or the process in general. If you have any questions, please feel free to contact me at ambassador1@law.usc.edu.
Chief Coleman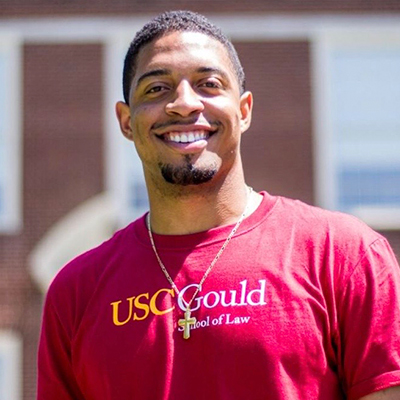 Hi! My name is Chief Coleman and I am a rising 2L. I am an L.A. County native, growing up in Long Beach. Before deciding to stay in California for good, I briefly left home to attend undergrad at Bucknell University, study abroad in South Africa, and intern on Capitol Hill. While in college, I played on the varsity water polo team and completed my bachelor's degrees in philosophy and political science. During my summers, I interned for elected officials in Long Beach and found myself fascinated by the legal ramifications of the work.
My fascination with the law grew when I was invited to attend the first National Forum on Youth Violence Prevention as Long Beach's youth delegate. I learned how all the work of local government necessitated strong municipal code for proper governance. While I loved working for elected officials, I found myself increasingly drawn to complex litigation matters and knew it was the next step in my career.
When deciding where to attend law school, I did what many aspiring attorneys do and made a checklist. Location was paramount; Los Angeles is a bustling city with diverse practice areas, the weather is hard to beat, and I have a younger cousin who I wanted to be near as she grew up. As I toured campus and spoke with alums, I found myself falling in love with USC. The Gould alums were passionate about their legal education and equally complimentary of their peers. This spoke to me as I wanted a school where I could have a collaborative environment during school and a strong network afterwards. Gould excels at both.
Professionally and academically, I have been supported. As someone who knew only one lawyer before entering law school, the Career Services Office (CSO) has been essential in building my professional network. The professors are always willing to discuss key concepts of their courses during office hours. However, my favorite part of Gould are my peers. Law students at Gould are intelligent, collaborative, and good-humored enough to maintain an on-going debate over whether NBA hall-of-famer Shaquille O'Neal could touch the law school ceiling - I say he can't.
This community has encouraged me to engage with our on-campus organizations. I have participated in the Black Law Student Association (BLSA), the Barbara F. Bice Public Interest Legal Foundation (PILF), and the C. David Molina First Generation Professionals Program (FGP) student organizations. I am serving as President of PILF, Co-Professional Development Chair of FGP, and a Peer Mentor for the incoming 1L class. I am also a Teaching Assistant for Professor Daniel Klerman's Civil Procedure I course and in the Post-Conviction Justice Project Clinic.
This past summer, I was able to explore my interest in corporate litigation through a summer associate position in the Palo Alto office of Cooley LLP. Working with the firm's top-tier tech client base gave me the opportunity to explore the practice areas of securities, privacy, and employment law, further cementing my passion for complex litigation.
I could not be more enthusiastic in my choice to attend Gould. I made the final decision to commit at an Admitted Students Event in Washington, D.C. at which alums gathered to share their experiences at Gould. I was impressed. Though we were 2,672.9 miles away from campus, the alums were able to make me feel that Gould could be an academic home. I welcome the opportunity to give you all that same feeling. Please contact me at ambassador2@law.usc.edu. Fight on!
Mirelle Raza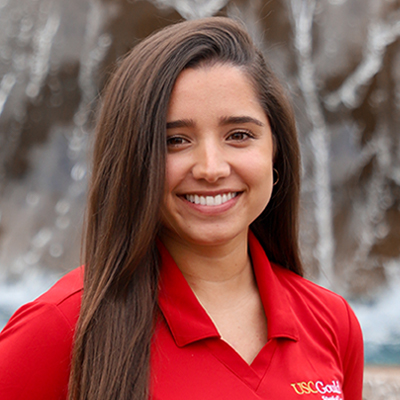 Hi! My name is Mirelle Raza and I am a rising 3L who grew up in Boston, but made my way to California seven years ago and never left. I originally moved to the Bay Area to attend undergrad at Santa Clara University, where I double majored in Sociology and Women's and Gender Studies. While in college, I studied abroad in Italy and took part in a social justice program where I travelled throughout Bosnia and Croatia. During my time in Europe I volunteered at a home for abused girls and knew that when I returned to the States, I wanted to continue this type of work moving forward.
An internship at the Santa Clara County District Attorney's Victim Services Unit solidified my interest in advocacy. I worked as a victim advocate at the San Francisco District Attorney's Office and specialized in sexual assault, child abuse, and human trafficking. My work there was challenging, yet rewarding, and after two years of working alongside prosecutors, I was confident that I wanted to attend law school so that I could become the strongest advocate possible for survivors.
My focus in public interest was a good match with Gould. Gould students, faculty, and administration have shown a commitment to public interest through community building, student organizations, course options, clinics, and programs like Public Interest Scholars, which I am a part of. I took advantage of many of these opportunities, and I have served as President of the Barbara F. Bice Public Interest Law Foundation (PILF), Academic Chair of the C. David Molina First Generation Professionals Program (FGP), and Social Chair of the Asian Pacific American Law Student Association (APALSA). During my 1L summer I worked in Washington, D.C. at the U.S. Department of Justice's Child Exploitation and Obscenity Section, focusing on the federal prosecution of child pornography, child exploitation, and "sex tourism."
In my 2L year I worked in the International Human Rights Clinic. This past summer, I worked as a 2L Honors Clerk at Santa Clara County District Attorney's Office and served as a Fair and Just Prosecution Fellow. Additionally, I am named a Douglass Fellow with the Human Trafficking Institute this coming year.
The administration and staff at Gould have been supportive in many ways. As a first-generation law student, the Student Care Office and faculty took the time to get to know me personally and aid me through my first year of law school. As a self-paying law student, the Financial Aid Office was instrumental in assisting me with scholarship opportunities to help with the costs of law school.
It might sound cliche, but I really did get a feeling that USC Gould was the right choice for me during the admitted student Law Day visit, and I haven't looked back since. I feel so lucky to be in Los Angeles and to be a part of the Trojan community. I hope that I will have the chance to tell you even more about my experiences here. Please contact me at ambassador3@law.usc.edu. I look forward to hearing from you!
Shayna Jackson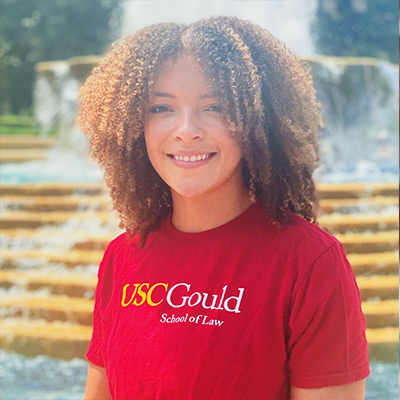 Hello! My name is Shayna Jackson, and I am a 3L at USC Gould. I'm originally from Portland, Oregon, but I moved to Los Angeles nine years ago to pursue an undergraduate degree in Politics at Occidental College, and now I'm here to stay.
During my time at Occidental, I developed an interest in studying and understanding the influence that Western colonialism has had and continues to have around the world. Specifically, I endeavored to learn about how Western Feminism and American hegemony has impacted and oppressed communities within Muslim-majority countries throughout history. Eventually, these studies took me to the University of Amsterdam in the Netherlands where I continued to develop an understanding of America's and Europe's role in international human rights violations around the world. Through this coursework, my eyes were opened to injustices that were being perpetrated on a global scale, and I made it a goal to become more involved in international human rights work after college.
While I was applying to law school, it was important for me to find schools that offered courses on international human rights law. I was immediately drawn to USC because not only did Gould have classes on the subject, it also had the International Human Rights Clinic (IHRC). I was deeply inspired by the work the student attorneys were doing in the IHRC, and I felt like I could really make a difference through that experience – if I was lucky enough to be selected to be a member my 2L year. Therefore, it was extremely exciting when I was admitted into the class of 2021 at USC because I was one step closer to my goal of participating in the IHRC.
Although I was beyond thrilled that I got into USC, I was also terrified. I was the first person in my family to go to graduate college, and I had no idea what to expect from a program as rigorous and robust as Gould's. However, once I got to Gould, I immediately felt at home. There were so many resources and groups that were immediately made available to me, which helped immensely with the anxiety I was experiencing. From the very first day of classes, my peer mentors and 1L professors were incredibly kind, welcoming, and had a genuine interest in helping me succeed. Furthermore, I was connected to many student groups that consisted of individuals who shared backgrounds and passions that were similar to mine. Specifically, I connected with students in the Black Law Students Association (BLSA), International Law & Relations Organization (ILRO), and the Legal Aid Alternative Break (LAAB) group.
Because of my peers, professors, and student groups, I had a successful first year of law school. And, at the end of the year, I applied for and was admitted into the IHRC! During my time in the clinic, I secured a visa for a victim of human trafficking, which is one of the most rewarding experiences I have ever been a part of. I am so grateful for my time in the IHRC, and I'm sure I would not have gotten to participate in such a unique experience at a different law school. Although I have plans to work at a large corporate firm in downtown Los Angeles after graduation, I do plan to continue doing international human rights work on a pro bono basis.
Because of Gould, I have grown immensely, both personally and professionally. I came into this school lacking confidence and feeling like I did not belong in the legal profession. Now, two years later, I am completely ready to enter the legal field because I know my education has equipped me with all of the tools I need to succeed. Plus, I know that the Trojan Network will always have my back if I ever need guidance. I'm so excited that you're considering Gould, and I can't wait to share more of my experiences with you. USC is definitely the place to be! If you have any questions or would just like to chat about Gould, please don't hesitate to reach out to me at ambassador4@law.usc.edu. Fight on!
Ally Wong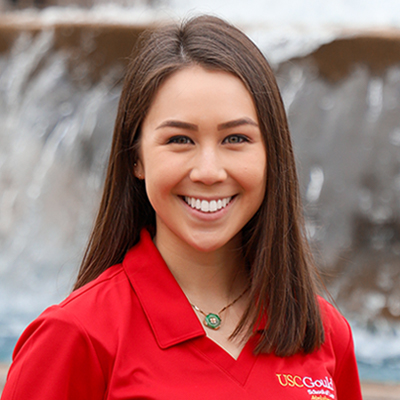 Hi there! My name is Ally Wong, and I am a 3L at USC Gould. I am originally from the San Francisco Bay Area, and I spent time growing up in the East Bay and Sydney, Australia. I earned my bachelor's degree at Purdue University in philosophy and history. Following graduation, I worked for my local congressman while I completed my law school applications.
As I developed my list of schools to apply for, USC Gould checked every box on my list, which led me to apply for early decision. While I knew that I wanted to be in California and get a great education, I was nervous about the often talked-about "cutthroat" nature of competitive law schools. When I visited USC before applying, the admissions team completely assuaged my fears. During my visit, I saw students joking and hanging out at the law school, and numerous casual interactions between faculty and students. This experience showed me that USC was a place where I could receive a renowned legal education, without navigating a formidable, overly-competitive student body.
I am so grateful I chose USC because it has offered me endless professional and academic opportunities. I am still astonished every day by the unique camaraderie that I have experienced at Gould. Here, we really are a family, and having that support system of students, professors and staff who all genuinely want you to succeed is incredibly impactful. Every final or paper feels like a team effort, where we all want each other to do well and have a meaningful learning experience.
I have found an amazing community at USC through the many organizations and programs offered by the school. I am a Public Interest Scholar, Honors Scholar and am involved in the Hale Moot Court Honors Program, Women of Color Collective (WOCC), Energy and Environmental Law Society, and American Constitution Society. This year I am Advocacy Vice Chair for Hale Moot Court. These organizations have connected me to other students who share my passion for government and environmental work. One of my favorite experiences from my 1L year was volunteering with my fellow Public Interest Scholars for the Los Angeles County Bar Association's Veterans Legal Services Project because it was the first time that I saw in practice how I could use my legal education to help others.
I continued to pursue my passion for government by working in Washington, D.C., as a law clerk on the Senate Judiciary Committee in my 1L summer. During 2L, I was able to explore my interest in environmental work by externing at Earthjustice, an environmental nonprofit. This past summer I was a Summer Associate at Sheppard Mullin, and I will work there full-time as a litigation associate following graduation. The administration and staff at USC took time to get to know me as a person, learn about my interests, connect me with relevant alumni, and share with me new and exciting career opportunities. The personalized mentoring and guidance that I have received has greatly enhanced my experience as a law student at Gould.
I am so happy that I decided to move to Los Angeles and attend Gould. The world truly is at your fingertips living in the heart of LA, with every type of food, culture, and experience you can imagine. I love exploring this amazing city with my newfound Trojan Family. Should you have any questions about life at Gould or the application process, please don't hesitate to reach out at ambassador5@law.usc.edu. Fight on!