JD Student Ambassadors - Juris Doctor (JD)

USC Gould School of Law
USC Gould School of Law is proud to have some of the nation's brightest and most promising future lawyers studying law here. We are privileged to have five students, Audra Gibbs, Nick Bornstein, Noela Malecela, Cindy Wang, and Alexa Burkow working in the Admissions Office as Student Ambassadors. All lead very busy lives inside and outside the classroom as you can see from their profiles, but love sharing their law school experiences with prospects and admitted students.
If you are interested in learning more about their decision to attend USC Gould or if you would like to email one of the ambassadors, please click on their names to access their bios and contact information.
Audra Gibbs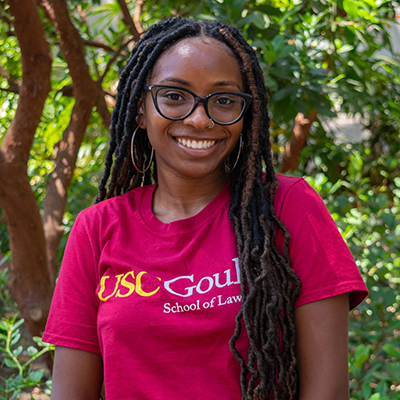 Hi everyone! My name is Audra Gibbs and I'm a 2L here at Gould. I'm a California girl born and raised, and I'm from Riverside, CA. I originally moved to Los Angeles to attend the University of California, Los Angeles, where I earned a bachelor's degree in History with a minor in Global Studies.
Throughout my college experience, I was involved in multiple student organizations such as the Black Pre-Law Association and Pi Chapter of Delta Sigma Theta Sorority Incorporated. I also worked as a Resident Assistant during my last two years of college and absolutely loved it. My involvement allowed me to work directly with people on campus, which I really enjoyed. After graduating, I took a year off and moved back to Riverside to work at a non-profit organization that aided people affected by the pandemic. I am so happy I took a year off and was ready to apply to law school after my break.
Being the California girl I am, I only applied to law schools in California. My undergraduate experiences confirmed not only my desire to pursue law but also my desire to stay in Los Angeles. I ultimately decided to come to USC Gould because I wanted a different LA experience than my previous one, the campus was beautiful, and it just felt like the right place for me (and it definitely is!).
While at Gould, I've gotten to continue my campus involvement and be a part of various organizations. As a 1L, I was a 1L Representative for Street Law and International Refugee Assistance Project. I also was a part of mentorship programs through the Black Law Students Association (BLSA), Women's Law Association, First Generation Professionals, and Phi Alpha Delta (PAD). These mentorship programs allowed me to meet new people and create a support network within the Gould community. Taking advantage of all the mentorship opportunities also provided me with so much advice to help me navigate law school and prepare me for working in the legal field. This school year I am serving as the Secretary of BLSA and the Public Relations Chair of PAD. I am a student mediator in the Mediation Clinic and work as a Teaching Assistant for an undergraduate class.
This past summer I had the opportunity to work at Simpson, Thacher, and Bartlett LLP as a Summer Associate through their 1L Summer Associate Diversity Program. Working in the firm's transactional practice group allowed me to learn about credit, funds, and even be a part of various pro bono projects. The community and the culture were so enjoyable and I couldn't have wished for a better summer. I enjoyed working with everyone there so much that I of course said yes when I was given an offer to return as a 2L Summer Associate and Conrad Harper Fellow! I'm super thankful for the opportunity to continue building those relationships and couldn't have gotten there without all the help and support I received from people within the Gould community, from friends to mentors.
I'm so happy that I made the decision to stay in Los Angeles and come to Gould! My favorite part about Gould is how supportive the community is. I've been able to form great friendships with other students and find ample support from professors too. I've also learned so much about myself and my own goals within the legal field. Gould has been more than I could have asked for in a law school experience. If you have any questions about USC, law school, or just want to talk, feel free to reach out to me at ambassador1@law.usc.edu
Nick Bornstein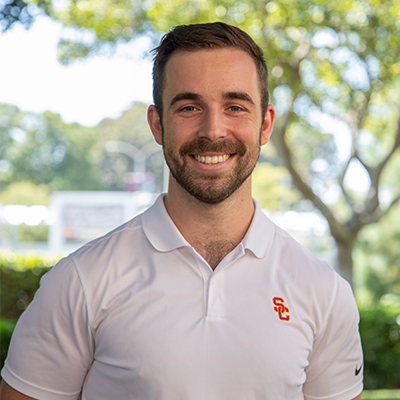 Hi everyone! My name is Nick Bornstein, and I am a 2L from the small town of Fairfax, CA just north of San Francisco. I got a taste of the east coast by studying at the George Washington University (GW) in Washington D.C., before ending back up in the best state in the nation (sorry not sorry!). At GW, I earned my bachelor's in Psychology and minored in German, which led me to do an immersive and language-intensive study abroad program in Freiburg, Germany during my junior year.
I had a wide range of work experience before starting at Gould, including interning for Congressman Jared Huffman and the American Psychological Association during my undergraduate years and doing business and technology consulting at the National Institutes of Health for 2 years after graduating from GW. After these experiences, I felt motivated to push and challenge myself personally and professionally, and work in an area I felt I could make a tangible positive difference. Therefore, I made the ambitious decision to pursue a legal education.
Always a California kid at heart, returning for law school at USC truly felt like a full-circle moment. From the testimonials of friends gushing about the community, faculty, and school spirit, to the famous Trojan Family network that looks after its own, I knew USC was the school for me before I even set foot on campus. The perfect year-round Southern California weather, and the gorgeous campus, were just a few bonuses!
This past summer, I clerked at ATHLAW LLP, a boutique sports law firm in downtown Los Angeles that represents retired NFL players in disability claims stemming from traumatic physical and cognitive injury suffered while active. Founded by a Gould grad who exclusively hires from USC, it truly was an only Gould opportunity that wouldn't have been possible without the Trojan network and Gould's career services. Through direct client exposure and a crash course in ERISA case law, I saw first-hand how law can be used as a tool to advocate for those in need and, while perhaps not wholly remedying an injury, provide a degree of justice.
This coming year I am excited to broaden my legal education and take classes in areas that interest me the most including conflict resolution, arbitration, and negotiation. I am thrilled to also be serving as a Peer Mentor for the 1L class, passing on lessons learned and acting as a go-to resource for the next class of students beginning their journey at USC!
Gould is definitely the right place for me. The network of peers, professors, administration, and alumni allows each student to thrive in any field they wish to pursue. Genuine and collaborative, I truly feel that the Gould community and student body's first priority is to help, encourage, and support each other. I am so happy and thankful that I joined the Trojan Family. If you have any questions about USC Gould, feel free to contact me at ambassador2@law.usc.edu.
Noela Malecela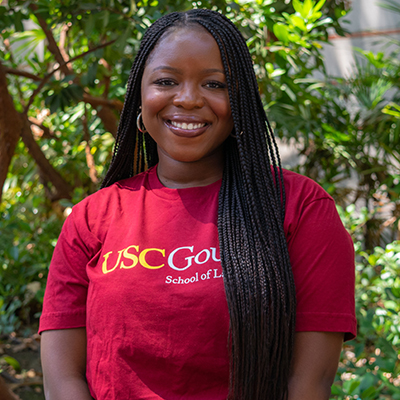 Hi! My name is Noela Malecela, and I'm a 2L at USC Gould. I was born and raised in Westchester County, New York, and briefly lived in Washington, D.C. while getting my bachelor's degree. I attended Howard University, where I majored in Strategic, Legal, and Management Communication with a concentration in Legal Communication and minored in Political Science. After braving many east coast winters, the decision to leave for Southern California was an easy one.
During my undergraduate years, I interned for the United Nations International Residual Mechanism for Criminal Tribunals and a United States Senator. Working in these offices allowed me to explore my interests within the legal field, and examine the direct impact the law has in the communities I call home. I also joined and held leadership roles in a variety of pre-law student organizations at Howard.
Since I knew I would be a long way from home by going to law school in LA, the sense of community and overall support USC had to offer made it easy to pick Gould. While I applied during the height of the pandemic and from the other side of the country, the Gould administration, students, and alumni used their best efforts to show me the true camaraderie USC had to offer and always made themselves available to help. After completing my first year, I can honestly say that everything I was told about Gould beforehand rang true. The support I received from my peers, professors, the Career Services Office, Student Care, and my student mentors exceeded my expectations and showed me that Gould truly is a place where each student can thrive in all aspects without having to do it alone.
At USC, I've been given the chance to really get involved in the Gould Community. As a 1L I served as a 1L Representative for the Black Law Students Association (BLSA), and Phi Alpha Delta Law Fraternity (PAD), and as the secretary for First Generations Professionals. For the 2022-2023 academic year, I'll be serving as the President of PAD, the Vice-President of BLSA, and I'll also be working as a teaching assistant for Professor Ariela Gross' Law, Slavery and Race course. Being involved in student organizations has been a great opportunity to get to know my peers, develop my leadership skills, and network with attorneys in the area.
I spent my 1L summer in Downtown Los Angeles, working as a summer associate at the big law firm, Foley & Lardner LLP. After my first semester, I quickly realized that I had more interest in transactional work, but wanted a summer experience where I would get to try litigation as well. I worked in a variety of practice areas including White Collar Defense & Government Investigations, Business Dispute Litigation, Labor & Employment, and Corporate Transactions. My summer allowed me to expand my knowledge and reaffirm that I had a genuine interest in corporate law matters. Next summer, I'll be working at Manatt, Phelps & Phillips, LLP in their Corporate and Finance department. I'm super excited for the opportunity! The Trojan Network played a huge role in both of my recruit processes, as numerous students and alumni provided crucial insight throughout the interviewing process and helped me figure out what I should be looking for in a firm.
I'm very grateful for the support and community I've been able to build in such a short amount of time. I'm also thankful for the chance to live in such a diverse and bustling city. From spending time on the beach year-round to attending various concerts, living in Los Angeles has turned out to be everything I wanted it to be and more! If you have any questions regarding Gould or anything I've mentioned, please feel free to email me at ambassador3@law.usc.edu. Fight On!
Cindy Wang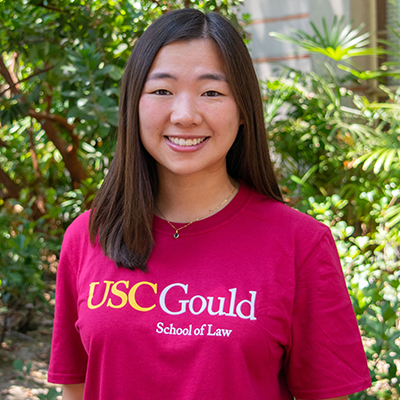 Hi there! My name is Cindy Wang, and I am a 2L at USC Gould. I grew up in the sunny San Francisco Bay Area before I ventured to the Midwest for college. I attended Miami University of Ohio and graduated in 2021 with degrees in Psychology and Music Performance (I play the piano!). During college, I worked as a psychology research assistant, orientation leader, resident assistant, and volunteer pianist. As I learned more about decision-making and creative problem-solving in my undergraduate classes, I solidified my decision to pursue a legal education.
When applying to law schools, I knew that I wanted to return to California to be closer to my family, and begin my legal career in either Los Angeles or the Bay Area. Therefore, the primary factors I considered when choosing a law school were location and employment opportunities. USC Gould offered everything that I was searching for. My positive interactions with USC Gould's team during the entire admissions process also made my law school decision a very easy one.
From the very beginning of law school, I have felt an immense sense of community at USC Gould. I truly do not think that I could have gotten through my 1L year without leaning on my peers, upper-class mentors, and alumni mentors, with whom I remain close today. On top of that, all of my professors were engaging and brilliant. They kindly offered their time outside of class to answer any of my questions. I am grateful to have such a strong support system within the law school, and I think that many students here at USC Gould share the same sentiment.
During my 1L year, I kept an open-minded perspective and explored my legal and personal interests. I was a 1L representative for the Womxn of Color Collective (WOCC), Legal Technology Association (LTA), and Privacy & Cybersecurity Law Society (PCLS). My fondest memories at the law school included attending organization events and getting to know other law students. For my 1L summer, I worked as a judicial extern for the Hon. Roberta S. Hayashi at the Superior Court of California in the County of Santa Clara. I learned about this job through an upper-class mentor, which I think serves as a testament to the supportive Trojan family. I had a wonderful summer and learned a lot about the judicial decision-making process. Next summer, I will be working as a corporate summer associate at Simpson Thacher & Bartlett LLP in Palo Alto. I heard about this opportunity through USC Gould's Career Services Office, and I am confident that I would not have landed the job without the help of the CSO's fantastic team of directors.
Now as a 2L, I am excited to serve as the Secretary of the Womxn of Color Collective, Treasurer of the Legal Technology Association, and Fundraising Chair of the Asian Pacific American Law Student Association (APALSA). I am also a Peer Mentor for 1L students and am loving every minute of it.
My time here at USC Gould has exceeded my expectations of law school by leaps and bounds. Not only have I met some of my closest friends, but I have also gained substantive skills that I hope to utilize to improve the daily lives of everyday people. Living in the heart of Los Angeles also has many perks, such as optimal weather and close proximity to the best restaurants and beaches. If you have any questions about USC Gould or anything that I have mentioned, please feel free to reach out at ambassador4@law.usc.edu. I look forward to hearing from you soon! Fight on!
Alexa Burkow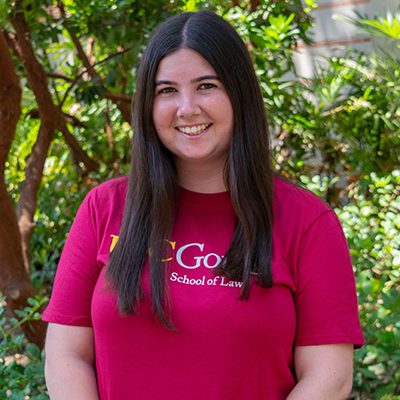 Hi! My name is Alexa Burkow, and I am a 3L at USC Gould School of Law. I'm originally from Los Angeles, California, and attended USC for my undergraduate degree. I studied Communication and Public Relations while also interning at various media companies such as NBC, FOX, Showtime, CNN, and WarnerMedia. Through these internships, I quickly realized I enjoyed the business and analytical side of the industry but wanted to find a career path where I could additionally help people solve problems that arise.
When deciding where to attend law school, USC Gould was an easy choice for me. I wanted to stay on campus for another three years and continue being surrounded by the Trojan community and the unique opportunities USC and LA have to offer. Touring the law school and attending a class visit reaffirmed my decision as I was able to see how engaged and happy Gould students were.
Since I spent most of my time during undergrad interning while taking classes, I knew I wanted to make the most out of my time at Gould and be more than just a student. During my 2L year, I was the President of the Jewish Law Student Association (JLSA), Vice President of the 2L Class, Events Chair of the Entertainment Law Society (ELS), and a Peer Mentor. I have continued my involvement during my 3L year, by being Vice President of the 3L Class, as well as serving on the Peer Mentor Executive Board and Moot Court Board. All of these experiences helped me find a community and connect with students in and outside my grade who I otherwise would not have had a chance to meet.
Having been in LA for most of my life, I knew I wanted to spend my 1L summer in a new city. While I knew living somewhere different for the first time would present its challenges, I picked Chicago because of its robust legal market and I have family and friends who lived there that could help with the transition. Although I was looking for opportunities outside LA, I relied heavily on the Gould community throughout the externship search process. I was able to talk to current law students and career services about how to write a cover letter and have informational interviews with Gould alumni in Chicago to ask them for interview tips. Thanks to their help, I got the opportunity to extern for an Illinois Appellate Judge. I had a fantastic summer and loved Chicago so much that I returned for my 2L summer and worked at White & Case LLP as a corporate summer associate. Working with the firm's corporate clients allowed me to expand my professional knowledge as well as get substantive experience in Mergers & Acquisitions. Contract Drafting and Negotiation Theory and Application were some of the many courses I took during my 2L year which really helped me during the summer.
Picking Gould was one of the best decisions I've ever made. It was evident from day one that everyone in the community, whether they are students, professors, administration, or alumni, want Gould students to succeed, and people are willing to offer as much support as they can. I am so proud and thankful to be a (double) Trojan! If you have any questions about Gould or anything I've mentioned, please don't hesitate to reach out at ambassador5@law.usc.edu. Fight on!