2022 Rothman Scholar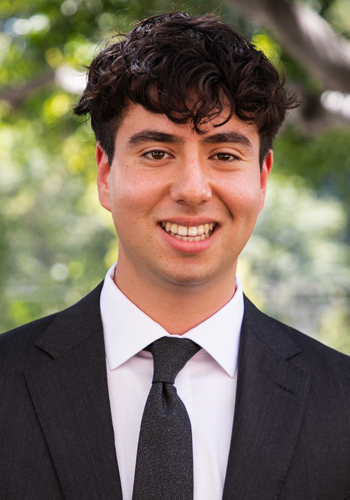 Edward Muallem's interest in the constitutive relationship between business and law led him to law school and the USC Gould School of Law.
Edward graduated magna cum laude and Phi Beta Kappa from Thurgood Marshall College at UC San Diego with a degree in Biology. While at UC San Diego, he discovered a novel bacteria-infecting virus he named Alvy that infects Streptomyces platensis, a bacterium found in soil. As a sophomore, he co-founded Mi Mate, a cold-brewed yerba mate beverage startup and became its CEO. While working with counsel to draft the company's corporate governance documents and debt instruments to raise capital and safeguard Mi Mate's intellectual property, he realized his interest in law. Mi Mate was subsequently accepted to a student entrepreneurship incubator, awarded $7,500 in grants and won a $50,000 first-place prize at the Entrepreneur Challenge Pitch competition in San Diego.
Edward's determination to pursue a legal education was further solidified by his experiences as a member of JusticeCorps. At the height of the Covid-19 Pandemic, as an essential worker at the San Diego Central Courthouse, Edward assisted self-represented litigants seeking a restraining order or stay of execution for eviction. In this capacity, Edward saw how the law serves as the foundation of social responsibility, and the judicial system, when accessible, can protect the most vulnerable.
Additionally, Edward has a budding interest in renowned political philosopher and author Hannah Arendt and was selected to present his essay on Arendt's many-sided writings on Zionism at the UCLA Y&S Nazarian Undergraduate Scholars Conference in Israel Studies. Edward is interested in continuing to pursue research and apply his science education to address practical, legal, and policy implications at the intersection of business, science, and law.
Edward chose USC Gould for the preeminence and range of faculty scholarship and the warmth and collegiality of the students. He is incredibly humbled to have the opportunity to join the highly distinguished Rothman family and is determined to continue Frank Rothman's legacy. "Frank Rothman's legacy challenges us, not only to do our very best but also to strive towards continual improvement," he said. "It is this disposition, and Rothman's spirit of unconventional thinking, that guides me at Gould."