Board of Councilors

USC Gould School of Law
The Board of Councilors for the USC Gould School of Law is composed of professional, business and community leaders. This prestigious board provides counsel to the deans and faculty as well as the provost and president of USC.
Councilors are appointed by the president of the university for three-year terms which may be renewed once. Councilors advocate for the outstanding research, education and public service programs at USC Gould, serve as an ambassador for the school to the greater community and assist the school in securing financial support such as gifts from individuals, corporations and foundations.
Chair
Thomas F. Larkins, JD 1986
Members
Karine Akopchikyan, JD 2015, Allen Matkins
Elizabeth (Liz) Atlee, JD 1993, CBRE Inc
Norman (Norm) A. Barker, JD 1972, Bernstein Private Wealth Management
The Honorable Ellen N. Biben, JD 1992, Administrative Judge of New York County, Criminal Term
Brian E. Cabrera, JD 1990, United States Department of Justice
Richard Chernick, JD 1970, JAMS (Lifetime Member)
The Honorable Candace D. Cooper, Ret., JD 1973, JAMS (Lifetime Member)
Kenneth M. Doran, JD 1981, Gibson, Dunn & Crutcher (Lifetime Member)
Mark Easton, O'Melveny & Myers, LLP
Max Factor III, Factor Mediation
Amber Finch, JD 2002, Reed Smith
Larry S. Flax, LLB 1967, Co-founder of California Pizza Kitchen
Stanley P. Gold, LLB 1967, Shamrock Holdings, Inc. (Lifetime Member)
Samuel Goldberg, JD 2006, Lucidity
Karen Grant-Selma, JD 1994, The Oprah Winfrey Network
Jefferson W. Gross, JD 1993, Gross & Rooney
Laurie F. Hasencamp, JD 1985 (Lifetime Member)
C. Thomas (Tom) Hopkins, JD 1993 Cooley, LLP
John M. Iino, JD 1987, Reed Smith (Lifetime Member)
Bruce E. Karatz, JD 1970, BK Capital (Lifetime Member)
Michael C. Kelley, California Superior Court
Thomas F. Larkins, JD 1986, Applied Materials, Inc.
Michele Mulrooney, JD 1985, Willkie Farr & Gallagher LLP
Charles T. Munger, Berkshire Hathaway
Arsine Phillips, JD 1986, Parker Miliken Clark O'Hara Samuelian, APC
Daniel Prince, Paul Hastings LLP
Stephen P. Rader, JD 1981, Clarity Partners (Lifetime Member)
Bruce M. Ramer, Gang, Tyre, Ramer & Brown (Lifetime Member)
Robert S. Roth, World Oil Corporation
Bruce H. Rothman, JD 1982, KOAR Institutional Advisors, LLC
Kathryn A. Sanders Platnick, JD 1985, Sapient Advisory Group, LLC
Michael J. Schroeder, JD 1982, Allied Professionals Insurance Company
Robert L. Skinner, JD 1990, The Towbes Group
Harry Sloan, Eagle Equity Partners "SPACS"
Jeffrey H. Smulyan, JD 1972, Emmis Communications (Lifetime Member)
Glenn A. Sonnenberg, JD 1980, LaSalle Mortgage Real Estate Investors
David Taghioff, Library Pictures International
Franita Tolson, Interim Dean and George T. and Harriet E. Pfleger Chair in Law
David M. Walsh, JD 1985, Paul Hastings, LLP
Mark S. Wapnick, JD 1972, CourtCall
Daron Watts, JD 1994, The Watts Group
Karen B. Wong, JD 1986 (Lifetime Member)
Emeritus
Charles G. Bakaly, LLB 1952, JAMS
Hodge L. Dolle, Jr., LLB 1961, Dolle & Dolle
Susan L. Harris, JD 1981
Shari N. Leinwand, JD 1976
The Honorable Nora M. Manella, JD 1975, California Court of Appeal, Second Appellate District
Gary C. Ottoson, JD 1968, Bacalski Ottoson & Dube
Richard L. Stack, The Hugh and Hazel Darling Foundation
RECENT NEWS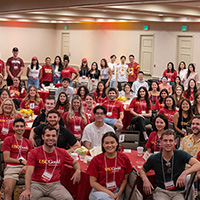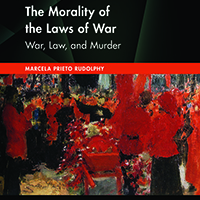 Facing the tragedy of war
September 13, 2023
Professor Marcela Prieto's new book, "The Morality of the Laws of War," argues for strengthening international law to el...