Bachelor of Science in Legal Studies

USC Gould School of Law
The Bachelor of Science in Legal Studies provides students with an in-depth understanding of the legal system including the infrastructure, the reasoning process and the substantive commitments that the legal system has made. As future leaders, students in this major will become critical thinkers able to apply and understand various legal concepts in their interaction with real-world issues locally, nationally and globally.
Law Affects Everyone
This program is particularly appropriate for students interested in pursuing a career that integrates legal concepts with other disciplines — or that requires familiarity with extensive aspects of the legal system. The major is designed for students who are looking to become future leaders in the community, the city, the state, the nation and the world. It is also suitable for students wanting to pursue graduate education in various disciplines, including economics, humanities, social science, political science, business, health care, public service and many more, and for anyone who wants to obtain a general understanding of the place of law in contemporary society.
How the BS in Legal Studies Can Benefit You:
Gain extensive knowledge of the United States legal system.
Analyze how law affects civil society through various aspects of law:

Legal infrastructure, both in the U.S. and across the globe
The reasoning process that courts employ when interpreting the Constitution, statutes, regulation and the common law, and which purports to justify specific legal decisions
The substantive commitments that the legal system has made
And how these three aspects of law are affected by normative, historical and societal influences

Explain and critically evaluate how the use of legal concepts and legal reasoning interact with and affect social issues.
Apply advanced critical and analytical thinking skills.
BS in Legal Studies Requirements (48 Units)
Curriculum Requirements

Required Core Courses (24 units)
LAW 101w - Law and the U.S. Constitution in Global History: 4
LAW 200w - Law and Society: 4
LAW 205 - Introduction to Criminal Law: 4
LAW 210p - Fundamentals of the U.S. Legal System: 4
LAW 220 - The Legal Profession: 2
LAW 225 - Current Court Cases: 2
LAW 300 - Concepts in American Law: 4
Tracks
Students must choose one of the tracks listed below. Each track requires 20 units from its respective course list, and 16 of those units must be upper division courses (numbered at the 300-400 level).
Additional Requirements - 4 units
LAW 497 - Legal Studies Capstone Project: 2
LAW 498 - Law Internship: 2
University Requirements
General Education
Eight courses in six Core Literacies, plus two courses in Global Perspectives (which may double-count with courses in the Core Literacies). In addition, all entering first-year students freshmen are expected to complete a General Education Seminar during their first year at USC. These seminars satisfy one of the Core Literacy requirements above.
GE-A: The Arts (one course)
GE-B: Humanistic Inquiry (two courses)
GE-C: Social Analysis (two courses)
GE-D: Life Sciences (one course)
GE-E: Physical Sciences (one course)
GE-F: Quantitative Reasoning (one course)
GE-G: Citizenship in a Global Era (one course) W (LAW 101, 200, 250 & 310 meet GE-G requirement)
GE-H: Traditions and Historical Foundations (one course) P (LAW 210 & 275 meet GE-H requirement)
Writing Requirements (8 units)
WRIT 150 - Writing and Critical Reasoning-Thematic Approaches: 4
WRIT 340 - Advanced Writing: 4
Sample Course Plan
View an example of a four-year course plan.
Why Study at USC Gould?
Internationally Renowned Law Faculty
USC Gould School of Law is one of the nation's top-ranked law schools, offering undergraduate law programs and courses taught by its internationally renowned faculty. Learn more about our instructors.
Diverse Student Body
As one of the most diverse law schools in the nation, USC Gould recognizes the inherent value that a diverse academic community offers to students, the legal profession and our broader society.
Internship and Research Opportunities
Undergraduate students majoring in Legal Studies will have the opportunity to intern, as part of their degree requirements.
Vibrant City of Los Angeles
As a USC student, you will experience a city rich in diversity and a robust economy. A thriving cosmopolitan city with businesses ranging from a vast professional and cultural arenas.
Career Outcomes
In recent years, the legal field has been diversifying and employing many individuals in new and exciting roles. As the field has grown and evolved, so have the employment interests and objectives for college graduates who are interested in working in law but may not want to become practicing attorneys. USC Gould's bachelor's degree in Legal Studies provides students with a strong foundation that will prepare them for innovative and emerging employment opportunities or graduate studies.
Below is a sampling of jobs that BS Legal Studies graduates will be well-suited for:
| | |
| --- | --- |
| Auditor | Humanitarian Affairs Officer |
| Case Manager | Immigration Officer |
| City, County or State Planner | Immigration Specialist |
| Civil Rights Advocate | Jury Consultant |
| Commercial Developer | Legal Administrator |
| Compliance Officer | Legal Correspondent |
| Compliance Specialist | Litigation Support Professional |
| Conflict Resolution Specialist | Lobbyist |
| Consumer Safety Officer | Mediation Specialist |
| Contracts Administrator | Natural Resources Manager |
| Corporate Ethics Officer | Ombudsperson |
| Court Reporter | Paralegal Specialist |
| E-Discovery Analyst | Policy Analyst |
| Employee Benefits Manager | Policy Advisor |
| Environmental Impact Analyst | Legislator |
| Environmental Protection Specialist | Procurement Analyst |
| Foreign Affairs Officer | Public Affairs/Media Manager |
| Government Agent (FBI, ICE or DEA) | Resource Manager |
| Health/Medical Administrator | Trial Consultant |
| Human Resources Specialist | UN - Human Rights & Political Affairs |
| Human Rights Officer | Victim Advocate/Coordinator |
Meet Your Advisors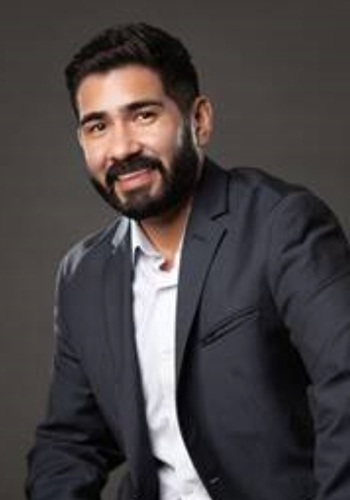 Art Perez
arturope@law.usc.edu
213-764-3354
Book an Appointment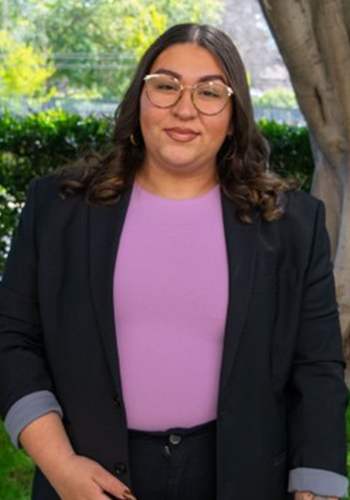 Celina Gomez
Student Services Advisor
Book me link: https://cegomez.youcanbook.me/
cpena@law.usc.edu
Meet our Student Ambassadors
Our Student Ambassadors are available to answer any of your questions about undergraduate student life at Gould and USC! Learn more about our ambassadors by reading their profiles below.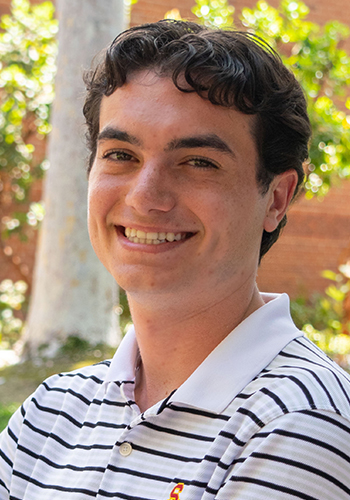 Tim Migliaro
Tim is a 3rd year majoring in Psychology with a minor in Legal Studies. His area of interest is in Healthcare Law, specifically in the biotech industry and the changing scientific technology and laws surrounding it. This past summer, he worked for Northwell Health, New York State's largest healthcare provider and private employer. Tim is involved on campus with organizations such as USC Make a Wish, the Chi Phi Fraternity, the Trojan Review and the Just Dance Club. In his free time, Tim likes to travel, especially to U.S. National Parks and has visited 21 parks. He also enjoys going to the beach and hiking around the Los Angeles area.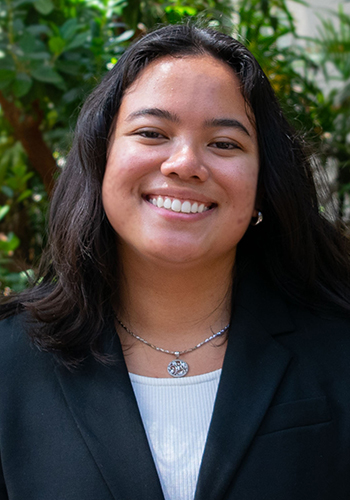 Kathy Thach
Kathy is a 2nd year majoring in Law, History, and Culture with a minor in Legal Studies. Her areas of interest are in the legal regulations of the right to vote and participation in the electoral process, alongside "big-data" analytical campaign techniques. This past summer, she was a Youth Civic Engagement Fellow with Arizona AANHPI For Equity Coalition, and she is currently an Elections Fellow with the Progressive Vietnamese American Organization. Kathy is involved on campus with organizations such as the Joint Educational Project, Society of Women in Law, and The Sack of Troy. As a native Arizonan, being in Los Angeles is a nice break from the heat and she loves exploring the beaches of LA and going on hikes in her free time!
Please feel free to contact our ambassadors at UGambassadors@law.usc.edu. They will be happy to help you with your questions!
Apply Now
Learn more about admissions and financial aid for the BS Legal Studies. Ready to apply?
Submit your application today.
Request More Information