History of Innovation in Legal Education

USC Gould School of Law
Founded in 1900, USC Gould School of Law was Southern California's first law school. Previously, attorneys had to be imported to serve the burgeoning region's legal needs. Then, in 1896, a group of ambitious apprentices formed "a school of permanent character" to educate lawyers of exceptional quality. The Los Angeles Law School was incorporated in 1898 and became a part of USC in 1900. It was first accredited by the American Bar Association in 1924.
Since the school's inception, USC Gould has maintained a richly diverse student body, with women, ethnic minorities and international scholars among our earliest graduates. We helped pioneer the concepts of clinical and interdisciplinary legal education. And our accomplished graduates have long served leadership roles in private practice, on the bench, and in public service, business and teaching.
This distinguished history continues at USC Gould, as our students and alumni carry forward the tradition of innovation, equity and excellence. Today, the school is global in reach, influence and renown.
View a historical timeline of USC Gould.
Diverse Voices
Women have played a prominent role at USC Gould from the start. Five women were among the 36 legal apprentices who established the school, and self-made agricultural magnate Harriet W.R. Strong served on the institution's original 11-member board of trustees.
In 1911, USC Gould graduated a dozen female lawyers and launched the nation's first women's law student organization, Phi Delta Delta. By 1930, with 120 alumnae, the school was an established leader in preparing women for the legal profession.
Arguably the most renowned American female lawyer from the 1920s through the 1940s, Mabel Walker Willebrandt, JD 1916, LLM 1917, served as assistant U.S. attorney general during U.S. President Warren G. Harding's administration. Other distinguished alumnae from the school's early years include the first female district attorney in the United States, the first female Asian-American justice on the California Supreme Court, and the first woman elected to Congress from California, who was also the first woman to chair the Los Angeles County Board of Supervisors.
We were the first leading law school to appoint a female dean, Dorothy W. Nelson, LLM 1956, who served from 1968 until 1980, when she was appointed to the U.S. Court of Appeals for the Ninth Circuit.
The school has maintained an ethnically diverse student body from the earliest days, with the first African-American graduate, Clarence B. Thompson, earning his JD in 1904. Japanese, Chinese, Korean, Armenian and Russian Jewish students also matriculated in the early 1900s. The first Japanese national to graduate from USC Gould, Sei Fujii, JD 1911, worked for decades to address racially discriminatory laws.
You Chung Hong, JD 1924, LLM 1925, became the first Chinese-American admitted to practice in California — and later the nation's foremost Chinese civil rights attorney. In 1927, the school's first female African-American student earned her law degree. The first Latino student followed in 1930 — and was later appointed to the U.S. Commission on Civil Rights.
By the 1940s, USC African-American graduates were being appointed to judgeships and serving as Los Angeles city attorneys. In 1943, African-American alumni established the John M. Langston Bar Association in reaction to the racism of other bar associations.
A USC Gould alumnus became the nation's first Armenian-American federal judge, while another became the first woman and first African-American to serve as district attorney for Los Angeles County, the largest local prosecutorial office in the nation.
Innovator in Legal Education
USC Gould pioneered the concepts of public interest, experiential and interdisciplinary legal education. The first modern legal aid program was founded out of a USC Gould clinic, while the school initiated a nationwide shift by introducing an interdisciplinary curriculum to the study of law.
In 1929, we established the Legal Clinic at USC, in which students gained hands-on training in the delivery of legal services to the poor. It served as a model for other law schools across the country in both experiential learning and public interest programs. By the time the clinic became the Legal Aid Foundation of Los Angeles in 1937, USC Gould students and faculty had assisted more than 19,000 clients representing dozens of countries. Thirty years later, in 1967, USC Gould housed what would become California's oldest and largest legal services support center — the Western Center on Law and Poverty.
In 1965, with the groundbreaking course Law, Language and Ethics, USC Gould became the first to incorporate an interdisciplinary curriculum into legal studies. The school would soon add concepts from psychology, politics, medicine, economics, history and other fields. This launched a new, nationwide paradigm regarding how lawyers are trained.
In other educational innovations, USC Gould was the second top 20 law school to introduce an online LLM degree and the first to offer a graduate certificate in business law.
Influential Alumni
USC Gould alumni are partners in the world's largest law firms, head major international companies, and serve leadership roles in government and public service organizations. Graduates have become governors, U.S. senators and members of Congress, and mayors of cities large and small.
Nearly 500 of our alumni have served as state or federal judges, including the first African-American judge west of Chicago, the earliest Latinos on the bench, and the first Asian-American judge and first female judge in Southern California. By the late 1980s, USC Gould graduates dominated the California Supreme Court, holding four of the seven positions.
The Gould Heritage
The law school is named in honor of the Gould family. Judge James Gould was a noted legal scholar and one of the teachers and proprietors of Litchfield Law School, the first law school in the United States. His descendant Charles Winthrop Gould, a distinguished New York lawyer, bequeathed the family estate to his nephew, Col. John W. Barnes, who earned his LLB in 1927 and his LLM in 1929, both at USC. When Barnes died in the mid-1940s, he left the Gould estate in trust to the university. The full gift came in the mid-1960s, when USC Law became USC Gould School of Law.
Leadership & Student Impact
USC Gould Professor Scott Bice has seen USC Gould change and grow during his 60 years at the school - first as an undergraduate and law student, then as professor and dean. In his 2019 commencement speech he chronicles Gould's history from his unique perspective, focusing on the important role students have played in the school's progress since its founding.
Learn about the history of USC Gould in this special 2019 Conversation with the Deans, featuring six deans - past and present: Dorothy W. Nelson (1968-1980), Scott H. Bice (1980-2000), Matthew L. Spitzer (2000-2006), Edward J. McCaffery (2006-2007), Robert K. Rasmussen (2007-2015) and Andrew T. Guzman (2015-Present).
RECENT NEWS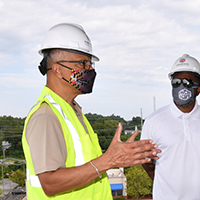 Continuum of Care
November 24, 2020
Boyd Rutherford, JD 1990, focuses on state health issues as Lieutenant Governor of Maryland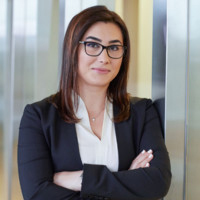 Paying it forward
November 24, 2020
Karine Akopchikyan, JD 2015, VP of Gould's Alumni Association, speaks to the importance of building and keeping relation...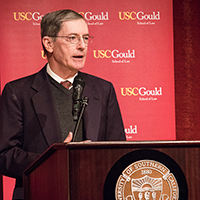 University honors Gould faculty
November 24, 2020
Ron Garet receives Faculty Lifetime Achievement Award, while Tom Griffith and Pauline Aranas named emeriti faculty