Celebrating Scholarships

USC Gould School of Law
Wednesday, February 2, 2011
Law students, alumni and donors gather at 2011 Scholarship Luncheon
By Steffi Lau

On Jan. 26, current and former USC Law scholarship recipients mingled with donors and faculty at the 2011 Scholarship Recognition Luncheon, held in Town and Gown. Many scholarship recipients had received their awards from individual donors while others owed theirs to class gifts.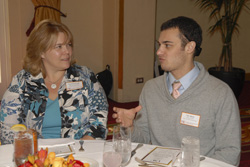 Alumni and students mingled at the lunch.
Dean Robert K. Rasmussen kicked off the luncheon by saying he wanted to show donors the dividend on their investments.

"All of you have very different reasons for why you give and this lunch helps give you a sense of the return on your investment," Rasmussen said. "This law school helps change people and these people help change the world. Today is a chance to meet those people who will change the world."

For many alumni and students, scholarships were a major factor in their decision to attend USC. Ramon Ramirez '11 spoke of how he had already accepted a scholarship offer from an East Coast law school when he was accepted to USC Law. After visiting the school and being offered a scholarship, he decided to attend USC.

One theme was clear in the program: everyone seemed to agree that attending USC Law was the best decision they had made.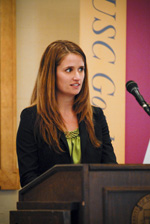 Kelly Welch '12
"I tell everyone who will listen that attending USC Law is the best decision I've ever made," Kelly Welch '12 told the audience. "Receiving a scholarship was my first indication how dedicated the USC law school is to its students, and I continue to experience this dedication every day."

Receiving the scholarship allowed Welch to explore career paths she otherwise wouldn't have been able to pursue, such as when she worked an unpaid job in criminal prosecution over the summer.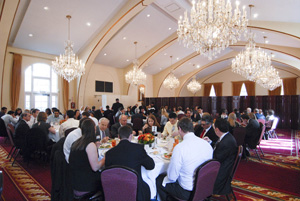 The scholarship lunch was held at Town and Gown.
Michael Schroeder '82 offered the perspective of a donor and former scholarship recipient. His story was similar to Ramirez's: he had already accepted a position at Yale law school, which had offered him a scholarship, though he really wanted to attend USC. After meeting with the dean of admissions and being offered a scholarship, he decided to attend USC.
"I will always be personally grateful to USC law for the education I received," Schroeder said. "When the law school gives you a scholarship, they are taking a bet on you. The people sitting here are those they are taking a bet on. They think you will be a credit to society. I was one of those people they took a bet on and I was the most unlikely person on the planet to take a bet on."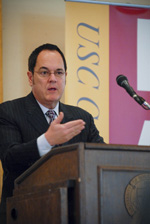 Michael Schroeder, '82
Schroeder's gratitude toward the law school compelled him to give back to the school. He encouraged the current scholarship recipients to do the same, citing the fact that scholarship recipients are no more likely to give back than non-scholarship recipients, a fact that surprised him.

"Consider repeating the cycle and giving back and helping the next generation of law students," he urged the audience.

The lasting gratitude of former scholarship recipients was clear. Like Schroeder, many of the donors present were former scholarship recipients.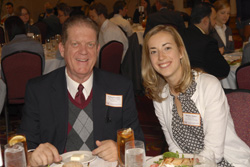 Donors and students met at the luncheon.
Steven Hernandes '96, a donor and former scholarship recipient, echoed Schroeder's sentiments to the recipients at his table.

"What compelled me to give back was the duty to give to others what was given to me. The law school gambled on me. I want to give them what they need to take a gamble on someone else," Hernandes said. "When I came to the luncheon back then, I didn't understand the significance of it all. I understood the significance from my pocketbook, but not till I left school did I understand the significance of the law school taking a risk on me."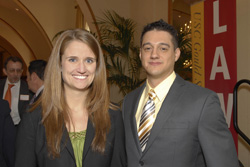 Kelly Welch '12 and Ramon Ramirez' 11
As the luncheon came to a close, Hernandes encouraged the students to give back to the school in the future, not just financially, but by making sure their actions reflect well on the school.

"Give back yourself," he said. "I have a responsibility to make sure my actions reflect well on who I am and where I come from. What you did and what you do reflects on who you are as a person. Your actions reflect on the schools you went to, whether it's your elementary school or college, these institutions made you who you are and you are forever tied to those institutions."

-Story by Steffi Lau, photos by Bill Youngblood


Read More
RECENT NEWS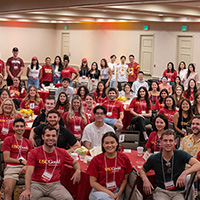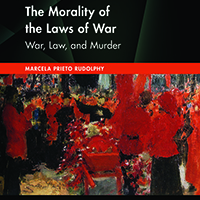 Facing the tragedy of war
September 13, 2023
Professor Marcela Prieto's new book, "The Morality of the Laws of War," argues for strengthening international law to el...