USC Law Establishes Audrey Irmas Clinical Teaching Fellowship

USC Gould School of Law
Tuesday, August 30, 2011
Elizabeth Henneke appointed to two-year position
- By Gilien Silsby
The USC Gould School of Law has named Elizabeth Henneke the inaugural Audrey Irmas Clinical Teaching Fellow, a two-year position teaching and supervising cases and projects supporting the legal rights of women and children.
The fellowship is funded primarily by Audrey Irmas, a longtime supporter of USC and USC Law. Four generations of her family have attended USC, with four family members graduating from the law school.
"I am so pleased that Elizabeth Henneke has joined the USC faculty and will be addressing the needs of justice for a more humane society in our country," Irmas said.
Henneke, a graduate of the University of Texas School of Law, will work with USC Law faculty and students in the Post-Conviction Justice Project, the Immigration Clinic and the International Human Rights Clinic. In her new role, she will assist in supervising casework and instructing students on how to effectively advocate for their clients.
"We are grateful to Audrey for her visionary investment in our clinical programs to further promote social justice across the globe," said USC Law Dean Robert K. Rasmussen. "Audrey is one of Los Angeles' most inspiring philanthropists, steadfastly supporting programs aimed at creating a more just society, This fellowship will certainly help our faculty and students work more effectively on behalf of hundreds of clients, domestically and internationally. I am confident that Elizabeth will do a wonderful job."
Henneke most recently was a litigation associate at Washington, D.C.-based Williams & Connolly. Before joining the firm, she worked as a law clerk for the South Africa Constitutional Court and for Judge Edward C. Prado on the U.S. Court of Appeals, Fifth Circuit.
After graduating from law school in 2007, Henneke was a clinical instructor for the University of Texas' National Security and Human Rights Clinic, where she received the 2007 Frederick Douglass Human Rights Award for her representation of Guantanamo detainees.

"I am honored to join the distinguished USC Law clinical program," Henneke said. "Clinical teaching is my dream job, and I cannot wait to join USC students and faculty on projects that advance the rights of women and children."
Prior to law school, Henneke studied at Yale University, where she conducted research in Kenya on the rights of the Maasai.
The fellowship is intended to assist the work of the Immigration Clinic, where students provide legal representation and advice to persons seeking asylum; the International Human Rights Clinic, where students work on cases before international tribunals and seek justice on behalf of victims of human rights abuses; and the Post-Conviction Justice Project, where students provide legal representation to women serving life terms who have demonstrated significant rehabilitation and are eligible for parole.
"Elizabeth's passion for social justice, wide-ranging legal experiences and enthusiasm for clinical teaching will truly enhance our live-client programs," said USC Law Professor Heidi Rummel, director of the Post-Conviction Justice Project. "We are thrilled to have her."
Read More
RECENT NEWS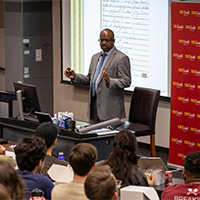 A message of hope
November 16, 2022
Judge Robert L. Wilkins chronicles family journey in 2022 Roth Lecture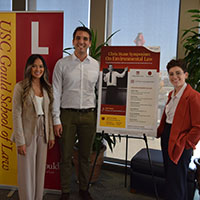 In his honor
November 7, 2022
Southern California Law Review symposium celebrating Professor Christopher Stone wins ABA award