Time to Celebrate the Class of 2020

USC Gould School of Law
Tuesday, September 5, 2017
USC Gould welcomes one of the most diverse class in its history

By Anne Bergman
The 185 members of USC Gould's Class of 2020 comprise an eclectic group, with diverse backgrounds and accomplishments, including experiences working at the White House, playing in the Trojan Marching Band, even performing on a daytime soap opera.
And, like their predecessors in the Class of 2019, they also boast high LSAT scores and GPAs – a median 165 and 3.76, respectively -- ranking competitively with many of the entering classes at the nation's most selective law schools.
Also notable this year: While national law school application numbers were flat, USC Gould received nearly 5,000 applications, an increase of 15% over the last two years.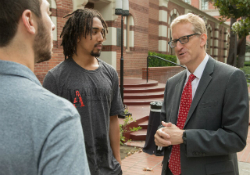 Dean Andrew Guzman welcomes incoming students.
The Class of 2020 is also the most ethnically diverse group of students enrolled at Gould to date, featuring an increase to 40% from last year's 37%.
"Last summer we committed to a focused effort to increase the enrollment of under-represented minority students," said USC Gould Dean Andrew Guzman. "And, despite enrolling such a diverse class of 2020, we're not done yet. We'll continue to focus on recruiting and enrolling the nation's top students, including those from ethnically and economically diverse backgrounds, as well as those who are the first in their family to attend college."
As he addressed the Class of 2020 during their Orientation activities, Admissions Dean David Kirschner pointed out that Gould is the school has a history of diversity, which he said strengthens the school's community. "Quite a number of you are openly gay or lesbian. The youngest of you is 20 and the oldest is 33. Several of you are raising children. A few of you have disabilities. Many of you have overcome significant economic and social disadvantages to be here. In fact, almost 10% indicated that you come from an economically disadvantaged home. Even more of you, 12% to be exact, are the first in your family to attend college, and we look forward to your contributions to our
First Generation Professionals Program
."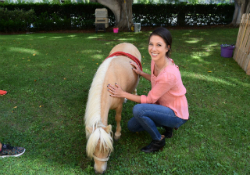 A student from the Class of 2020 at the Orientation Petting Zoo.
The law school also enrolled its most diverse class of LLM students to date. "Our students hail from 42 countries across the globe," said Misa Shimotsu-Kim, Gould's assistant dean of Graduate and International Programs, noting: "Our on-campus students also come with a variety of professional backgrounds, including experience in patent law, real estate and dispute resolution. Many of them hold licenses to practice in their home countries, and have several years of legal experience working at some of the top firms worldwide, while others have founded their own law practices."
In his welcoming remarks, Guzman encouraged the incoming students to celebrate the start of the new school year, while at the same time he acknowledged the seriousness of recent events, such as the violent clashes in Charlottesville, Va.
Members of the Black Law Students Association meet the 1Ls at the Organization Fair.
"As lawyers and law students, we understand that the Constitution protects the right of individuals to express their political views, even when those views are repugnant to us," he said. "It is important, however, that we claim this same right to reject and condemn the message of racism, hatred, and bigotry. We choose to build our community on friendship, kindness, respect, and love. Every member of our community must feel safe, valued, and empowered to participate fully in every aspect of the life of the law school. Each of us is charged with working to ensure this outcome and I ask that you join me in embracing that responsibility."
In that community-building spirit, many of Gould's incoming students spent their first weekend volunteering at the Inner City Law Center, creating more than 300 hygiene kits to benefit clients of People Assisting the Homeless (PATH).
Read More
RECENT NEWS