Top International Arbitration Judge Shares Global Insights
Tuesday, November 7, 2017
The Hon. Charles N. Brower delivers annual Roth Lecture
By Gilien Silsby and Anne Bergman
The Hon. Charles N. Brower delivered the 2017 Justice Lester W. Roth Lecture at USC Gould School of Law.
The Roth Lecture, which was featured as part of USC's Trojan Family Weekend in October, drew a standing room only crowd of students, professors and parents.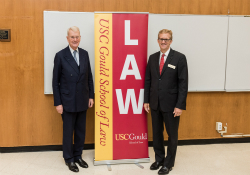 Judge Brower with Dean Andrew Guzman.
"Throughout Judge Brower's 55-year career, he has distinguished himself in the fields of public international law and international dispute resolution," said Dean Andrew Guzman. "It is a wonderful privilege to host him today and to hear him share his thoughts on a topic that resonates globally."
In a talk titled "Why The 'Demolition Derby' That Seeks to Destroy Investor-State Arbitration?" Brower focused on attacking the concept of an International Investment Court propagated by the European Commission and is now incorporated in CETA, the Comprehensive Economic and Trade Agreement between the European Union and Canada.
Judge Brower described the current investor-state arbitration as a system that "protects investors around the world, under treaties such as NAFTA, with the ability to form international tribunals, where the parties have an equal role and therefore a confidence in the process."
He looked at the issue of "why do the strongest rule-of-law states" such as the U.S., Canada and the EU "insist on destroying the rule of law protecting their nationals investing abroad." As Judge Brower pointed out, "this is despite the fact that statistics show that cases brought to the international dispute system were decided in favor of the state."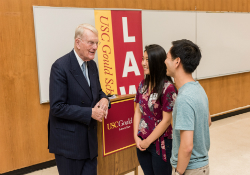 USC Gould students got the opportunity speak with Judge Brower after the Roth Lecture.
As for the future, Judge Brower said, "It is questionable whether this 'Demolition Derby' will result in a successful International Investment Court."
Since 1983, Brower has served as a Judge of the Iran-United States Claims Tribunal in the Hague. He has also served as both a commercial trial and appellate attorney and criminal defense counsel for international law firm White & Case LLP in New York City. In addition, Judge Brower was president of the American Society of International Law, Governor of the American Bar Association, chair of the Institute for Transnational Arbitration and on the Executive Council of the International Law Association.
The Justice Lester W. Roth lecture series is made possible by a gift from the Louis and Florence Cohen Philanthropic Fund of the Jewish Community Foundation of Los Angeles. The Honorable Lester W. Roth '16 served as Justice of the California Court of Appeal Second Appellate District 1964-1992.
RECENT NEWS