USC Gould Graduates Celebrate Passing the Bar
Friday, December 8, 2017
New lawyers take their oath after passing the nation's most difficult bar exam
-By Gilien Silsby
Nearly 100 USC Gould graduates returned to campus recently to mark an exciting milestone in their careers: admission to the bar.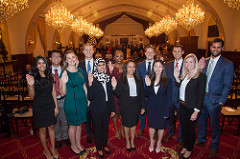 Graduates are sworn into the bar.
In a ceremony hosted by Dean Andrew Guzman, the newly minted lawyers were sworn in by USC law alumni judges, Lee Tsao '96 and Jackie Chooljian '86.
"This is an important occasion to commemorate our graduates' final triumphant step towards a law career," said Guzman. "This ceremony also commemorates the incredible amount of time, support and love that your family and friends have given you."
The California bar exam is a two-day exercise that examines analytical rigor, creativity and in many cases, sheer stamina. For more than a decade, USC Gould has been one of the top performers among California law schools.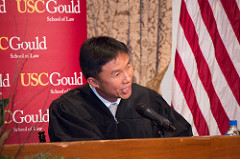 Judge Tsao offers words of advice.
Before Judge Tsao led the law graduates in the attorney's oath for the State of California, he offered words of advice.
"Our legal system is an adversarial one in which there are winners and losers," Tsao said. "While we always strive for excellence, the desire to win can sometimes bring out the worst in us….We need always be conscious of our oath – to conduct ourselves at all times with dignity, courtesy, and integrity – and by doing so, I hope you will find that the practice of law will bring out the best in us and root out the worst."
Judge Chooljian reminded the USC Gould graduates not to forget their roots.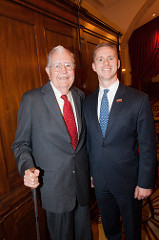 Chase Bakaly '17, and his grandfather, Chuck Bakaly LLB '52
"You start with the tremendous advantage of having attended USC," Chooljian said. "It has given you all a great foundation upon which to begin your legal careers. … As you may already have discovered, one of this university's greatest assets is its alumni –whether you practice law or choose to use your law degree in another field, you are likely to encounter a fellow Trojan who is willing to lend a hand to help another alum. Anytime one Trojan succeeds it reflects well on all of us."
USC Gould graduates said that small classes, approachable faculty and rigorous curriculum prepared them for the bar.
Rebecca Berry '17 said USC Gould prepared her with intense rigor in a collegial environment.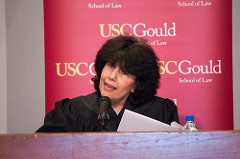 Judge Chooljian reminded the USC Gould graduates not to forget their roots.
"This has been a six-year journey for me that ends and begins with my dream of being an official lawyer," said Berry.
Chase Bakaly '17, said he was honored to be sworn into the State Bar of California 65 years after his grandfather, Chuck Bakaly LLB '52, took the same oath.
"My classmates and I are now officially members of a hallowed and noble profession," Bakaly said. "Standing on the shoulders of those who came before us, it is our responsibility to uphold the rule of law and improve the lives of those in our society."
RECENT NEWS