USC Gould raises the bar in record-breaking year

USC Gould School of Law
Thursday, September 6, 2018
The law school enjoys surge of applications and highest median GPA in history
By: Gilien Silsby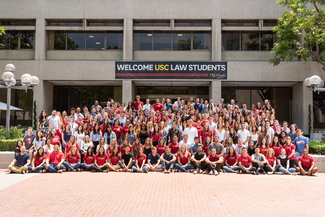 USC Gould's Class of 2021 is among the best and brightest
USC Gould School of Law recruited one of its best and brightest first-year classes in 2018, a group that boasts the highest median grade point average in school history, the broadest geographic representations in a decade and an impressive median LSAT score.
In addition to enrolling a stellar class of 200 students, USC Gould saw an 18 percent surge in first-year applications - more than double the national application volume increase of 8.7 percent.
USC Gould remained highly selective, admitting just 19 percent of applicants, the lowest in more than 10 years, said USC Gould Dean Andrew Guzman.
"An unprecedented number of applications made 2018 a historic year for us," said Guzman. "A record number of prospective law students applied - a 34 percent increase in just three years. This enabled us to pick the very best students. I am extremely proud of the caliber of this class."
The class is highly diverse with 38 percent from underrepresented minority groups and 10 percent first-generation college students. For the first time ever, women make up 55 percent of the first-year class.
The Class of 2021 is highly competitive: the median GPA increased to 3.78, the highest in the school's history. The median LSAT also rose to 166.
Students hail from 31 states and 101 colleges and universities. Forty-three percent are out-of-state residents.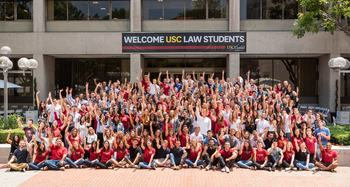 USC Gould's Class of 2021 hails from 31 states and 101 colleges and universities.
"Prospective students are drawn to USC Gould for its world-class reputation, and Trojan Family, said David Kirschner, USC Gould Dean of Admissions.
In addition, USC Gould is known for a welcoming environment, world-class faculty and cutting-edge experiential learning.
"We offer a highly personalized admission process," said Kirschner. "We are very fortunate that the very best students from all over the world want to attend USC Gould."
Other Class of 2021 highlights include:
Seven of the eight Ivy League undergraduate universities are represented in the class
Ages range from 19 to 53 years old, with an average age of 24 years old
International students make up 8 percent of the class.
8 percent of the incoming class have STEM (science, engineering, technology, math) degrees.
RECENT NEWS