G&IP Grads Celebrate Commencement, Milestones
Thursday, May 23, 2019
Dean Andrew Guzman encourages students to exhibit the five traits of a Trojan
By Leslie Ridgeway
Nearly 500 students from the USC Gould School of Law's Graduate and International Program (G&IP) celebrated Commencement May 10 in front of an enthusiastic audience of family, friends, faculty and staff on the University Village lawn.
The ceremony featured some important milestones, including the 16th class of Master of Laws graduates representing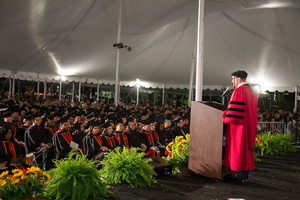 Dean Guzman speaks to 2019 graduates
41 countries, the second class of graduates of the LLM program in Alternate Dispute Resolution and Master of Dispute Resolution programs, and the second class of the Master of Studies in Law program.
The event also included remarks from keynote speaker Nina Hachigian, deputy mayor of International Affairs for the City of Los Angeles and former U.S. Ambassador to the Association of Southeast Asian Nations, as well as student speaker Purita Angela Sandalo-Parayno.
Dean Andrew Guzman used the inscription at the base of the Tommy Trojan statue on campus as inspiration for his address to the graduates, encouraging them to exhibit the five traits of a Trojan: Faithful. Scholarly. Skillful. Courageous. Ambitious.
Dean Guzman advised the graduates to stay faithful to their classmates and others in the Trojan Family, to continue scholarly efforts by embracing lifelong learning, and employing their skills to make a difference to others. He also exhorted graduates to exhibit courage by pursuing justice, and to never be satisfied with the status quo.
"We have a legacy at Gould of inspiring pioneers and difference-makers across the field of law," he said. "I urge you to add the next chapter to that legacy. I have every confidence that you are equipped with the knowledge, analytic skills and abilities to head out into the world and do incredible things."
The ceremony included a moving posthumous degree conferral for Nathaniel Alfredo Putera Lubis, an LLM student from Indonesia who tragically passed away in March at age 26. His LLM degree was conferred to his parents, Timbul and Linda, who joined Dean Guzman on stage for the honor.
Ambassador Hachigian noted the challenges to the rule of law and opportunities to uphold it that await graduates, ticking off the myriad national and international events that signal threats to the rules, and standards guiding human behavior.
"There's a common thread to these incidents," she said. "What is under attack and what I fear is weakening is the very principle that makes this country and our system so functional and special, and that is the rule of law."
Hachigian detailed the rule of law's vulnerability as a social constraint that exists simply because people believe in it and agree to it.
"What you graduates need to do is not only use the law but defend the system that enables it and makes it stronger," she said, encouraging graduates to follow in the footsteps of movements such as #MeToo, as well as local, national and international initiatives such as the Paris Climate Accord and Los Angeles' Green New Deal.
"You are now guardians of the rule of law, the special spark that lights the flames of liberty and equality," she said. "Whether you go into private practice, or a nonprofit, or government work, whether you practice here or in another country, you can defend this concept, you can believe in it, you can write about it and speak about it, you can model it in your own behavior."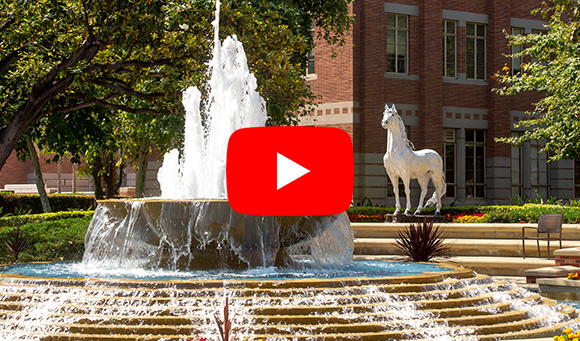 Student speaker Sandalo-Paranyo, who plans a career in transactional law and public interest law, focused her remarks on gratitude to USC Gould for the social events, career development opportunities, and mentoring opportunities that enriched the law school experience for her and her classmates. She also noted the importance of maintaining the relationships forged at USC Gould.
"In the process of learning from each other's experiences, we learned the value and importance of building lasting relationships – learning how to understand others' cultures and respecting other people whose backgrounds are not the same as ours," she said. "And this is what will make us better professionals in our field."
RECENT NEWS