G&IP welcomes diverse incoming class online

USC Gould School of Law
Friday, September 25, 2020
Orientation featured vibrant schedule of events supporting new students
By Yulia Nakagome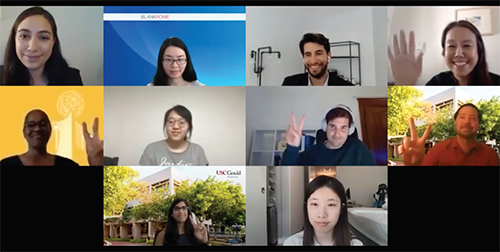 This fall, with COVID-19 ruling out the usual on-campus events, USC Gould's Graduate and International Programs' (G&IP) annual orientation went online, and administrators got creative about bringing students together to prepare them for law school.
"Because we're remote, we've had to think differently," says Ashley Sim, assistant director of admissions. "I looked at our past orientation events to see what we should continue to do and where we needed to make adjustments. Studies show people experience Zoom fatigue. We didn't want students sitting in front of their computers all day long, so we spread out events over a week."
This year's class includes students from more than 20 countries with varied backgrounds in patent law, data privacy, intellectual property, real estate, business and commercial law, employment law, law enforcement, health care, insurance, accounting, education, entertainment, labor relations and dispute resolution. This year, G&IP offered a new degree: the Master of Laws (LLM) in Privacy Law and Cybersecurity.
"It's a hot area of law," Sim says. "Students in the program may be engaged in that area in their home countries, maybe for government agencies, and are looking to understand how to protect data and increase cybersecurity. We are excited to have that group start with us."
To accommodate several time zones, students were divided into two tracks, one for Asia and another for Europe, the Middle East and Latin America, with U.S. students choosing the track most convenient to them. Events in each track were duplicated as much as possible.
"In a way, online orientation gave us a fresh perspective on how to improve and enhance on-campus orientation in the future," Sim says.
Sessions included an alumni panel and registration drop-in hour, where students could speak with advisers. Students viewed pre-recorded videos on professionalism and plagiarism and Title IX on their own time. G&IP also scheduled a session on student organizations, clubs and leadership roles.
Another important aspect of orientation was teaching students to be successful online learners, getting them up to speed with technology requirements and offering IT drop-in hours and faculty workshops. As with every incoming class, G&IP takes into account the diversity and varying experience levels of the students and prepared a special workshop — Law School 101 — to teach students new to law how to read case law and give tips on taking notes and exams.
Associate Dean Misa Shimotsu-Kim says G&IP is looking forward to giving students the best education possible.
"We're working closely with a faculty committee to support and ensure the academic quality of our classes and will offer myriad social engagement opportunities so that students can engage with our Gould community," she says.
RECENT NEWS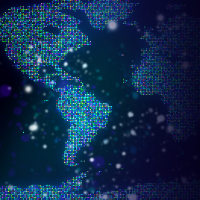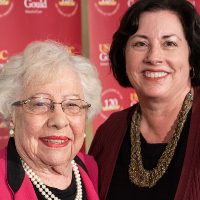 School's in for this alum
June 10, 2021
Lisa Kloppenberg (JD 1987) follows influence of Judge Dorothy Nelson to career in academia