Building on a Great Foundation

USC Gould School of Law
Thursday, October 29, 2020
Q&A with Gould Alumni Association President Amy Alderfer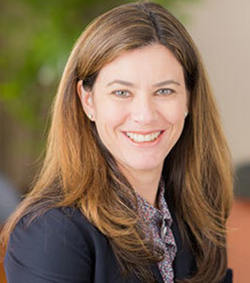 Amy Alderfer, JD 1999, just started a second term as president of the USC Gould Alumni Association. She is a partner and commercial litigator with Cozen O'Connor PC in Santa Monica, a member of the firm's executive committee for the Women's Initiative and part of the leadership team for a parents resource group created to better support working parents during the pandemic. She is married to Jamie Bernald, JD 1999.
Alderfer reflects here on her work with USC, affinity groups and the benefits of online programming.
By Christina Schweighofer
In addition to your role as Alumni Association president, you sit on the USC Alumni Association Board of Governors and the USC Gould Board of Councilors. What does USC Gould mean to you?
It means the world to me. It's a big part of my legal career and identity. USC was my No. 1 choice for law school, and I still remember the day I checked my mailbox and pulled out the big envelope.
USC Gould has a diverse constituency. How is the Alumni Association working to bring different groups to the table?
Our focus has been on affinity programming, with events for Black, Latino, Asian Pacific and LGBTQ+ alumni. We partnered with the Student Bar Association (SBA) on programming with current students, launched events for recent graduates and continued our Golden Trojans luncheons [for alumni who graduated from the law school more than 50 years ago]. Also we created a quarterly C-suite luncheon for general counsel, assistant general counsel, owners of law firms and managing partners, and we have something in the works for alumnae this year. Hearing people say that they are returning to alumni events after a long absence because of the diverse and unique programing has been very rewarding.
The pandemic forced many institutions to work virtually. What activities has the Alumni Association moved online?
We recently had a joint event with Dornsife and Price for LGBTQ+ alums and another Zoom panel titled Turning the Tide: Utilizing the Momentum of Today to Further the Progress of Tomorrow that BLSA, the Black Law Students Association, co-sponsored. Online, you lose some of the personal connection, but you also gain something. When somebody asked in the chat feature how they can get involved with the Alumni Association, another participant shared with the whole group some of the ways they're involved. That's cool. And people can attend from all over the world.
What's ahead?
Post-pandemic, I look forward to resuming our in-person events. But even then, I think, there will be a place for online programming. Overall, I want to expand on the great foundation that we've built. I love running, and when I first met my running coach, she told me you have to build your foundation, then you get to add the second story. That also applies here.
RECENT NEWS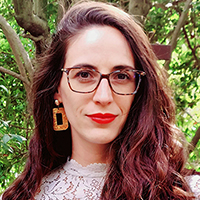 Her dream job
July 25, 2021
Background as prosecutor informs Prof. Marcela Prieto's scholarship and teaching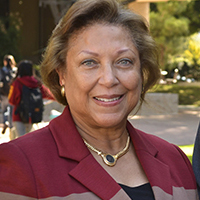 Service is in her DNA
July 25, 2021
Aulana Peters (JD 1973) continues to open the way for the next generation