Full circle to opportunity

USC Gould School of Law
Tuesday, January 18, 2022
Rothman Scholarship leads to success for Abraham Tabaie (JD 2008)
By Diane Krieger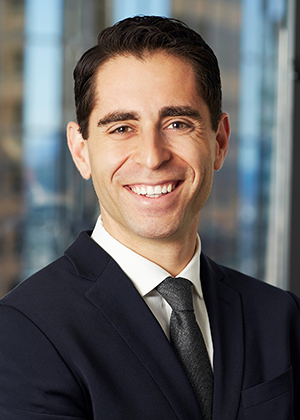 Abraham Tabaie (JD 2008) never met Frank Rothman (JD 1951). But when Tabaie recently made partner at Skadden, Arps, Slate, Meagher & Flom LLP — the firm Rothman helped build into a powerhouse of the Los Angeles legal community — it was the USC Gould School of Law scholarship bearing the famous sports litigator's name that helped pave the way.
Tabaie is the fourth recipient of the Rothman Scholarship, which he credits with "every single professional opportunity I've had from the very beginning to now." He is also the first Rothman Scholar to make partner at Skadden.
The scholarship is awarded each year to USC Gould's top entering student. In addition to a three-year, full tuition benefit, Rothman Scholars receive annual $2,000 stipends and a locked-in first-year summer internship in Skadden's Los Angeles office. Launched in 2002, the Rothman Scholars roster now numbers 16 alumni and three current students — each a living legacy to Frank Rothman, who died in 2000.
Tabaie was attending an NYU Law recruitment event in Manhattan when USC Gould offered him the Rothman Scholarship.
"I was grappling with the $80,000 annual debt I would be taking on," Tabaie recalls.
The Rothman Scholarship changed everything. Tabaie, now a 38-year-old commercial litigator, graduated debt free. He then met his future wife, Whitney English Tabaie, and encouraged her to get her Master's in Nutrition, Healthspan, and Longevity at USC Davis School of Gerontology. She's now a registered dietitian nutritionist who recently published her first book: The Plant-Based Baby and Toddler. They have two young children.
Scholarship helps make connections
Tabaie was born in Modesto, Calif., and grew up in the Sacramento suburb of Elk Grove. Both his parents worked in public education: his dad, who emigrated from Iran in the 1960s, was a school psychologist in Stockton; his mom taught elementary grades and later became a reading specialist.
Tabaie graduated summa cum laude from UCLA in 2005, majoring in political science and history. His parents had paid for college, but private law school was not in their budget. Tabaie's younger sister, Mary, was starting college that same year. Not only did the full-ride Rothman Scholarship eliminate debt, but the guaranteed first-year summer internship at Skadden took much of the usual pressure off the law school experience.
"It freed me to just enjoy law school, take the classes and soak it all in without having that overwhelming sense of dread about getting a good job," Tabaie says. He graduated Order of the
Coif, was articles editor on Southern California Law Review, and was president of the Middle Eastern and North African Law Student Association.
After graduating, Tabaie clerked for U.S. District Court Judge George H. King (JD 1974) in Los Angeles before joining Skadden as an associate in 2009. In 2011, he clerked again for U.S. Ninth Circuit Court Judge Barry G. Silverman in Phoenix, Ariz. Tabaie can draw a direct connection to both clerkships from introductions by a Skadden partner and USC professors.
At Skadden, Tabaie specializes in high stakes fraud and breach of contract cases, trade secret disputes and privacy litigation.
Since making partner, he's relocated to Palo Alto, where he heads up attorney development for the growing litigation department, a role that enables him to mentor young attorneys and form a living link with Frank Rothman's legacy.
RECENT NEWS