122nd USC Gould commencement ceremony fetes award-winning JD Class

USC Gould School of Law
Wednesday, June 8, 2022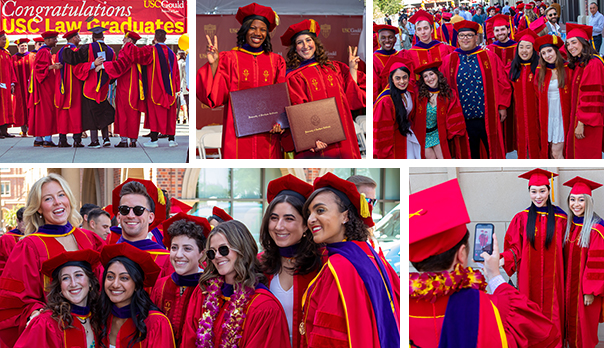 Keynote speaker Connie Rice encourages grads to defend constitutional democracy
By Melissa Masatani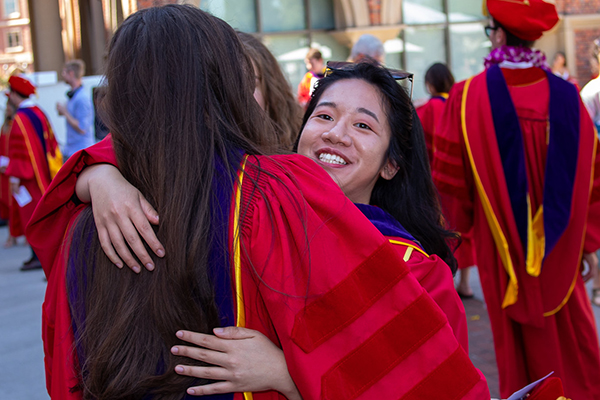 View more photos of the USC Gould 2022 JD commencement ceremony on Flickr
The USC Gould School of Law welcomed 213 new alumni to its ranks on May 13, as the Class of 2022 celebrated the completion of the Juris Doctor degree through a global pandemic. The ceremony took place at the USC University Village Great Lawn.
Delivering the keynote address was Constance "Connie" L. Rice, a widely influential civil rights attorney, activist and author. She shared a West African parable about a warrior who had to ask himself whether the machete he was using was a weapon of destruction or a tool for good.
"This is our watch, our ancestors are looking," Rice advised the graduates. "We cannot let democracy die in the apathy of silence. My friends, the intrepid Class of 2022, on your watch, take your machete and defend this constitutional democracy like there's no tomorrow."
Professor and former Gould Dean Bob Rasmussen, who emceed the ceremony, noted that the JD Class of 2022 will be working in firms across 13 states as well as internationally, including Japan and China.
Rasmussen also shared that 43 graduates earned specialized certificates in business law, 23 in media and entertainment, seven in public interest, five in transnational law and business, eight in alternative dispute resolution, and three in technology and entrepreneurship. Five graduates also earned a Master of Business Administration degree, and one a Master of Public Administration degree.
"What a ride it has been for you, from that crazy day in the spring of your first year of law school when we all got the email saying we would not be returning from spring break, to an entire year of remote learning, all the way to this glorious triumph," said Rasmussen, the J. Thomas McCarthy Trustee Chair in Law and Political Science.
The graduates also heard from two student speakers: 3L class president Oluwatomisin T. "Tomi" Johnson and Student Bar Association (SBA) president Rebecca Alch.
In addition, the day before graduation, four of the JD graduates were recognized by the university and USC Student Affairs at the 2022 Student Recognition Awards with the Order of Arête, which is given to graduates for their outstanding work within their individual programs and dedicated service to the campus community. It is the highest honor accorded to graduate students upon completion of their academic programs. Among the 81 honorees for 2022, this award was given to USC Gould graduates Rebecca Alch, Chief Coleman, Dimiana Saad and Maral Tavitian.
Watch a full video of the USC Gould JD Class of 2022 commencement ceremony
here
.
Read More
RECENT NEWS