Mentorship, overcoming obstacles among inspiring lessons shared at 2023 Ruth Lavine Women in Law Symposium

USC Gould School of Law
Tuesday, March 14, 2023
The event was hosted by the Women's Law Association
By Melissa Masatani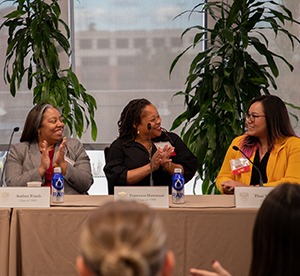 Panelists (from left) Amber Finch JD '01, Francesca Harewood JD '98 and Thai Viet Phan JD '15 (Photo by Ethan Go)
The second annual Ruth J. Lavine '43 Women in Law Symposium was held Tuesday, Feb. 28, featuring four panelists who shared their stories and advice from their experiences in the legal profession. The Hon. Candace Cooper (JD '73), Amber Finch (JD '01), Francesca Harewood (JD '98) and Thai Viet Phan (JD '15) spoke at the event, which was hosted by the Women's Law Association.
The conversation ranged from the panelists' inspiration for leadership, their struggles with finding balance between professional and personal pursuits, and advice for overcoming barriers in the workplace.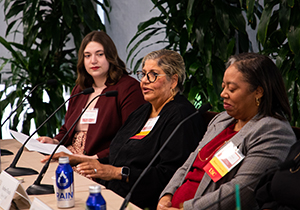 The Hon. Candace Cooper JD '73 (center) with Madeline Goosen of the Women's Law Association (left), and Amber Finch
Cooper, whose 29-year career in the California judiciary included serving as Presiding Justice of Division Eight and is now a full-time mediator and arbitrator with JAMS, shared how student demographics have changed, with women making up 66% of today's 1L class, compared to her years at Gould, when there were 10% of women in the law school. "My word of caution is that while the sky's the limit, there may be bumps in the road and you need to be prepared to meet those head on."
She added, "The progress that's been made thus far, which is evident in this room, a lot of that has come about because women have remained supportive of women… We just need to understand that gains made can be lost."
When asked to share advice about overcoming barriers in the workplace, Finch, who is Managing Partner of the Los Angeles office of Reed Smith and a member of the Insurance Recovery Group, said, "There are no barriers, it is up to you to make the best of your career and your journey. No one is going to give you any handouts or remove obstacles for you, you need to bust through them."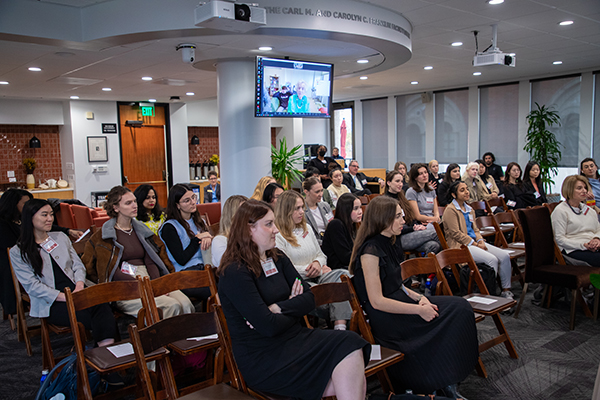 Ruth Lavine '43 (shown on the screen) joined the event remotely.
As senior vice president of Business Affairs at NBCUniversal, leading BA for specials and live events, as well as negotiating for scripted series for broadcast, cable and streaming platforms, Harewood told the group that the best time to start being a leader is now.
"You can start your leadership even if you're not in a leadership position," she said. "I remember times when I'd be leading a meeting full of people with titles higher than mine, and by being in that room, I was seen as a leader, which opened the door to higher positions."
Phan, a municipal law attorney at Ruttan & Tucker, LLP whose roles include City Attorney for the City of Duarte and Assistant City Attorney for the City of Menifee, as well as being the first Asian American woman elected to Santa Ana City Council, shared her advice on finding mentors.
"Your mentor doesn't need to look like you or have the same background as you, they just need to be as interested in your success as they are in their own success," Phan said.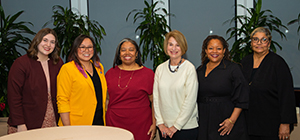 Ruth Lavine's daughter, Cathy Unger (third from right), with the speakers at the symposium
The Ruth J. Lavine '43 Women in Law Symposium is named for Lavine, a Gould alumna and a pioneer in the legal field who endowed the annual event to highlight the accomplishments of extraordinary women alumnae.
"We often say that USC Gould has long been at the forefront of legal education, research and practice, and it is also true that from the very beginning of our 123-year history, women have shaped the arc of the law school and the legal profession through their leadership," said Vice Dean Tom Lyon in his opening remarks. "We are thrilled that this symposium is able to bring together women leaders past and present."
Read More
RECENT NEWS