Caven Hamilton JD '23 earns national recognition as Distinguished Bankruptcy Law Student

USC Gould School of Law
Wednesday, May 10, 2023
The honor is presented by Ninth Circuit fellows of the American College of Bankruptcy
By Melissa Masatani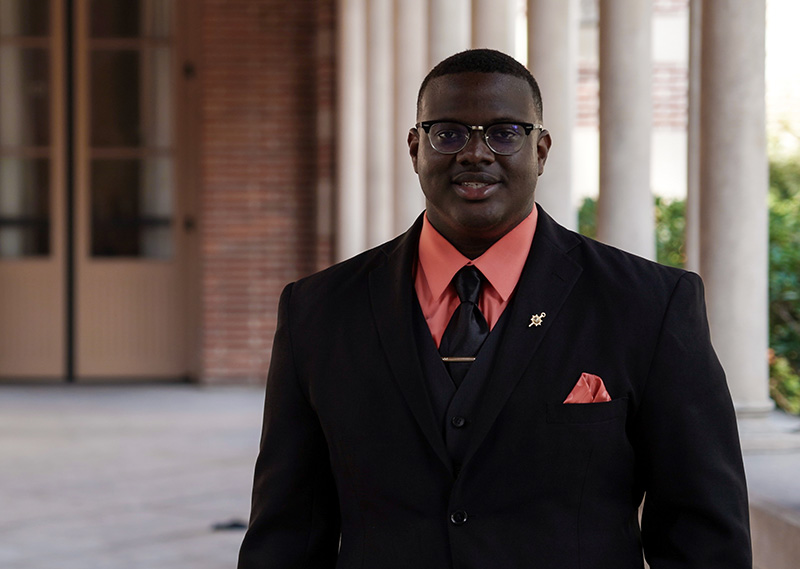 Caven Hamilton JD '23 (Photo by Ryan Driver)
This spring, USC Gould School of Law 3L Caven Hamilton took a trip to Washington, D.C. Not for an ordinary sightseeing visit, rather to be inducted as a Distinguished Bankruptcy Law Student from the Ninth Circuit fellows of the American College of Bankruptcy. He is the first Gould student to be selected, as well as the first Black student to win the award in the Ninth Circuit.
"To be selected for this honor by the American College of Bankruptcy is really special," Hamilton said. "This group is made up of people who have proven themselves to be among the best in bankruptcy law and to not only be among them, but to impress them and gain friends and new mentors means a lot."
After graduation, Hamilton will be working at Buchalter, receiving an offer to work in the bankruptcy department after having spent the previous summer with them. "I'm looking forward to working there again," Hamilton said, joking how he found an easier time doing legal work than academic work.
Hamilton was born and raised in Spanish Town, Jamaica, before settling in Florida with his mother. There, he attended one of the few pre-law-oriented high schools in the nation that offered a criminal law track, and then took a full scholarship to Florida State University, double majoring in criminology and political science, with the goal of attending USC Gould for law school. "You'd think I'd be the next Johnnie Cochran," he said.
His path to bankruptcy law began the first semester of 2L, when he took Professor George Webster's bankruptcy class and found his passion. "There, I earned the highest grade in the class and he helped me get my job last summer. I don't think I would be where I am today without him."
"Caven Hamilton is one of the most impressive students to have taken my class in the past 20 plus years," Webster said. "His dedication was recently rewarded by the American College of Bankruptcy, which named him the Ninth Circuit Distinguished Bankruptcy Law Student at its annual gathering in Washington, D.C., and I am confident that he has a tremendous future."
As a member of the JD Class of 2023, which spent 1L fully remote, Hamilton said one of his most memorable experiences at Gould happened during Civil Procedures, when the class went on a virtual field trip to a federal hearing. He recalled how one lawyer was thoroughly unprepared to face the judge.
Hamilton noted the effect it had on him and the class, and their confidence in becoming better practitioners. The display, he explained, "gave us a sense of unity and assurance that we were going to be alright."
There is one thing Hamilton said he will take from his background as a student of criminal law into his work in bankruptcy law: a quote from the infamous crime boss Charles "Lucky" Luciano, "There is no such thing as good money or bad money. There's just money."
Read More
RECENT NEWS