Nadine Shu Rong Tan, JD '15, co-founder of SCCLA Cares

USC Gould School of Law
Wednesday, May 10, 2023
Paying It Forward
By Tatiana Overly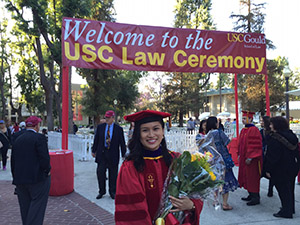 Nadine Shu Rong Tan graduated from USC Gould in 2015.
At the height of the COVID-19 pandemic, Nadine Shu Rong Tan (BS 2012, JD 2015) found herself taking stock, not only of how she could support local communities, but of her work as a lawyer. Since then, re-evaluating her priorities has led her in an entirely new direction – teaching law.
"It's really fulfilling when you help a student and the thing they have been struggling with finally clicks," says Tan, who taught LLM students in the 2021-2022 academic year as a lecturer in law at USC Gould School of Law before becoming a full-time faculty member at Loyola Law School, starting this summer.
Before her life-changing decision to work in legal education, Tan worked at a law firm doing employment and general litigation. As the pandemic dragged on, she found herself wondering what purpose was driving her career. While taking time off to consider her options, she started tutoring a third grader in reading and math on Zoom through a nonprofit, Step Up Tutoring, which reignited her love for education. Following that lead, she became in-house counsel for a large charter school network.
Outside of work, as a board member of the Southern California Chinese Lawyers Association (SCCLA), Tan remembers how inspired she and her colleagues were by the selfless actions of individuals and small businesses that supported local communities during the pandemic.
"[They] were stepping up in different ways—mom-and-pop shops that were struggling were still donating food and supplies to the community," says Tan, now President-Elect of SCCLA.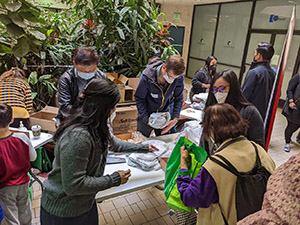 SCCLA Cares members prepare hot meals for seniors in Chinatown.
They founded SCCLA Cares in the Spring of 2020, a campaign supporting Asian American communities in Southern California through partnerships with community organizations. Tan and her committee co-chair took a hands-on role in developing the campaign.
"I spent many nights researching nonprofits and businesses we could partner with to create real impact," Tan recalls.
In its inaugural year, SCCLA Cares provided over 1,000 hot meals from local restaurants to healthcare workers, seniors, unhoused people, and low-income families.
"The idea was to serve people most directly impacted by the pandemic," Tan says, tearing up as she remembers the thank you notes SCCLA received from low-income Chinese seniors in Monterey Park who had received meals through the program.
"They were so grateful because they thought they had been forgotten. A hot meal helped them realize they weren't alone and that someone was thinking about them," she says.
Since its launch three years ago, SCCLA Cares has used its fundraising mission to meet other pressing needs of Asian Americans. In 2021, with an unprecedented rise in crimes against Asian Americans, the campaign focused on funding local initiatives that trained community members on bystander interventions to address anti-Asian hate. Last year, SCCLA members raised funds and distributed over 300 meals to seniors in Chinatown.
One of Tan's goals as incoming president of SCCLA is to engage a new generation of Asian American lawyers in the organization's important work through support and mentorship. She says she's grateful for the mentorship and connections she made in law school that led to some of her most formative experiences. While at Gould, Tan landed a prestigious externship for the Hon. S. James Otero (Ret.), U.S. District Court judge for the Central District of California, for whom she later clerked.
"Judge Otero is a great person and a mentor to me," Tan shares as she reflects on her experience at the Spring Street Courthouse and later at the First Street Courthouse. As an extern, one of Judge Otero's law clerks took her under their wing and encouraged her to apply for a clerkship—something that Tan had not previously considered. Through her efforts with SCCLA she hopes to increase the pipeline to the legal profession and combat the daunting statistic that only 5.5% of lawyersnationwide are Asian American.
"I am very aware that I defied some odds in obtaining that clerkship, and I will do whatever I can do now to help encourage others to apply for clerkships, especially people from underrepresented communities."
Read More
RECENT NEWS