Pauline Aranas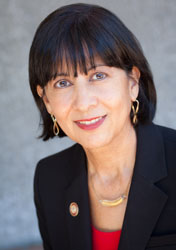 Associate Dean, John Stauffer Charitable Trust Chief Information Officer, Director of the Law Library, and Adjunct Professor of Law
Email:
paranas@law.usc.edu
Telephone

:
(213) 740-6482
Fax

:
(213) 740-7179
699 Exposition Blvd.

Los Angeles

, CA

90089-0074

USA
Room:
202
Last Updated: October 24, 2019
---
Pauline Aranas is associate dean, John Stauffer Charitable Trust Chief Information Officer, director of the law library and adjunct professor of law. She specializes in law library administration and legal research. A 1981 graduate of USC Gould School of Law, she was appointed to her current position in 2013.
Aranas is a past Chair of the Association of American Law School's Section on Law Libraries and Legal Information, a past president of the Southern California Association of Law Libraries and a member of the American Association of Law Libraries and the State Bar of California.
Aranas holds a BA from the UCLA; a JD from USC Gould School of Law; and an MLIS from the UC Berkeley. She joined USC's law library as a reference librarian in 1984 and served in a number of roles before being named associate director of the law library and adjunct associate professor of law in 1992. From 1994 to 2002, she served as director of Vanderbilt University Law School's Alyne Queener Massey Law Library — later assistant dean for library and information technology — and associate professor of law. From 2002 to 2004, she was associate law librarian at the UCLA School of Law. From 2004 to 2006, she served as associate dean, chief operating officer for USC Gould. From 2007 to 2009, she served as associate dean, deputy director of the law library and adjunct professor of law. From 2009-2012, she was appointed associate dean, acting dean of library and information technology and adjunct professor of law.
Articles
"AALL Gallagher Award Celebrates Outstanding Achievement," 20 AALL Spectrum 36 (May/June 2016)
"Nowhere to Run; Nowhere to Hide": The Reality of Being a Law Library Director in Times of Great Opportunity and Significant Challenges," 107 Law Library Journal 79 (2015) (with Steven M. Barkan, Barbara Bintliff, Darin K. Fox, Penny A. Hazelton, Joan Howland, Spencer L. Simons, Keith Ann Stiverson and Michelle Wu)
"Welcome to the Hall of Fame," 19 AALL Spectrum 29 (June 2015)
"Library Director as Opportunity Identifier Analysis One," in Academic Law Library Director Perspectives: Case Studies and Insights. pp.187-194 (Michelle Wu, ed., Buffalo, NY: W.S. Hein & Co., 2015)
"Introducing the 2014 Hall of Fame Inductees," 18 AALL Spectrum 34 (June 2014)
"Who Should Teach CALR - Vendors, Librarians or Both?" 8 Perspectives: Teaching Legal Research and Writing 85 (Winter 2000).
"New Horizons Meet Lost Horizons." 3 AALL Spectrum 20 (September 1998).
"Teaching Legal Research Redux." 2 AALL Spectrum 20 (September 1997).
"B.1. Future Libraries: Reality and Law Librarians." 1 AALL Spectrum 20 (September 1996).
"Accelerated Legal Research at the University of Southern California Law Center." 2 Integrated Legal Research 8 (Summer 1989).
Book Reviews
Legal Writing: Getting It Right and Getting It Written, by Mary Bernard Ray and Jill J. Ramsfield. 8 Legal Reference Services Quarterly 291 (January 1988).
FACULTY IN THE NEWS
The Washington Post
December 2, 2019
Re: Jonathan Handel
Jonathan Handel was quoted on Pete Davidson's nondisclosure agreement for attending his comedy shows, barring the audience from speaking about his shows. Handel mentioned that successfully suing a random fan for $1 million would be nearly impossible. "The optics of going to court and suing one of your fans is really pretty ugly," Handel said. "It would be foolish to do that."
RECENT SCHOLARSHIP
Scott Altman
October, 2019
"Are Boycotts, Shunning, and Shaming Corrupt?" Legal Theory Workshop, University of Virginia Law School, Charlottesville, VA.
Gregory Keating
October, 2019
Gregory Keating's paper, "Is Tort Law 'Private'?" was reviewed by Ellen Bublick as a significant work of scholarship relating to Tort Law in JOTWELL: The Journal of Things We Like (Lots), on October 15, 2019.
Dan Simon
October, 2019
"Confessions True and False," Korean Society for Criminal Law, Yonsei University Law School, Seoul, South Korea.