Abby K. Wood

USC Gould School of Law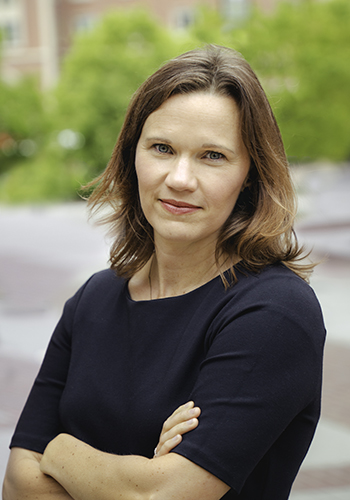 Professor of Law, Political Science and Public Policy
Email:
awood@law.usc.edu
Telephone

:
(213) 740-8012
Fax

:
(213) 740-5502
699 Exposition Blvd.

Los Angeles

, CA

90089-0074

USA
Room:
434
Personal Website:
Link
Google Scholar Profile:
Link
SSRN Author Page:
Link
Last Updated: March 3, 2022
---
Abby Wood's research is at the intersection of law and politics. Wood uses quantitative analysis to examine the causal effects of institutional changes on human behavior. Her current projects analyze what voters learn from campaign finance disclosures, whether transparency can affect donor decision-making, and patterns in congressional oversight of agency activity. Recent projects examine the Freedom of Information Act and agency politicization, regulating false political speech on social media and the effects of Citizens United v. FEC on political donors.
Wood teaches administrative law, campaign finance and analytical methods for lawyers. She has taught on a variety of subjects, including international human rights law, constitutional law, quantitative methods for political science and comparative politics. In addition to teaching at USC, Wood has taught at the University of Chicago Law School.
Wood currently serves as a Commissioner on the California Fair Political Practices Commission, as well as on the Commission's Digital Transparency Task Force. From 2015 to 2017, she served on the Federal Bipartisan Campaign Finance Task Force. Before joining USC Gould, Wood clerked for the Honorable John T. Noonan, judge of the Court of Appeals for the Ninth Circuit. She also has consulted on good governance projects in association with USAID, World Bank, National Democratic Institute for International Affairs and UNDP.
Wood holds a BA from Austin College, a JD from Harvard Law School, an MA in Law and Diplomacy from the Fletcher School of Law and Diplomacy at Tufts University, and a PhD in Political Science from the University of California, Berkeley.
Works in Progress
"Mind the (Participation) Gap: Vouchers, Voting, and Visibility" (with Christopher Elmendorf and Douglas Spencer). - (SSRN)
"Show Me the Money: 'Dark Money' and the Informational Benefit of Campaign Finance Disclosure" - (SSRN)
"Bureaucratic Agency Problems and Legislative Oversight" (with Sean Gailmard and Janna Rezaee).
Articles and Book Chapters
"Financial Inclusion in Politics" (with Abhay Aneja and Jake Grumbach), (forthcoming, NYU Law Review)
"Campaign Finance Transparency Affects Legislative Candidate Performance at the Polls" (with Christian Grose)." (forthcoming, American Journal of Political Science). - (SSRN)
"Learning from Campaign Finance Disclosures." Emory Law Journal (forthcoming, 2021). - (SSRN)
"Facilitating Accountability for Online Political Advertisements." Ohio State Technology Law Journal (forthcoming, 2020).
"Randomized experiments by government institutions and American political development," (with C.R. Grose). Public Choice (2019) - (www)
"Polling Place Practices" in The Future of Election Administration: Cases and Conversations (Mitchell Brown, Kathleen Hale and Bridgett A. King, eds.) (Palgrave, 2019). - (www)
"Waiting to Vote in the 2016 Presidential Election: Evidence from a Multi-county Study," (with Robert M. Stein and others), Political Research Quarterly (2019) - (www)
"Elite Political Ignorance: Law, Data, and the Representation of (Mis)Perceived Electorates" (with Christopher S. Elmendorf). UC Davis Law Review 52 (2018): 571. - (SSRN) - (Hein)
"Pedagogical Value of Polling-Place Observation By Students" (with Christopher B. Mann, et al.). PS: Political Science & Politics 51 (2018): 831 - (www)
"Campaign Finance Disclosure." Annual Review of Law and Social Science 14 (2018): 11. - (www)
"Fool Me Once: Regulating 'Fake News' and other Online Advertising" (with Ann M. Ravel). Southern California Law Review 91 (2018): 1223. - (SSRN) - (Hein) - (www)
"Agency Performance Challenges and Agency Politicization" (with David E. Lewis). Journal of Public Administration, Research, and Theory 27 (2017): 581 . - (www) - (SSRN)
"Twombly and Iqbal at the State Level" (with Roger M. Michalski). Journal of Empirical Legal Studies 14, no. 2 (2017): 424. - (SSRN) - (www)
"In the Shadows of Sunlight: The Effects of Transparency on State Political Campaigns" (with Douglas M. Spencer). Election Law Journal 15, no. 4 (2016): 302. - (SSRN) - (www)
"Caught in the Act but not Punished: On Elite Rule of Law and Deterrence" (with Francesca R. Jensenius). Penn State Journal of International Law & Policy 4, no. 2 (2016): 686 (peer reviewed). - (SSRN) - (Hein)
"Citizens United, States Divided: An Empirical Analysis of Independent Political Spending", with Douglas Spencer. Indiana Law Journal 89 (2014): 315. - (SSRN) - (Hein) - (www)
"Charm and Punishment: How the Philippines' Leading Man Became Its Most Famous Prisoner." In Prosecuting Heads of State, edited by Ellen Lutz and Caitlin Reiger. Cambridge University Press, 2009. - (www)
FACULTY IN THE NEWS
LLM Guide
June 5, 2023
Re: USC Gould School of Law
Law schools have been adapting to the increase in technological advancements, especially with the increased need for attorneys with the creation of AI. "Attorneys work on the front end, conducting threat assessments to ensure that their clients' systems and data are protected, and on the back end, to navigate any legal issues that may arise as a result of the attacks," Gruzas said.
RECENT SCHOLARSHIP
Robin Craig
April, 2023
"Fish, Whales, and a Blue Ethics for the Anthropocene: How Do We Think About the Last Wild Food in the Twenty-First Century?," 95:6 Southern California Law Review 1307-1343 (April 2023).
Robin Craig
April, 2023
"California Exceptionalism in the Colorado River: A Brief History and Implications for the Future."
Robin Craig
April, 2023
"Toward a Global Sustainable Development Agenda Built on Resilience" (with Murray W. Scown, Craig R. Allen, Lance Gunderson, David G. Angeler, Jorge H. Garcia, & Ahjond Garmestani), Global Sustainability (online publication April 2023).