Felipe Jiménez

USC Gould School of Law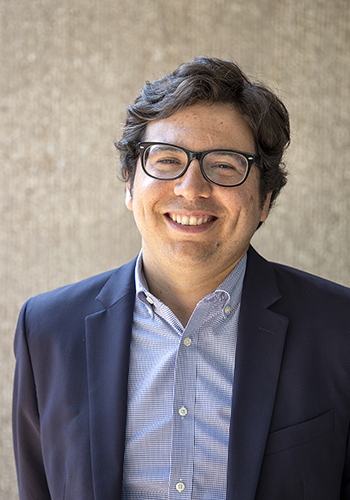 Assistant Professor of Law and Philosophy
Email:
fjimenez@law.usc.edu
Telephone

:
(213) 821- 2964
699 Exposition Blvd.

Los Angeles

, CA

90089-0074

USA
Room:
423
SSRN Author Page:
Link
Last Updated: September 7, 2021
---
Felipe Jiménez works in the areas of private law, legal theory and comparative private law. He teaches contracts, and upper-level seminars and undergraduate courses on private law, legal reasoning and legal theory.
Jiménez graduated, summa cum laude, from Pontificia Universidad Católica de Chile, and holds LLM (Legal Theory) and JSD degrees from New York University. He has also worked as a lawyer specialized in international arbitration and commercial litigation in Chile and the United States.
Jiménez has written articles on contract theory, the theory of adjudication and jurisprudence. His work in Spanish also includes articles and book chapters on Chilean private law and on legal theory. His work has appeared or is forthcoming in the Yale Journal of Law and the Humanities, the University of Chicago Law Review Online, the University of Toronto Law Journal, the Utah Law Review, the American Journal of Jurisprudence, and Ratio Juris, among others.
Works in Progress
"The Normativity of Contract"
"A Normative Argument for Positivism"
"The Theory of Contract Remedies"
"Legal Obligation as Commitment"
"Private Law Theory as Comparative Jurisprudence"
"Private Rights as Legal Rights"
"Why Faculty Diversity in Law School Matters: The Argument from Epistemology"
Articles and Book Chapters
"Specific Performance," Forthcoming in Research Handbook in the Philosophy of Contract Law (M. Chen-Wishart & P. Saprai eds., 2022).
"Justifying Private Law," Forthcoming in Oxford Studies in Private Law Theory, Vol. II (P. Miller & J. Oberdick eds., 2022).
"The Grounds of Arbitral Authority," Forthcoming in 96 Tulane Law Review (2021-22). - (SSRN)
"Legal Principles, Law, and Tradition," Forthcoming in 33 Yale Journal of Law and The Humanities (2021). - (SSRN)
"Some Doubts about Folk Jurisprudence: The Case of Proximate Cause," The University of Chicago Law Review Online (2021). - (www) - (SSRN)
"Law, Morality, and the One-System View: A Response to T.R.S. Allan," forthcoming The American Journal of Jurisprudence (2021).
"Two Questions for Private Law Theory," Jurisprudence (2021). - (SSRN)
"Contracts, Markets, and Justice," 71 (1) University of Toronto Law Journal 144 (2021). - (www) - (SSRN)
"A Formalist Theory of Contract Law Adjudication," 2020 (5) Utah Law Review 1121 (2020). - (PDF)
"Against Parochialism in Contract Theory: A Response to Brian Bix," 32 (2) Ratio Juris 233 (2019). - (SSRN) - (www)
Book Review: "La Forma del Derecho," (with Martin Hevia) 15 (2) International Journal of Constitutional Law 578 (2017). - (www)
"Ni Función ni Estructura: Una respuesta a la idea de justicia constitucional de Fernando Atria," (with Sergio Verdugo) in Comentarios a La Forma del Derecho (J. Gallego ed., 2020). - (SSRN)
"¿Es el enriquecimiento injustificado un principio de justicia?," in Fundamentos Filosóficos del Derecho Civil Chileno (E. Pereira ed., Rubicon, 2019).
"Una crítica a la idea de incumplimiento eficiente desde el Derecho de Contratos," 29 Revista Chilena De Derecho Privado 99 (2017). - (Hein)
"Comentario a la sentencia de Corte de Apelaciones de Santiago Rol No. 2259-2010, 6 de mayo de 2011," in Contratos: Jurisprudencia Civil Comentada (P. Cornejo and J. Larrocau eds., 2017).
"La Teoría del Derecho de Contratos y su Relación con la Dogmática," 44 (2) Revista Chilena De Derecho 395 (2017). - (Hein) - (www)
"Dos implicancias de la igualdad relacional," 144 Estudios Públicos 31 (2017). - (www)
Book Review: "¿Por qué obligan los contratos?," 22 (2) Ius Et Praxis 531 (2016). - (www)
FACULTY IN THE NEWS
West Central Tribune
September 7, 2021
Re: Susan Estrich
Susan Estrich wrote an op-ed about the hypocrisy of certain laws in Texas. "You have to hand it to those Texans," she wrote. "On one hand, they believe in liberty — to not wear a mask. But for the victim of rape or incest to have control over her body? No way."
RECENT SCHOLARSHIP
Thomas D. Lyon
July, 2021
"Use of global trait cues helps to explain older adults' decrements in detecting children's lies" (with Alison O'Connor, Micaela Wiens, & Angela D. Evans) (in press), Legal and Criminological Psychology.
Thomas D. Lyon
July, 2021
"Causal indicators for assessing the truthfulness of child speech in forensic interviews" (with Zane Durante, Victor Ardulov, Manoj Kumar, Jennifer Gongola, & Shrikanth Narayanan) (in press), Computer Speech & Language.
Thomas D. Lyon
July, 2021
"The difficulty of teaching adults to recognize referential ambiguity in children's testimony: The influence of explicit instruction and sample questions" (with Breanne Wylie, Jennifer Gongola, & Angela D. Evans) (in press), Applied Cognitive Psychology.